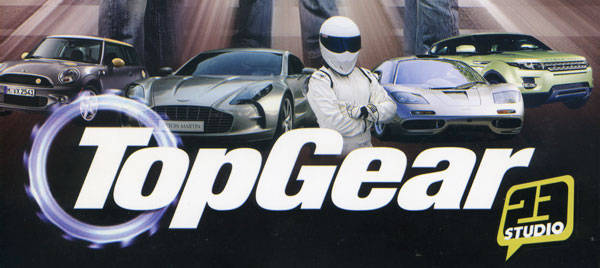 Top Gear fans who have been complaining about the fact that the popular motoring TV show doesn't air here, can now rejoice. That's because the British TV car program--made famous by presenters Jeremy Clarkson, James May, Richard Hammond and The Stig--is soon coming to Studio 23, courtesy of a new company called KXPP Multimedia Philippines.
We were just paid a visit by the husband-and-wife team behind KXPP, retired investment bankers Poch Edward and Pamela Ann Zamora, who excitedly announced to us that they have formally secured the rights to broadcast Top Gear in the Philippines. The TV rights, it should be noted, are separate from the magazine rights, but KXPP seeks to align their strategy with Summit Media, which publishes Top Gear magazine locally.
"I'm a fan of the show and I want to introduce it to Filipino viewers," said Poch, who also acknowledged that the success of the local magazine is something they wish to piggyback on. This is the couple's first-ever venture into media.
KXPP intends to launch the show in June, with a weekly time slot of 11am every Sunday. A weekday rerun is also being considered.
There's a catch though: The Philippine broadcast of the show will commence with Series 6, which originally aired in the UK from May to August 2005. Our big question, naturally, is: Why show episodes from seven years ago?
Continue reading below ↓
Recommended Videos
"We have to start with the older episodes because we'd run out of episodes to show if we started with the new ones," explained Poch. Makes sense, especially since a typical Top Gear series consists of just six to eight episodes. "Besides, many of the cars featured in the sixth series are still current models as far as the Philippine market is concerned."
"Some of the cars may be old, but the show's entertainment value doesn't get old," added Pam. "The good thing here is that, now, Filipinos will have a regular dose of the show. They will know what specific channel to tune to--and when--if they want to watch Top Gear."
You will recall that another blocktimer has previously aired Top Gear also on Studio 23. But it folded after a season or two, presumably due to a lack of advertising support. Poch attributed this to the show's lesser popularity at the time. Top Gear, in its current fun format, first went on air in the UK only in October 2002.
"We just know that Top Gear today already has many followers here, thanks to the magazine," said Poch. "We are confident that we will still get a lot of viewers even if we start with the older episodes. It's basically the same principle at work when you catch an old Top Gear episode on the plane. You just have to watch it."
According to Poch, who is the president and CEO of KXPP, they are already bound by their initial contract with BBC to broadcast Series 6 to Series 8 at the very least. Whether they will air the show beyond that will depend on the success of the project.
So, what do you think of this development? Take our poll or leave a comment below.
[poll]277[poll]