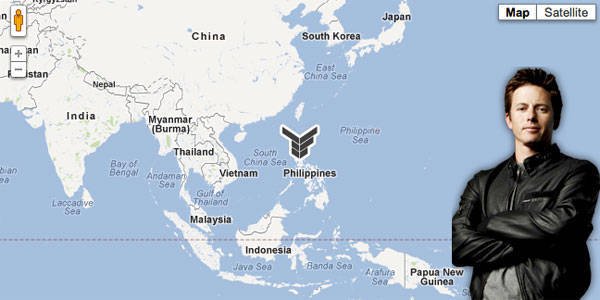 Yesterday, we saw a couple of posts on Facebook asking if Top Gear US presenter and professional racing driver Tanner Foust was coming to the Philippines. Fortunately, when we checked his official website, we saw that it has a "tracker" section, which shows the popular motoring personality's current location. This is his most recent check-in entry:
TannerFoust at Mandarin Deli on 01.30.2012.
Mandarin Deli, of course, is a restaurant inside the Mandarin Oriental Hotel in Makati City. Indeed, a visual tracker on Tanner's website shows his location arrow pointing at the Philippine map (above). So we know that he has been here since January 30. We're just not sure if this is Philippine or US time.
Question is, why is Tanner Foust in Manila? What is his official business here?
We asked around, but nobody could give us a definite answer. Someone volunteered that Foust could be in the country to do some driving scenes for The Bourne Legacy. That's feasible, but we think we've stumbled upon another possibility.
The Facebook page of Rockstar Energy Drink Philippines has been reposting Facebook updates from Tanner himself, including the photo below, with the caption: "Made it to the Philippines, watching the closing hours of Daytona 24. Ford is crushing!"
Continue reading below ↓
Recommended Videos
Rockstar Energy Drink is Tanner's official sponsor.
Our best guess, then, is that Mr. Foust is in town to do a marketing campaign for the American energy drink. Or he could really be just doing some driving for the above-mentioned Hollywood film.
What do you think?