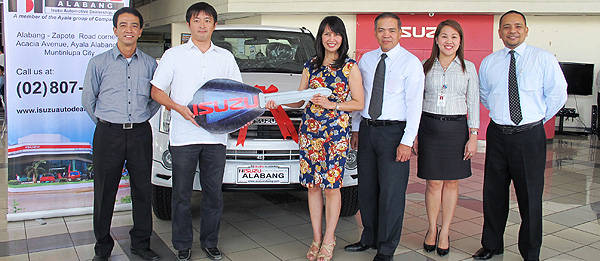 A brand-new Isuzu D-Max 4x2 LS was recently turned over to ABC Development Corporation, the owner and operator of the TV5 television network, as the prize for Isuzu Philippines Corporation's "15th Anniversary Blowout Promo."
"We are glad to be able to contribute to how TV5 responds to their crucial transportation needs," said IPC president Ryoji Yamazaki. "The D-Max's reliability, durability and fuel efficiency should ensure that TV5 benefits from a genuine workhorse, enabling it to maximize time and other resources."
Three other winners were also drawn in the raffle promo. Alejandro Canda, Franklin Cas and Maricel Sales took home a cash prize of P100,000 each for purchasing a Crosswind, a D-Max and an Alterra, respectively.
Like the consolation-prize winners in the previous two raffle draws, the latest batch will still have the chance to take home the grand prizes, as well as the consolation prizes, in the next two raffle draws. Still at stake are a 2012 D-Max 4x4 LS SE and a 2013 Alterra.