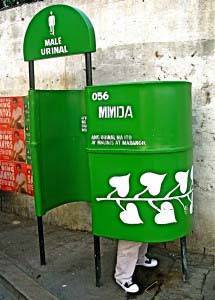 While urinating in public urinals on Metro Manila streets, don't just look down there. You should find time to check your surroundings, too, particularly for possible car thieves.
This is what 33-year old Gilbert Abajar realized when instead of finding relief while urinating at an outdoor urinal constructed by the Metropolitan Manila Development Authority (MMDA), he ended up losing his taxi.
Abajar told the police that he parked his taxi beside an MMDA urinal to answer the call of nature around 10:30pm on July 24. While peeing in the partially-covered urinal, a stranger approached from behind and, at gun point, ordered Abajar to give him the car key.
Continue reading below ↓
Recommended Videos
Abajar said the suspect is around 35 years old, stands at around 5'1" in height and slim. He was also wearing a cap when the crime took place.
The lone suspect commandereed Abajar's taxi, a Hyundai Accent, on his escape.
Quezon City police authorities warned motorists that the area is a favorite spot of car thieves who prey on peeing drivers.
Photo from Synthesistblog.com