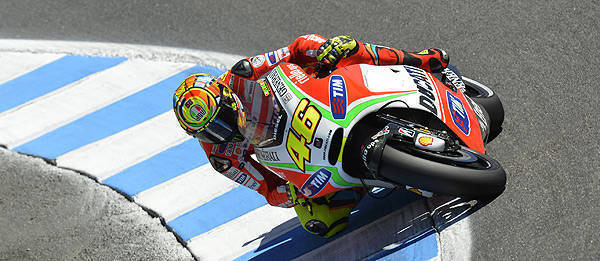 An unfruitful 2011 MotoGP season saw Ducati rider and six-time champion Valentino Rossi failing to win a race for the first time in a season, leaving him unable to fight for the championship. With the 2012 season looking to be a repeat of last season, it's no surprise that Rossi will leave Ducati at the end of the season and rejoin Yamaha, the team that helped him win four of his six championship titles.
Rossi first joined Yamaha in 2004 and achieved four MotoGP World Champion titles in 2004 and 2005, and again in 2008 and 2009. Joining him on the team for next season is Jorge Lorenzo, who currently leads the 2012 MotoGP World Championship and has won five of the 10 races that have so far been run.
"This announcement is once again excellent news for Yamaha," said Yamaha Motor Racing managing director Lin Jarvis. "In June, we were able to sign Jorge Lorenzo for the 2013-14 campaign and now we are able to confirm Valentino Rossi for the next two years. I have no doubt that with the experience, knowledge, skills and speed of these two great champion riders, we will be able to challenge for many race wins and for the 2013 and 2014 World Championship titles."
Continue reading below ↓
Recommended Videos
As for Ducati, its response to Rossi's departure at the end of the season is that it wishes him well for the new challenges that await him and that it "will continue to give its best effort in order to improve over the latter part of the (current) season."