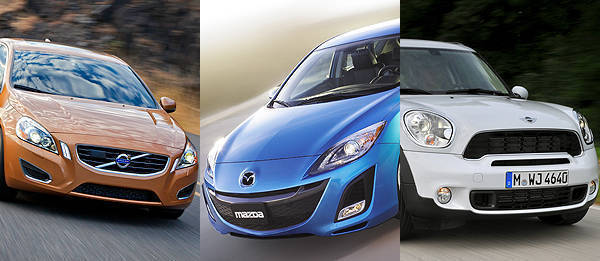 The Insurance Institute for Highway Safety (IIHS) has given the Volvo S60, the all-new Mazda 3 and the Mini Countryman its Top Safety Pick award for their "good" performance during front-, side-, rollover-, and rear-crash-protection tests.
The new Volvo S60 improved on the side impact test of the previous-generation model, which only received an "acceptable" rating. The new S60's roof strength impressed the IIHS as it withstood a force equal to 4.95 times the car's weight.
The all-new Mazda 3, meanwhile, gets the distinction of being the first Mazda to get a Top Safety Pick award since the IIHS made the criteria more stringent by requiring a car to receive a "good" rating in the roof strength test. Based on IIHS' tests, the roof of the four-door sedan was able to withstand a force equal to 5.32 times the car's weight while the roof of the five-door hatchback withstood a force equal to 5.09 times its weight.
The Mini Countryman is also the first Mini--and the second model from the BMW Group--to top the tests since the IIHS tightened the criteria to include the roof's strength. As tested by the organization, the Countryman's roof withstood a force nearly equal to 5 times the car's weight.
Continue reading below ↓
Recommended Videos
According to the IIHS, for a vehicle to earn a "good" rating in the organization's rollover test, a vehicle's roof must have a strength-to-weight ratio of 4 or higher. Also, the current federal standard in the United States only requires a car's roof to withstand 1.5 times its weight.
In addition to receiving "good" crash test ratings in all four of the IIHS' tests, Top Safety Pick winners must be equipped with electronic stability control (ESC), an important crash-avoidance feature, which is found in the Volvo S60, Mazda 3 and Mini Countryman.