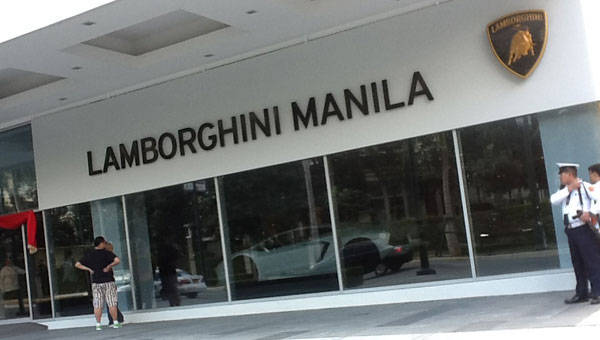 Metro Manila residents are gradually getting used to seeing really nice cars on the road. That's because premium and luxury brands like Audi, BMW, Jaguar, Lexus, Maserati, Mercedes-Benz, Porsche and now even Ferrari and Lamborghini have official distributors here. But even then we're still not too familiar with the really exotic supercars. When Lexus Manila displayed the one-of-a-kind LFA at its lone showroom in the country, people actually went out of their way to see the car in the metal. We just like admiring truly special cars. Probably because they allow us to dream and work hard to fulfill that dream.
Well, there's another truly special supercar in town that we all can admire--albeit from a distance. Lamborghini Manila, whose showroom is located at Bonifacio Global City in Taguig, now has a unit of the Aventador on display. Unfortunately, you will have to stare at it from outside the glass-paneled showroom. We hear you can only enter the showroom if you have an official appointment. Walk-in Lambo fans are not welcome. This, we suppose, is to discourage casual car junkies from simply crashing in and posing beside the very exclusive car.
So, if you don't have P40 million to burn and can't secure that required appointment, you will have to be content ogling the Aventador from the outside. Don't worry, the security guards won't shoo you away.
Continue reading below ↓
Recommended Videos
Photo by Raynand Olarte