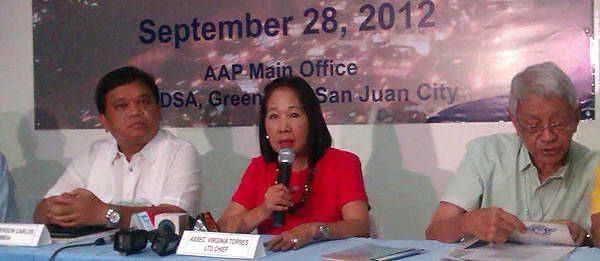 Motorists--particularly those with an interest in car modification--have been up in arms caused by a message that has been passed around through various social networks.
According to the message, through Administrative Order (AO) 15, the Land Transportation Office is proposing that the following rules and regulations be implemented:
* Drivers and all passengers who fail to use seatbelt will be fined P1,500/passenger and must attend a seminar for traffic and vehicle safety to be conducted by LTO;

* For carrying passengers over the vehicle's normal seating capacity, a penalty of P1,000/per passenger;

* For using defective accessories such as headlight, taillight, signal light, brake light, side mirror and horn, a fine of P1,000;

* For modifying any part of the original design of a private vehicle without approval of the LTO and the Department of Trade and Industry, a fine of P2,000;

* Wearing of slippers while operating a motor vehicle, a fine of P500 for the first offense, P700 for the second offense, and P1,000 for the third offense plus the revocation of driver's license;

* Installation of HID headlights of 4,300K and up, a fine of P5000; and

* Installation of an open, free-flow exhaust pipe in place of the original exhaust pipe, a fine of P3000.
Continue reading below ↓
Recommended Videos
We researched about this particular AO and apparently, this was published in 2008 as its complete title is "AO 2008-015." Most important, the AO is specifically targeted at motorcycle riders and that only four of the seven above-mentioned violations and penalties are included in the actual AO: These are the provisions regarding carrying passengers that exceed the motorcycle's capacity, the use of defective accessories, illegally modifying the motorcycle without the consent of the LTO and the DTI, and the wearing of slippers while riding a motorcycle.
The one violation in the actual AO that is absent on the list going around social media is the failure to wear a helmet while driving or riding a motorcycle. Interestingly enough, our research also led us to AO 2008-035, which carried the exact same guidelines as AO 2008-015. Strangely enough, other than posts in forums "quoting" verbatim AO 2008-035, we couldn't even find a single news article that cited that specific AO.
At a forum today sponsored by the Automobile Association Philippines, we asked LTO chief Virginia Torres about AO15. According to her, all, if not most, of the violations listed are currently being enforced but only for motorcycle riders.
"These had been enforced even when I was still the LTO chief in Tarlac," said Torres. "People are always complaining how noisy these modified motorcycles are because of their exhaust pipes, or how the glare of the HID headlights are blinding. The motorcycle manufacturers constructed their products in a specific way, so why change them if people will only complain?"
Asked if the same provisions will also be applied to cars and other four-wheeled vehicles if there is an AO 2008-035, Torres said no because she believes car owners do not modify their vehicles as often and as heavily as motorcycle riders.
So, automotive aftermarket parts manufacturers and sellers--and patrons--can rest easy knowing that the LTO chief herself has said that they won't be apprehended for their loud exhausts or carbon-fiber hoods. But still, it's only common sense that, as responsible motorists, you have to make sure that you don't exceed your car's passenger capacity and that all of the occupants are using their respective seatbelts.