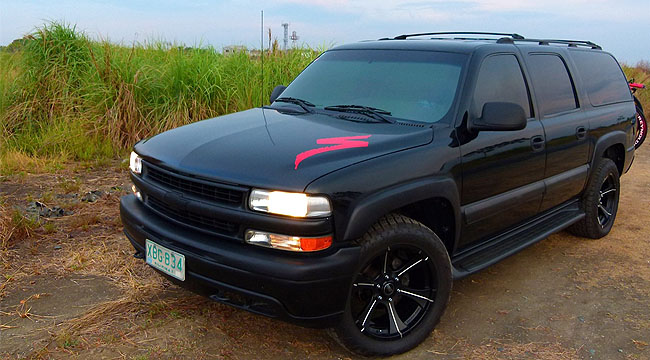 It is my firm belief that every man should have a truck at least once in his life. A sports car, too, but that selfish luxury can wait a couple more years just before I hit my midlife crisis. A truck, however, is as essential to life in the Philippines as a Swiss Army knife (better yet, a Gerber multi-tool) and a toolbox. When you have your own truck, you can throw all your people and stuff inside without having to borrow or rent the neighbor's pickup. When the floods arrive, you can just plow through most of them. When it gets banged or scratched, you needn't shed a tear.
Over the course of doing what I do for the past several years, I realized that the daily driver was adequate for most transportation requirements but quite limited during especially busy days. I'd load my family and my gear into the car and cram every available nook and cranny, and I'd feel bad for the car as it collected dust and grime and hit its bump stops.
At first I thought I'd get a used Ford E-150. A favorite of airport shuttle services in the US, it's a robust, simple machine that does a lot for its size. Scanning the market for possible options, I became less and less enthusiastic about the idea of piloting a small house. So I started looking at used Expeditions, Explorers, Trailblazers and Suburbans before coming upon an online ad for this one. Some Google research to check on the model's reliability, a quick check on the vehicle's LTO records, and I called up the seller for a test drive.
It was love at first sight. After haggling a bit on the price, I took the Chevy home for less than the cost of a brand-new Wigo(!) and made a list of everything that needed to be fixed. I also put in P2,000 worth of gas and had to (nervously) laugh at how the fuel gauge needle barely moved.
I gave it a name: "Beast." If I was going to get a used truck, I might as well get something unconventional so I could at least have fun owning it. Technically, a 'Burb isn't a truck, but it's hard to beat the sheer cargo and passenger volume of the beast, so truck it is.
That was September last year. Today, as I write this, I can look out the window and see the Beast just outside, almost as if it were standing guard.
I don't think it has ever run as well as it does now. I don't really mind that it took twice more spark plugs than the usual four-cylinder car, or twice as much oil during its tune-up at Speedlab, or that a simple but essential Hydrovac brake booster cost more than I thought it would. And yes, a normal fill-up of around 85 liters is only good for about 350-400km of traveling in Metro Manila traffic (roughly 4.12-4.7km/L)--quite a shocker for someone used to getting 9-11km/L. I don't even mind that the interior trim pieces look like they came from Toys 'R' Us.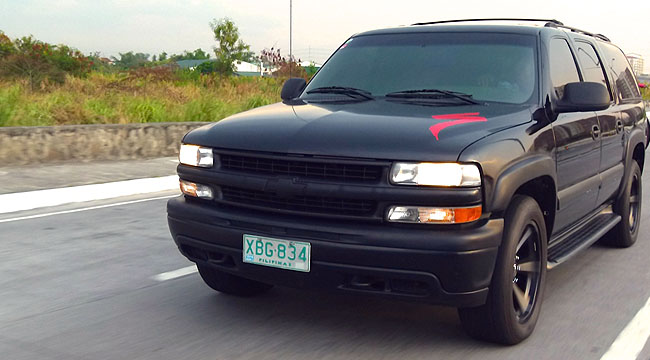 I forgive the Beast's thirsty nature and somewhat expensive upkeep because of one thing: For what it was made to do, it does it very well. Drives that normally took two trips or two cars now take only one in the Beast.
During the Christmas break, we used the Beast to ferry relatives to and from the metro in safety. (And they paid for the gas, too!) The space behind the third-row seat dwarfs even that of a modern-day crossover, making it perfect for airport-shuttle duty. During Oplan Hatid, I happily gave a ride to families who had had a tough week. For fieldwork, it's hard to beat the Beast's sheer cargo capacity. And by dint of its massive size, it inspires lane discipline among PUV drivers. They see the hulking Suburban in their side mirror and they think twice about swerving into my lane. This has got to be the most relaxing truck I have ever driven. Its size makes it a bit of handful to drive and park, so I am actually more of a defensive driver in it than in the family car.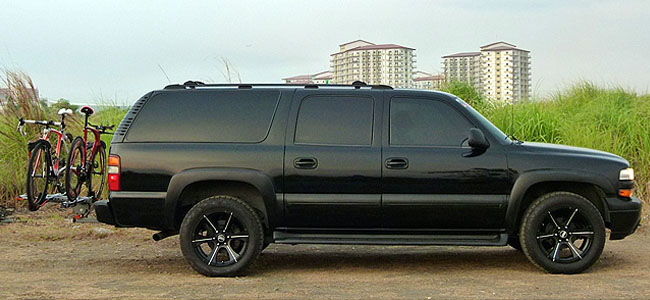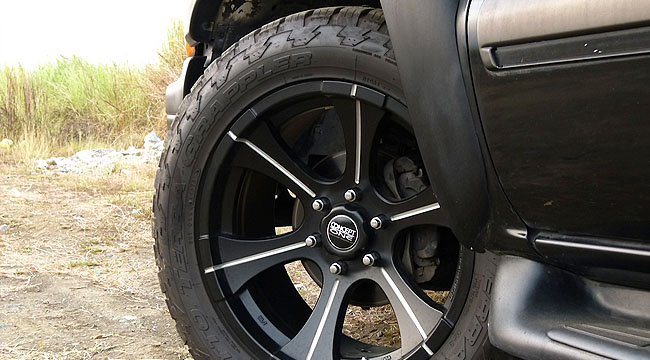 When I first took the Suburban home, it came with the original wheels and tires, and it looked like an old US Secret Service unit. Fortunately, when Wheel Gallery heard about my not-so-little project, they offered to sponsor a new set of shoes in the form of 20-inch Concept Ones and Nitto Grapplers. So now it looks like a security contractor's Suburban. These really add more brawn to the Chevy's looks, and the ride from the knobby Nittos is surprisingly quiet and almost plush.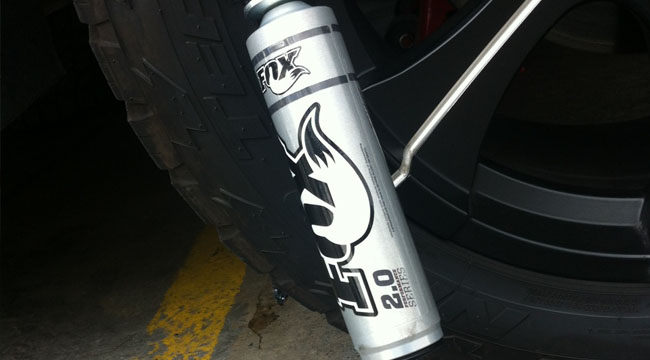 Next, I had a set of Fox 2.0 Performance Series shock absorbers installed to replace the tired Monroes that the Beast came with. These are intended as better-than-OEM replacements without the complexity of a reservoir--or the expense of coilovers. They simply bolt on and come already tuned for the specific vehicle you order them for. The ride has firmed up nicely and has just the right amount of rebound and compression for everyday use. Fox can also tune the shocks for a slower or quicker rebound for you, but they will have to open up the shocks for that.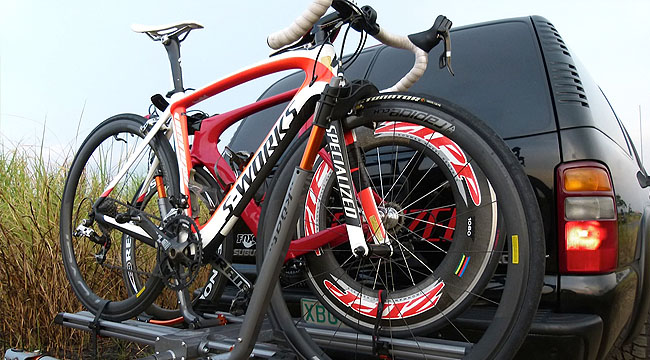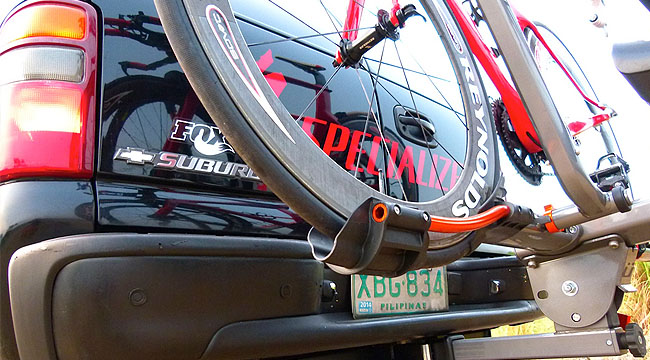 And since the Suburban earns its keep as a Support and Gear Wagon for my Specialized training camps, I needed a bike rack. Specialized also added a few discreet decals for branding purposes on the hood and rear cargo doors.
HitchPro sponsored a custom hitch receiver mount for my expandable Kuat rear-mount bike rack. For a recent stage race in Subic, we loaded two bikes, 12 helmet boxes, half a dozen large bags, three 50-liter plastic boxes, and one 47.5-liter cooler inside--all behind the second-row seat. The Kuat took on two more bikes. Add our four-passenger complement and I don't think any other SUV could have done what this Suburban did. Fuel economy on the highway hovered at 5-6 km/L, which is alright considering our load would have normally required two smaller vehicles, and we gave up nothing in comfort or power.
Finally, the drivetrain is a sweetheart. An eight-cylinder engine will never be thrifty, but it's tough to beat the power, smoothness and musical rumble of an honest-to-goodness V8 under the hood. Chevy has a reputation for making durable drivetrains, so I figure the Beast is good for several hundred thousand kilometers. Anyway, it's pretty economical if I don't use it!
For "Phase 1" of this project, I did a DIY job of blacking-out the chrome bumpers and side strips with three cans of Plasti-Wrap. Actually, I may need another two cans to give it a thicker coat as it still peels off a little too easily.
More typhoons may come, a zombie outbreak may occur, the Big Earthquake could happen tomorrow, and general mayhem may transpire, but it makes me happy to know that I have a truck I can rely on if I ever have to bust through things.
In the meantime, let me work on replacing the stereo and getting better lights for Phase 2. The Dillon Aero M134D Gatling gun is for Phase 3.
Photos by Andy Leuterio