Many years ago, I spent the better part of two days in a chase van as several Isuzu D-Max owners drove from Bangkok to Malaysia on a single tank of fuel. The mission was a success, with more than 1,500km accomplished and several liters to spare. I'm not exactly a fan of these fuel-efficiency exercises, but I can respect those who give it their all with the same enthusiasm as another nut would for a blazing quarter-mile.
While other manufacturers have trumped up their trucks' sex appeal, Isuzu has stayed the course over several generations. In doing so, it has enviable brand loyalty that has more than a few neutral buyers and observers bemused. Why would someone pick a dinosaur like the Crosswind over the Innova, for example? Or a D-Max over something arguably sportier and more powerful like a Ford Ranger? Brand loyalty is solid as a rock among Isuzu fans, and I'll hazard a guess that this stems from its reputation for near-bulletproof reliability. You put the fluids in the truck, you follow the service schedule, and it'll run for many years to come. And it won't cost you a lot at the pump, either.
Continue reading below ↓
Recommended Videos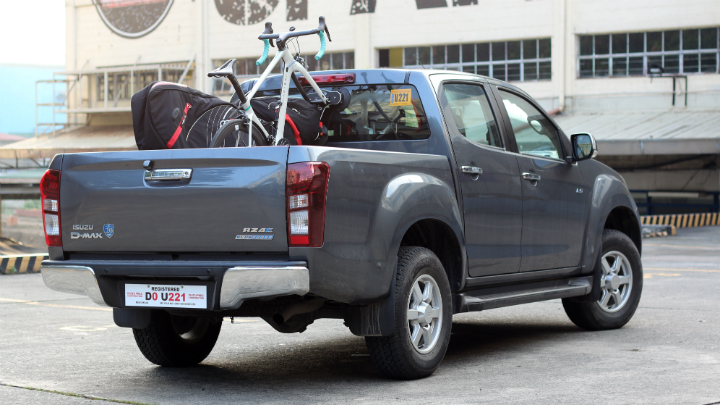 I had the newest D-Max for a week and got the impression that it's yet another keeper. The latest model has the RZ4E-TC engine with output of 148hp at 3,600 rpm and a wide torque spread of 350Nm at 1,800-2,600rpm. These are respectable numbers, and, coupled with Euro 4 compliance, make for a remarkably green diesel. The RZ4E-TC, which displaces a mere 1.9 liters, uses a steel timing chain with anti-friction cylinder walls for increased efficiency and engine longevity, coupled with common-rail injection tech.
My test unit came with a six-speed automatic, which is a godsend for tired souls and hellish traffic, but buyers can still spec a six-speed manual if they wish. The automatic has the same gearing (including final drive ratio) as the more powerful 3.0-liter variants, and seems to have been optimized for that variant rather than this smaller engine. Acceleration from a standstill is gradual rather than urgent, and you'll need to manually work the gears if you plan to do a lot of overtaking. For long highway cruises, the truck happily steams along at 100-120kph before the drivetrain begins to strain.
I did notice what could be a software glitch with the transmission. After several minutes in first and second gear in stop-and-go traffic, I came to a stop, shifted to reverse in order to park and chug...like it just dropped into gear. I tried to duplicate this event several times but it didn't happen again, so chalk that up to something for the service crews to look into.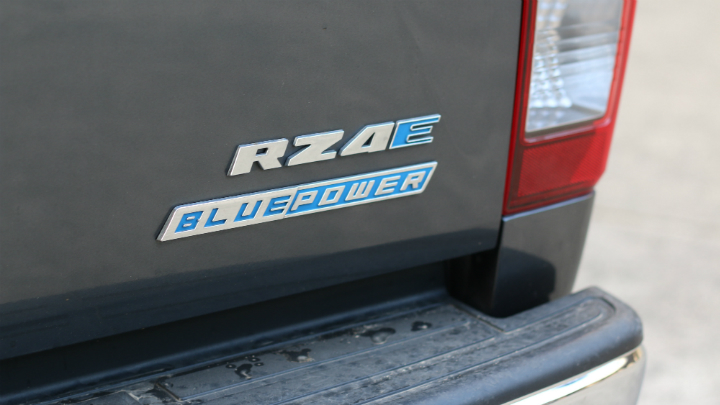 I used the D-Max as a support vehicle for my team at Tour of Matabungkay, a three-day amateur cycling race, and we filled up the bed with bikes, wheels, trainers, coolers, and boxes of food and gear. The stock rear leaf-spring suspension is on the expectedly firm side with an empty bed, but once weighed down with around 180kg of people and cargo, it earns its keep. As expected, the D-Max is rather cumbersome to drive unless you're using it for its intended purpose, but it still feels stable and only marginally harder to stop when carrying a full load of passengers and cargo.
Isuzu has gradually upgraded its cabins through the years, with the latest model sporting more curves and softer plastics. The leather upholstery is reserved for the 3.0-liter variant, but the fabric-covered seats of our lower-grade test unit looked and felt expensive. It also has an 8-inch display for navigation and audio, push-start ignition, and multiple USB ports. Some practical items include a headlamp-leveling switch and a reverse sensor. I only wished the dashboard had more cubbyholes for small items like wallets, phones, and sunglass cases, as we had to use the cupholders to store these.
The front seats are comfortable for long drives—nice and wide and amply supported and cushioned. The rear bench has a bit of angle to the backrest to make it a little bit more comfortable, but it's not stellar. Of course, if seat comfort is a high priority, go get an SUV. And try as we might, we never got the audio system to pair with our iPhones; chalk that up to the quirks of Bluetooth technology.
Our five-day test had us log a little over 600km up through the hills of Batangas and Tagaytay as well as the slog of Manila. At the end of that period, the fuel-gauge needle was still at the one-fourth mark, and indicated fuel efficiency hovered around 12-13km/L. A workhorse like the Isuzu D-Max won't likely win you points for style, but anyone needing a reliable, thrifty tool that also happens to be reasonably comfortable will realize it's a worthy investment.