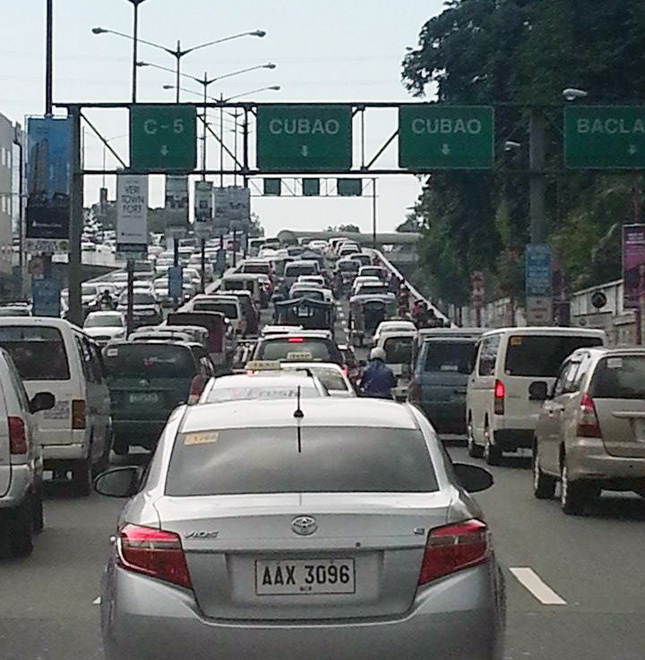 One thing that's traumatic for me about my college days at the De La Salle University was algebra. Memorizing those mathematical formulas looked as easy as remembering phone numbers of girlfriends, but numbers aren't really my cup of tea. Simply looking at numbers makes me black out.
To make my algebra story short, it took me three times to pass it. First failure, I re-enrolled. Then the second time felt like a cliffhanger--I barely managed to hang on to a lifeline with a very strong grip. But eventually, the rope snapped, so there I dropped, straight down to the very bottom.
Of course, I had to take a third try, or else I may not have been here writing for Top Gear. Because I would have surely ended up at a jeepney terminal as a barker had I not finished college.
Now, what's the significance of my algebra debacle?
Well, I met this demure lady named Maria Pamela Tecson. To begin with, this Bulakeña is no ordinary lady. She is a specialist in obstetrics and gynecology, with a sub-specialization in reproductive endocrinology and infertility.
ADVERTISEMENT - CONTINUE READING BELOW ↓
Still single at 33 and very attractive, she is being hounded by bachelors. (Sorry, guys, she's just too busy with her work. If you want to wait in the operating room, she'll be happy to give you regular medical updates.) In fact, it took me three attempts before I finally got to sit down and talk to her.
Dr. Pinky (her nickname) works almost seven days a week, visiting clinics in a Malolos town and a major food company based in Metro Manila. She owns a 1.3-liter Honda City sedan, and how she wishes that she could enjoy her car to the fullest.
Despite her impressive record as a medical professional, Dr. Pinky still thinks she is a failure in one important aspect of her life--and that is driving. She explains that she prefers enrolling in driving schools instead of taking driving lessons from her parents, brothers and even boyfriends, because of the scientific approach used in the teaching. There is also the theoretical approach to instilling road discipline, interpreting traffic signs and regulations, and explaining basic troubleshooting.
ADVERTISEMENT - CONTINUE READING BELOW ↓
Recommended Videos
Although medicine is also a science, Dr. Pinky is still at a loss with regard to driving confidently despite the scientific way of learning how to drive. And believe it or not, she has taken the basic driving course three times already. Up to now, she admits that she still lacks confidence to drive around Metro Manila. When she has an appointment in the city, she usually has a driver beside her while she drives. The lucky bastard is paid P500 just to sit next to her while she struggles at the steering wheel.
Dr. Pinky was 19 when she first took a basic driving course in 1993. Two years later, upon entering med school, she took a refresher driving course because she thought that she still lacked driving confidence. Another refresher course followed in 1998.
She simply says that she can't "get the feel" of driving a car. She feels tense and scared of the swerving jeepneys and the wild driving habits of passenger buses. Every time those road scoundrels get near her Honda City, Dr. Pinky just steps on the brakes and prays. She recalls when her older brother took her for a driving lesson one day: "All I remember was him shouting at me every time I made mistakes. I was so tense."
ADVERTISEMENT - CONTINUE READING BELOW ↓
Her first refresher course in Malolos cost her P4,000. The second refresher made her bleed P5,000 because the driving school was in Manila.
But Dr. Pinky didn't mind.
When I met her, she was thinking of enrolling again just to get that so-called driving confidence. During our conversation, we both figured out that what she needed in order to boost her motoring self-esteem was not another refresher course, but a "good pair of balls." She cited her best friend--Charina Meneses--for being a gutsy driver. They are the best of friends, but with different driving styles that are a thousand miles apart.
Guts. That's it. Moreover, she also needs a lot of practice along with an instructor (or boyfriend) who is patient enough to teach her real gutsy driving. When I told her about the defensive driving course offered by the Tuason Racing School, Dr. Pinky expressed interest.
There are times when I think of volunteering myself, but I'm afraid I wouldn't even remember what a speedometer is for in the presence of a pretty lady.
ADVERTISEMENT - CONTINUE READING BELOW ↓
This article originally appeared in the January/February 2008 issue of Top Gear Philippines.
Photo from Enrico Miguel Subido