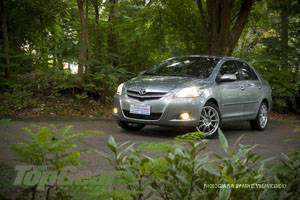 TO CELEBRATE its 20th anniversary in the Philippines, Toyota offers a limited-edition Vios called the XX. It boasts a younger look than the current model, and is the perfect gift for fresh graduates or first car for dynamic and on-the-go yuppies.
The special variant comes with HID headlamps, which light the way better than stock bulbs. The original 15-inch alloy rims have been replaced by macho-looking 17-inch wheels, so all the car needs now are lowering springs to add more pogi points. You might think that driving the XX LE around with 17-inch wheels would somewhat slow you down. But the new rims are lightweight, so you won't feel even a hint of drag while speeding down the highway.
ADVERTISEMENT - CONTINUE READING BELOW ↓
There are more aesthetic add-ons, like the rear spoiler, which was developed by the product planning department of Toyota Motor Philippines and is available only in our market. I'm sure there are Vios lovers from neighboring countries who would want to add this rear spoiler to their modification list.
Even if the existing audio system of the regular Vios is already quite good, Toyota adds more oomph in completing the six-speaker audio setup, and even throws in an iPod interface. I tried playing my iPod on the system, but I got confused as to how to operate it. What's also missing is a place to stow your iPod in. But you're sure to gush, along with other Toyota fans, when you see that Toyota logo on your iPod. It's way too cool.
When I first got the car, I thought that I'd taken delivery of the first car off the production line, because a "1 of 800" note was engraved on its elegant keychain. I was about to celebrate and start taking photos - only to discover later on that all the keychains had "1 of 800" engraved on them! It would have been much nicer if each one displayed the number of the unit according to the order of its release by Toyota, just so you could have bragging rights as to which unit on the production line you ended up bringing home.
ADVERTISEMENT - CONTINUE READING BELOW ↓
Recommended Videos
For an additional P20,000, you get a better version of the top-of-the-line Vios. Toyota is, after all, dedicated to continually improving upon its products. This is just one example of the so-called 'Toyota Way'. Maybe an even more improved version of this modified Vios will be available soon - and will be called the XXX.