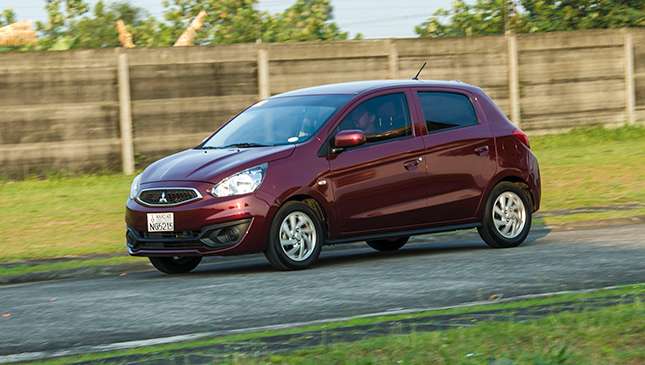 Motoring writers and enthusiasts have not warmed up much to the Mitsubishi Mirage, knocking it for poor driving dynamics and lackadaisical performance. But despite this, it has been a hit with economy buyers. With a lot to offer for the money—at least locally—the mini-Mitsubishi has forced other players to adapt or die.
More refined cars like the Kia Picanto and the Hyundai Grand i10 have struggled to compete on price, while cheaper cars have struggled to match it on space and specs. But with the Celerio now boasting Mirage-rivaling space, can the face-lifted Mirage still retain its market lead?
Continue reading below ↓
Recommended Videos
First impressions are good. The recent facelift boasts a new grille and sharper front-end sheet metal than the blobby old car. The interior is still a sea of hard black plastic, but ambience goes up a notch with the inclusion of the touchscreen head unit from the GLS.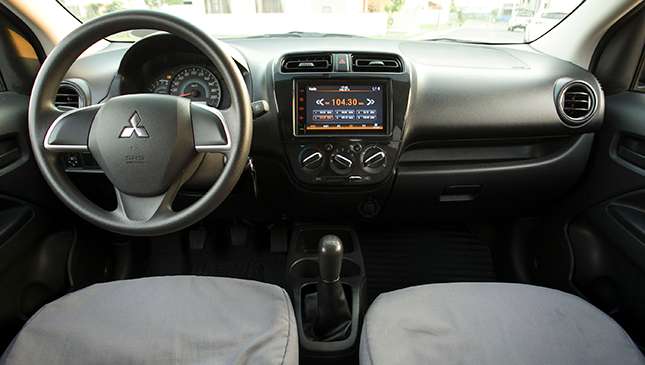 The seats are comfortable on long drives, if a bit lacking in thigh and lumbar support. Legroom is still better than in most small cars, beating even the upsized Celerio. While taller rear passengers will find the roof a bit low, generously reclined seatbacks make for good long distance comfort.
The driving position is still on the low side, but it can be adjusted for rake. The five-speed gearbox still suffers from a vague clutch biting point and floppy shift quality, but it proves quick and stress-free to use. Unfortunately, also unchanged is the weight- and cost-saving dual engine-mount setup, which leaves the Mirage more prone to shuddering under load than the Celerio.
The 3A92 three-cylinder engine itself, however, is still a champ. While lacking in low-end torque compared to other 1.2- and 1.3-liter units, MIVEC valve trickery and optimized breathing give it some high-rev zing and the ability to do 26km/L at 80kph. Going over 3,000rpm at 100kph, it still pips the 20km/L mark, making it a viable long distance cruiser.
The old GLX wasn't quite suited to the open road, plagued by a bouncy ride, wooly steering, and poor tracking over ruts. Stiffer springs now eliminate the boat-like wallowing, while a recalibrated steering rack makes for more precision and quicker turn-in. That said, the steering is a bit too flighty, and at full-blast, body roll in corners is still severe. Even in sedate driving, the tires are noisy, and the Mirage can feel rattly over potholes. Add in a cheap-sounding horn and a flimsy tonneau cover, and it's obvious where Mitsubishi has cut corners to get the price down.
That said, the cost and weight savings result in an astonishingly light car that seats five and aces global crashworthiness requirements. The lightness and the tiny engine pay dividends as well, in terms of running and maintenance costs. And the finger-twirl steering, along with the ample engine grunt, makes it feel much zippier than most small cars through traffic. It's hard to find this much space and equipment elsewhere at this price—but Suzuki just might have something to say about that.
SPECS: Mitsubishi Mirage
Price: P560,000
Engine: 1.2-liter DOHC I3
Power: 77hp @ 6,000rpm
Torque: 100Nm @ 4,000rpm
Transmission: 5-speed manual
Layout: FWD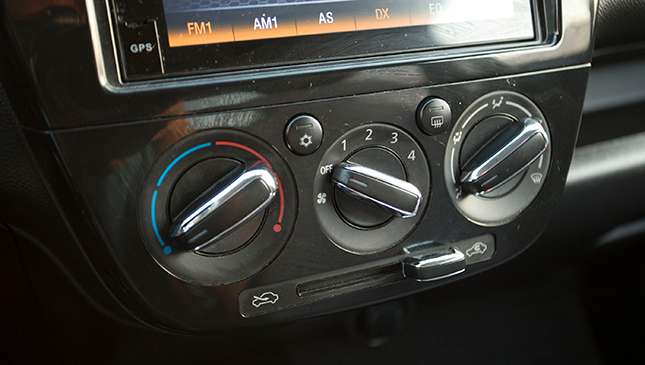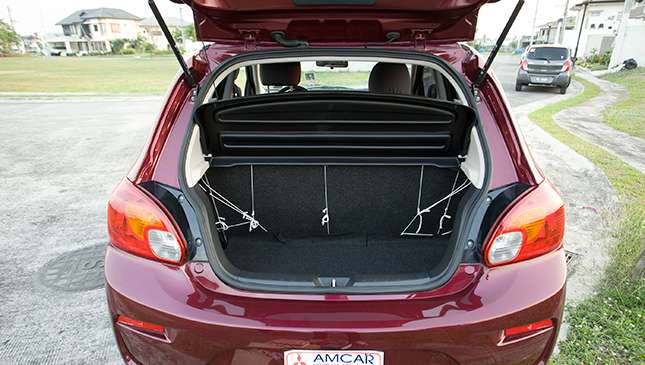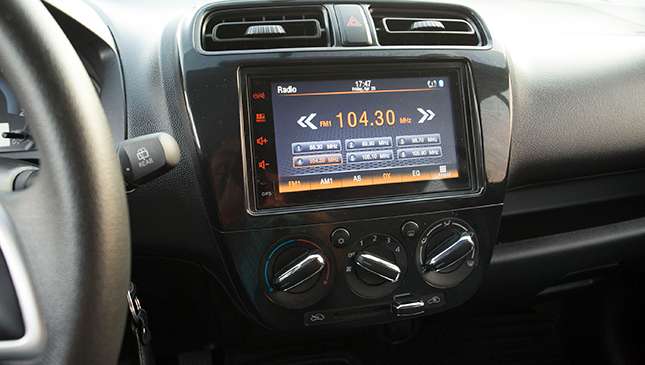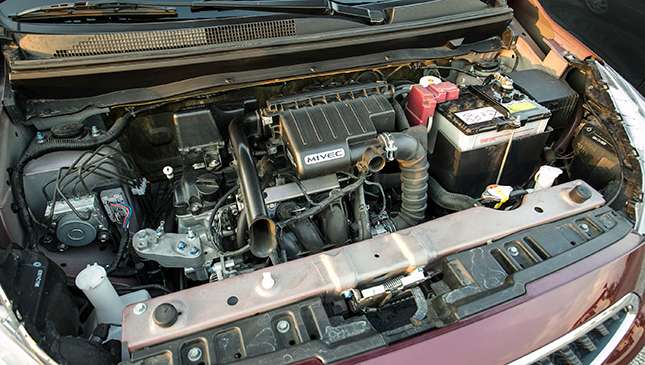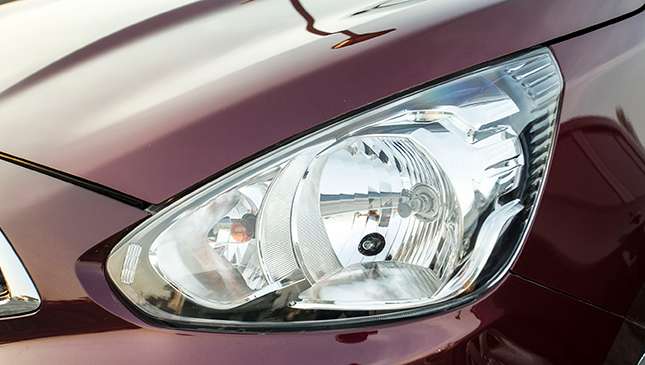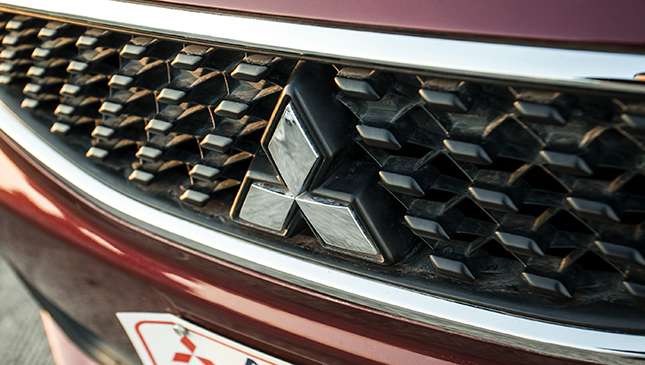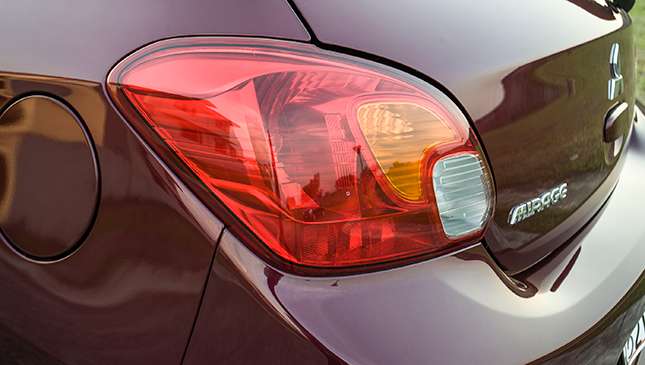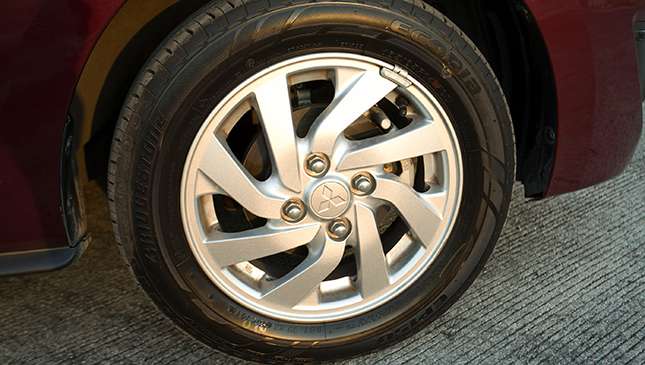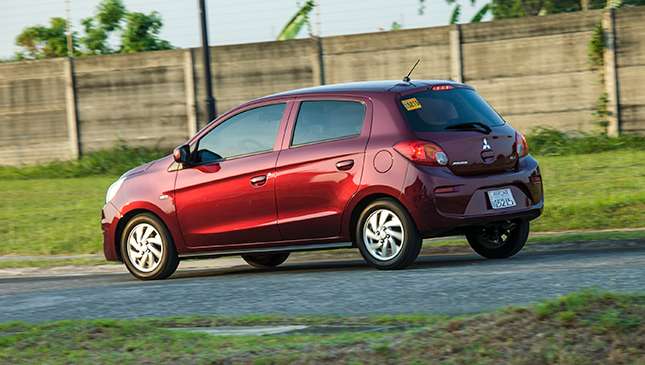 UP NEXT: Suzuki Celerio
[previous|page|next]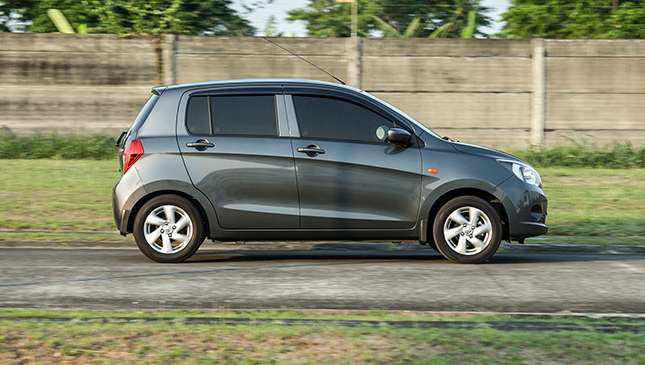 The old Celerio was a charmer, with its goggly-eyed countenance, tiny size, and rorty K10 three-pot. The new one more closely resembles a micro van. But it has traded in its quirky charm for an anonymously non-offensive look.
On the inside, however, that boxiness pays off. The Celerio has much more headroom than the Mirage does, and the extended wheelbase gives it legroom that's only a finger or two shy. Gone is the gimmicky motorcycle instrument pod, replaced by a full gauge cluster. Fit and finish marginally betters that of Mitsubishi; we're still undecided if the plasticky finish on the door panels counts as 'fabric.' Console storage wins over the Mirage, with multiple shelves that don't force you to wedge gadgets under the dash or in inadequate door pockets. On the debit side, the narrow cabin means the front cupholders sit below the seats rather than by your knees, and the rear bench is a tight fit for three.
In terms of cargo capacity, the Celerio just pips the Mirage. While latter has a deeper and wider trunk, the former's bigger trunk opening, longer floor, and square load bay are more suitcase-friendly. Unfortunately, that extra capacity comes courtesy of upright rear seatbacks—a disadvantage for those who use those seats often.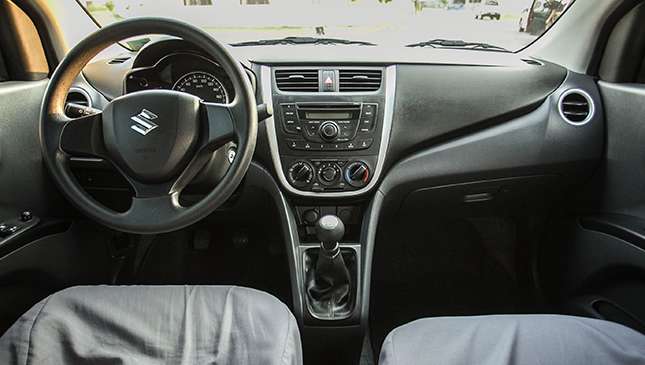 Where the Celerio isn't at a disadvantage is in the drive. On twisty two-lanes, it boasts more confident turn-in and a more composed ride, though there's still quite a bit of body roll at a push. The steering, while lacking in feel, is much more measured and precise, and compares favorably to pricier hatchbacks like the Chevy Spark and the Honda Brio. The ride is a bit stiff-legged, but the car doesn't crash over bumps like the Mirage does.
Around town, big glass and incredible sightlines make it ridiculously easy to thread through traffic, and the positive gearshift and clutch are confidence-inspiring. The carried-over K10 engine, while weaker on paper, feels eager at low revs, with a more linear powerband and a raspy exhaust note that conjures up fantasies of miniature Lamborghini V12s. Much unlike the tuneless drone of the Mirage.
At highway speeds, it struggles to pace the Mirage. The trade-off here is fantastic economy. While the Celerio's 26-30km/L cruising economy might not seem impressive compared to modern 1.5-liter sedans that hit 25km/L, it is unparalleled in traffic, boasting 16-18km/L in mixed running and 10-12km/L in even the heaviest congestion. It bests the Mirage by around a kilometer per liter in these conditions.
The Celerio is marginally easier to park, and shorter drivers do have a better view, despite the lack of height adjustment. Sad to say, you don't get a touchscreen system at this price, but sound quality trumps the Mitsubishi. And if you really want it, a touchscreen comes standard with the CVT variant, which is only P9,000 more than the manual Mirage GLX.
Interesting conundrum, right?
SPECS: Suzuki Celerio
Price: P514,000
Engine: 1.0-liter DOHC I3
Power: 67hp @ 6,000rpm
Torque: 90Nm @ 3,500rpm
Transmission: 5-speed manual
Layout: FWD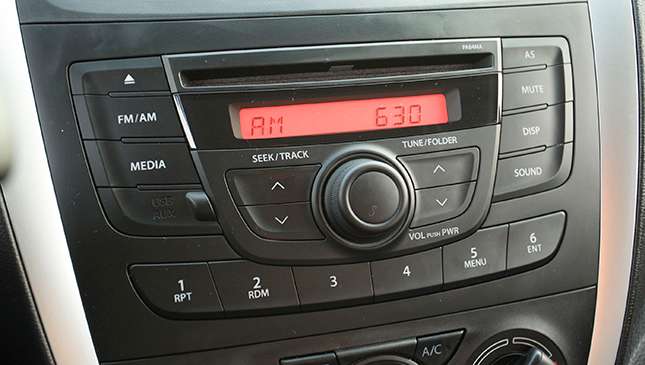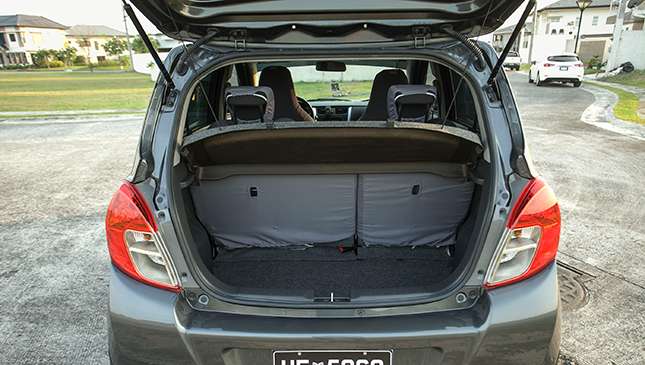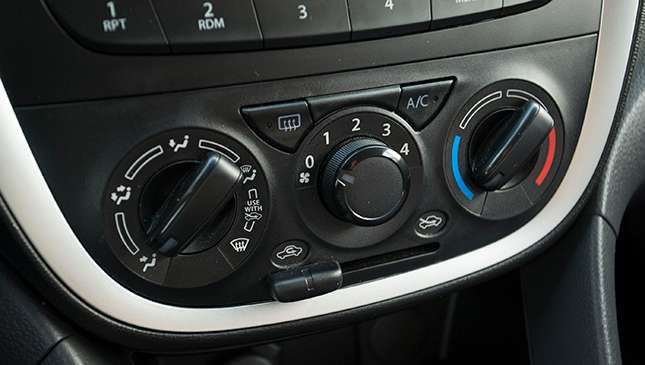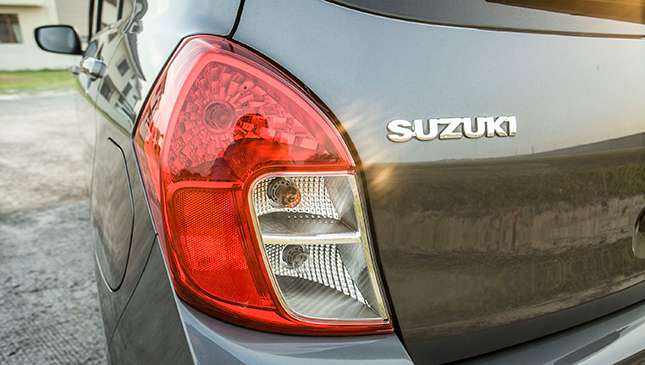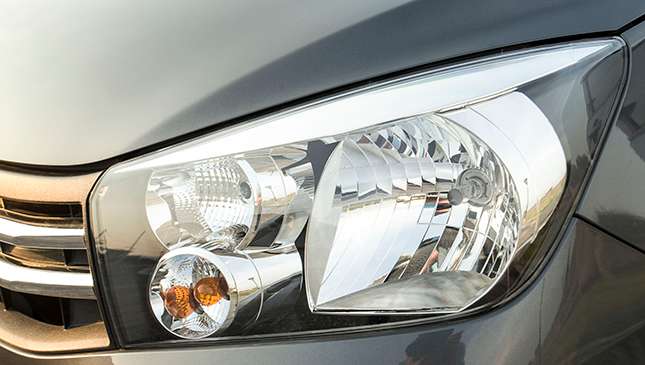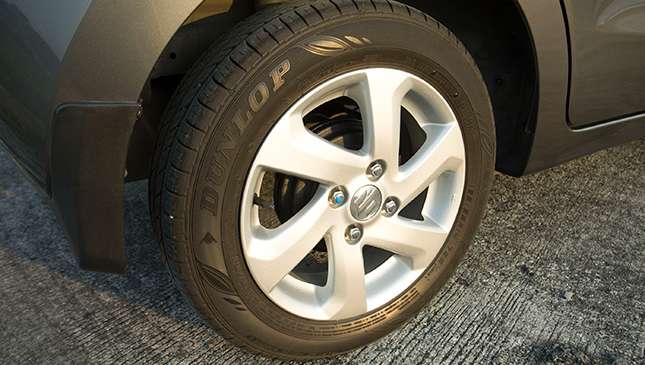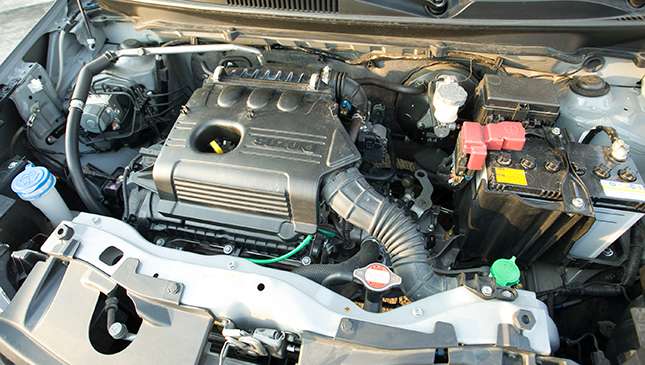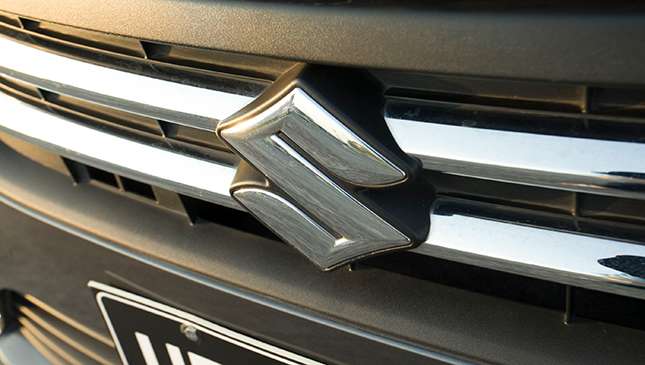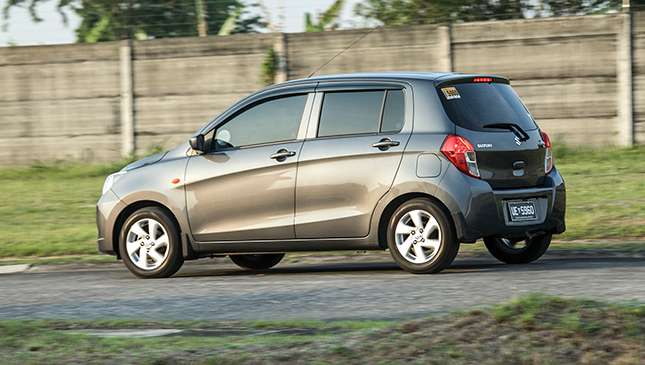 UP NEXT: The verdict
[previous|page|next]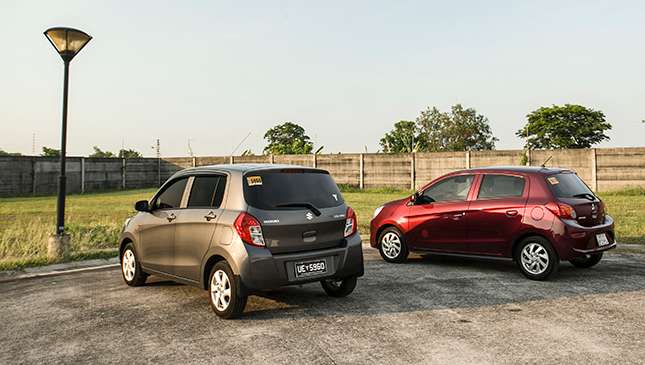 While the Mirage is still a runaway bestseller, the Celerio is Suzuki's first micro car to boast global-level crash safety, sitting just one star shy of the Mirage's five-star ANCAP rating. And it only loses that last star due to the lack of side curtain airbags, which aren't available on the Mirage GLX, either.
One could argue that the Mirage is a no-brainer for the price. It offers the power and space of a subcompact with the price and economy of a microcar.
The Celerio, on the other hand, feels like a more mature product. It is the only direct competitor that roundly beats the Mirage in terms of economy. The venerable K10 is also a more characterful and willing performer than the Mitsubishi 1.2-liter, lacking only that last bit of oomph past 80kph. Considering most owners will spend most of their time stuck in crawling rush-hour traffic, that's an easy sacrifice to make.
Against the old Mirage, the Celerio would be an unquestioned winner. Superior driving dynamics and refinement would have won the day. The new Mirage, on the other hand, does just enough to justify a points win over the Suzuki, driving less like a wet noodle and more like a slightly soggy one. Neither of these cars is ever going to get your heart thumping, but the Mirage's extra power and kit go some way toward convincing you that you've bought something a little more than basic transportation.