It's been a long time since I've driven a Jag, the last being the original F-Type R—a rear-drive supercharged sports car that would attempt to introduce you to the nearest tree the moment you so much as twitched your right ankle with the traction control off. Off because, you know, reasons. It was a sort of British Mustang, only with better steering, better handling, a better interior, a silkier engine note, and the exclusivity of owning a one-off model. One-off because they cured the car's tire-smoking, tree-meeting predisposition the very next year by giving it all-wheel drive.
All part of the general gentrification of the sports car. Which need to excite you without killing you. Granted, the F-Pace I'm driving now is an SUV, not a sports car. And it doesn't excite nearly as much as an F-Type. But it's still a Jaguar at heart, and as such, has more sporting intent in its raised teacup-dangling pinky finger than most SUVs do in their wide-hipped booties. But how much 'Sport' is there in this 'R-Sport' diesel variant? Let's find out.
Styling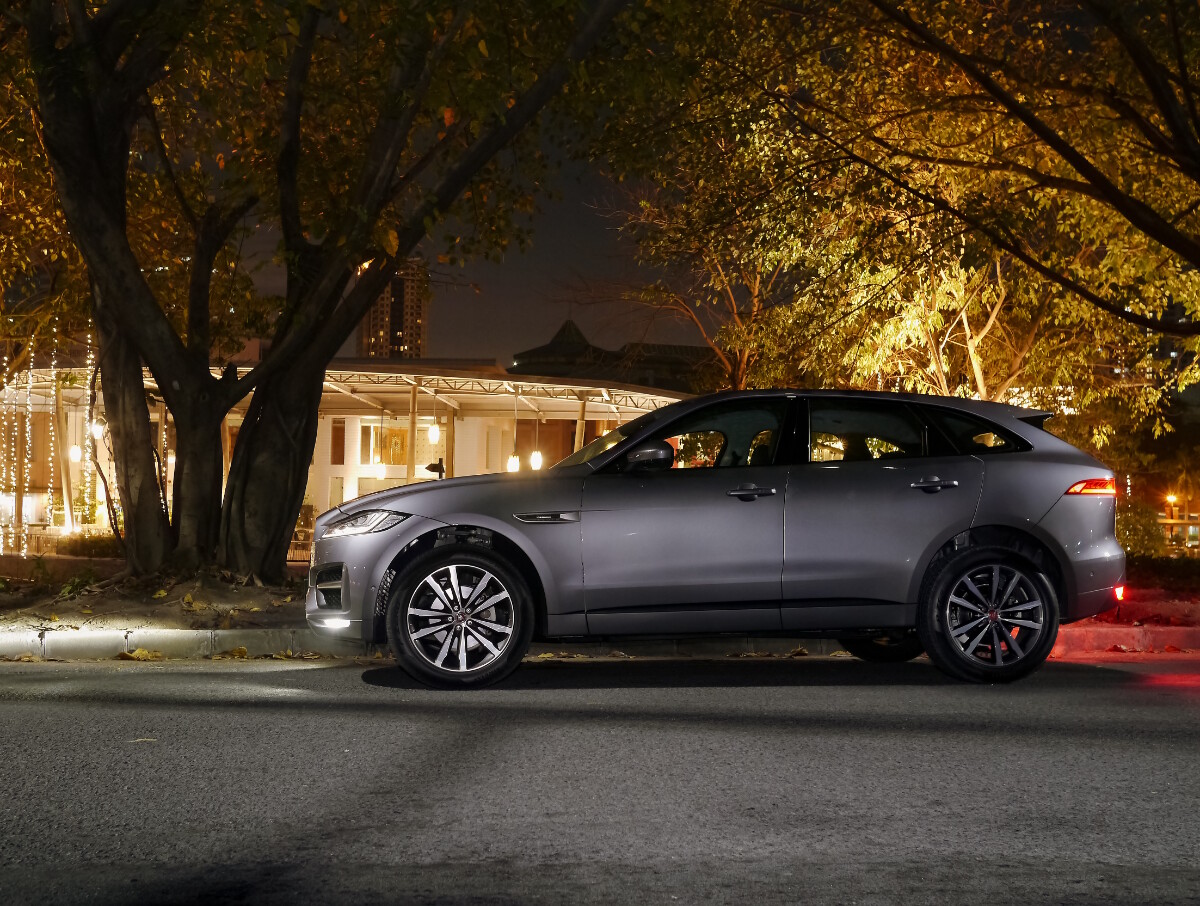 Continue reading below ↓
Recommended Videos
Being based on a platform shared with the XF, the F-Pace carries over much of the styling of its sedan brethren. But with more of a sense of drama, with a big, gaping grille up front, all business, no blanked-off plastic. Sleek stylish lines make it look long, low, and muscular, and the glorious 20-inch R-Sport alloys offset the bodywork perfectly. It's too restrained to be mistaken for a Maserati Levante, but it has a similar long-hood, short-deck vibe.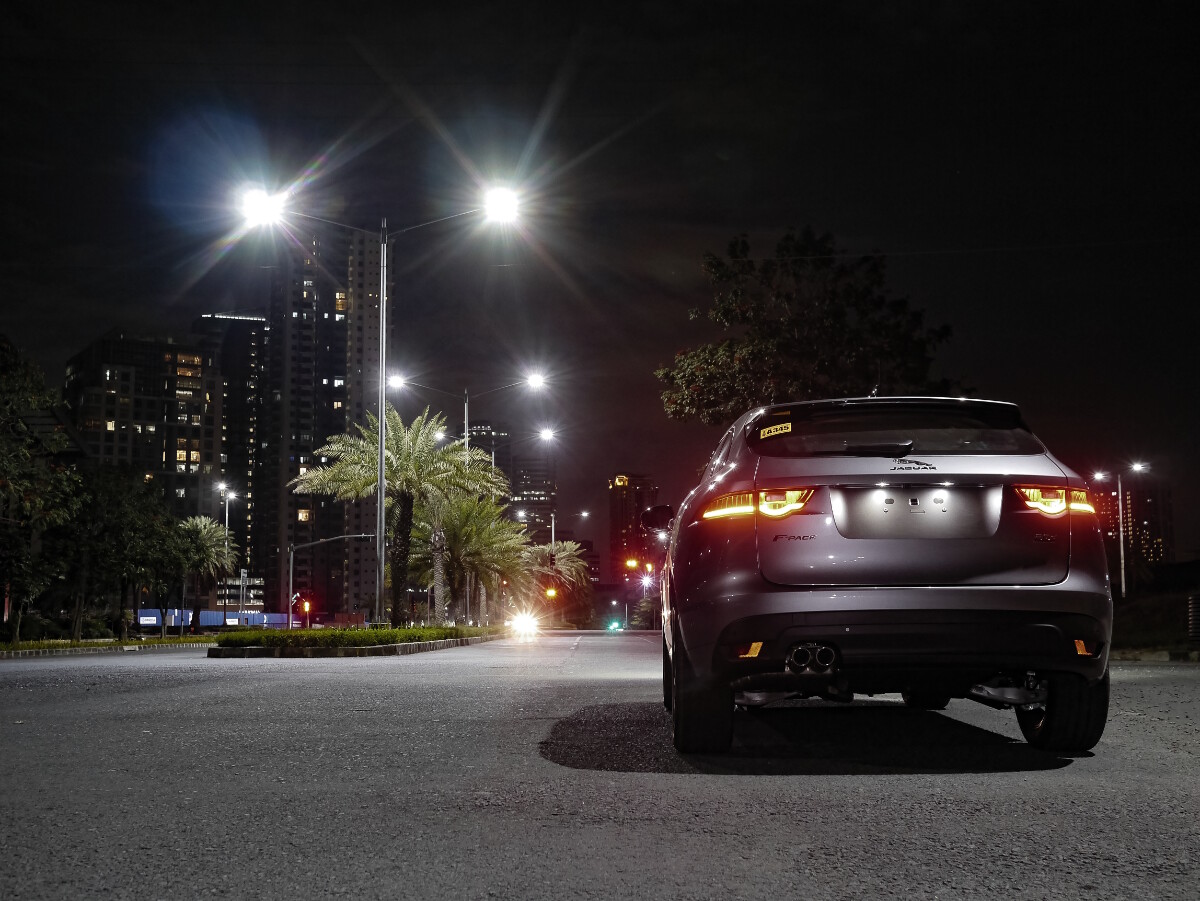 Admittedly, the rear light clusters sits a bit too high, but in this price range, I think only the Land Rover Velar has gotten that area right. The Macan comes close, but it lacks the sheer presence of the F-Pace otherwise. Points to Jaguar.
Interior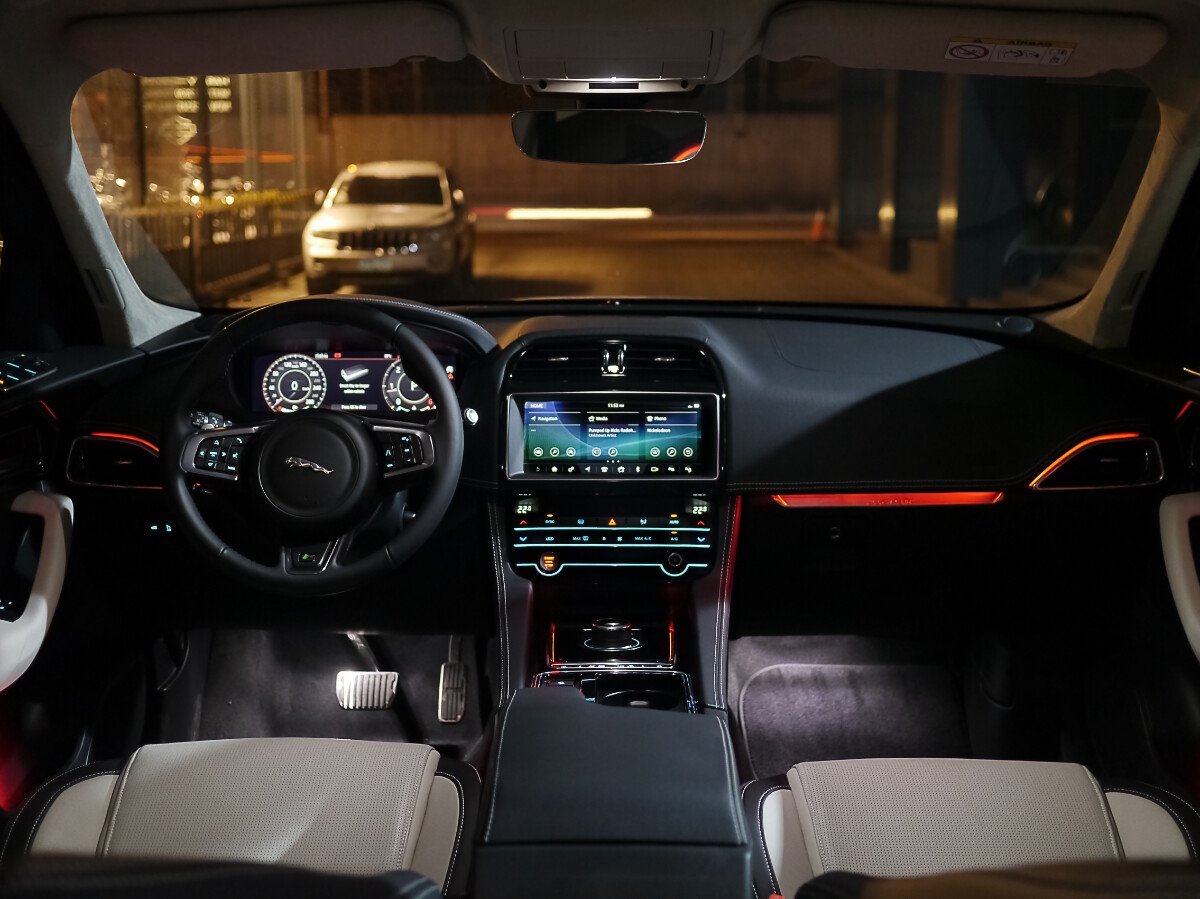 The F-Pace boasts a generous amount of legroom, as it should, given its size. Not quite X5-level, but compared with anything else in this price range, generously large. And the boot is absolutely humongous, at 650 liters. Big enough to sleep in, two up. And lined in baby-soft felt for such an occasion.
The rest of the cabin is likewise comfortable, as expected of a Jaguar-Land Rover product. But aside from the familiar door-top window controls, it manages to feel quite distinct from other SUVs in the stable. Where the Disco Sport I drove last time felt straight out of Revenge of the Sith, this one feels more Return of the Jedi, especially when lit up at night.
This R-Sport variant features a tasteful mix of hand-stitched light and dark leathers offset by engine-spun aluminum—fancy British talk for brushed metal—and chrome. You have to reach all the way down to the center console by your hips to find any naked plastic to touch. The same glossly lint-loving black finish everyone seems to love nowadays, sitting around the familiar rotary-dial transmission selector, EPB switch, and roller-cover cupholders, but at least it's framed in yet more hand-stitched leather.
Engine performance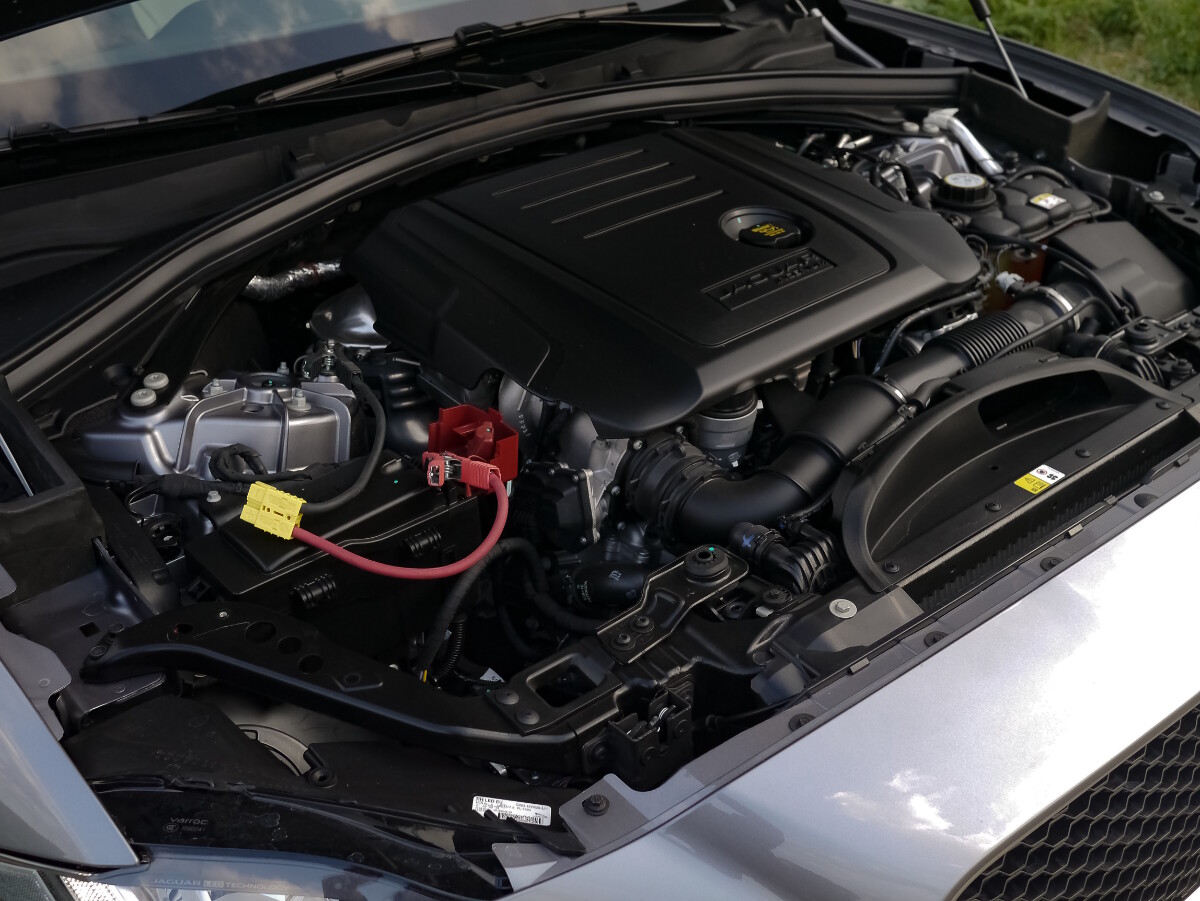 While Jaguar gives you a choice of several interiors, the engine lineup has been trimmed down to a pair of four-cylinder engines. The 178hp 2.0-liter turbodiesel here has enough grunt to propel the F-Pace to 100kph in around 9.2sec—not far off the claimed 9sec factory time, despite the rather 'green' engine. A tick or two behind smaller 2.0-liter diesels in this class, but not bad. If you want more, a supercharged 3.0-liter V6 cuts that time in half, but it's only available on indent. At X4M or Macan GTS prices.
Given the perennial traffic in the metro, most owners will likely be satisfied with the diesel and its punchy 430Nm of torque. And the fact that you can do over 21km/L on the highway, thanks to the slippery 0.34 coefficient of drag and the extra-long gearing of the eight-speed automatic. Okay, so mixed economy is still in the 10-11 km/L range, but for something this big and comfortable, that's fair.
Ride and handling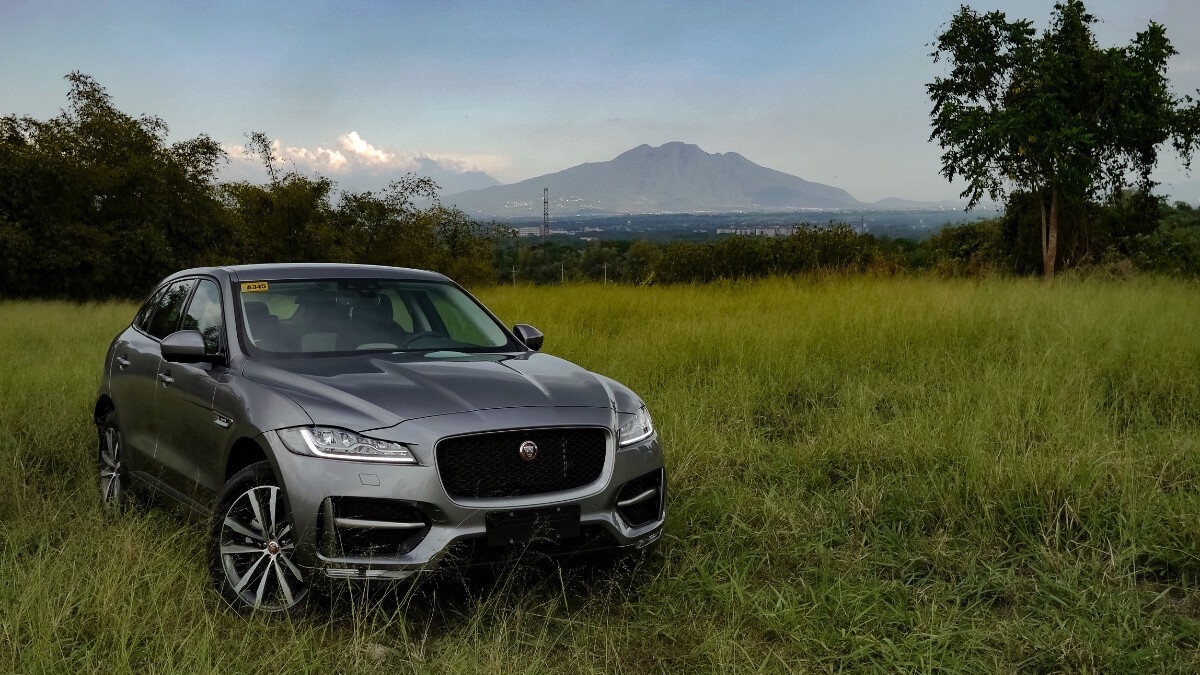 Despite its size, the F-Pace feels like an actual Jaguar. You're sat low in the bucket, elbows splayed over the door sill and console. The footwell is a bit tight around the transmission tunnel, which feels weird when working the throttle hard. Not something that would bother you in a Miata, but an odd thing to deal with in an SUV that can carry an extra Miata in the trunk.
Ergonomic quirks aside, the F-Pace drives quite nicely. Halfway through the development cycle, Jaguar refocused efforts on matching the Macan. And to the company's credit, I think the F-Pace has exceeded the Porsche offering. Turn-in is sharp, with a neutral balance, transitioning into a rear-led attitude when you really lean into it. Like an X5, but more tightly buttoned.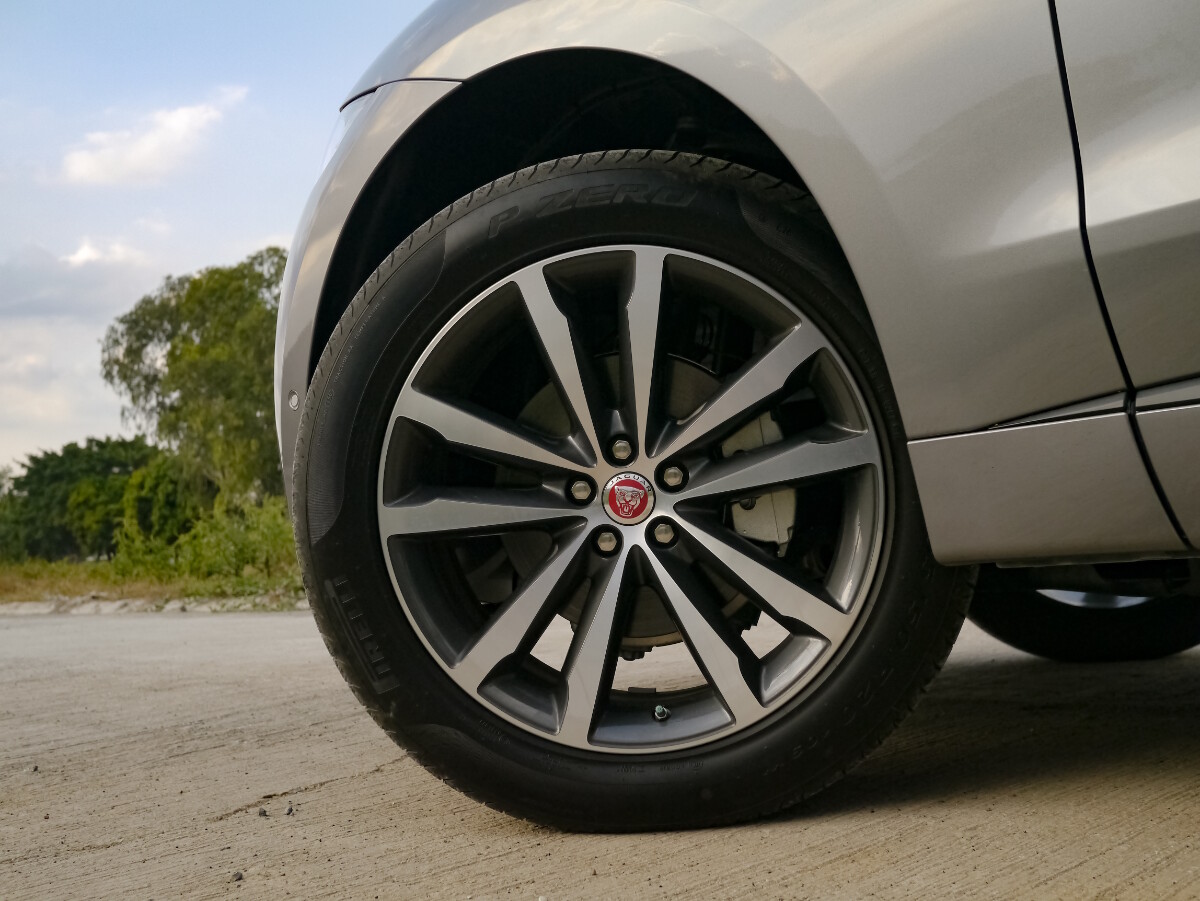 Big 255/50 R20 Pirelli PZero tires hang on gamely despite the weight, and give you a good sense of what's going on. Strong, progressive brakes work a treat on twisty roads, and build confidence. 'R-Dynamic' mode sharpens throttle response and gearshifts, and firms up the steering, though this last effect is mostly window trapping. Weight is no substitute for feel, and in any mode, the steering is pretty good.
For daily use, I'd trade a little of the F-Pace's driving dynamics for a softer ride, as the big wheels do feel thumpy over ruts and bumps. Adaptive suspension is available in other markets, but we have to settle for good old steel springs here. Still, it's not run-flat-punishing, and thanks to the car's heft, it's relatively easy to drive around town, and a host of parking cameras keep you from dinging that pretty bodywork in tight spots.
Extra features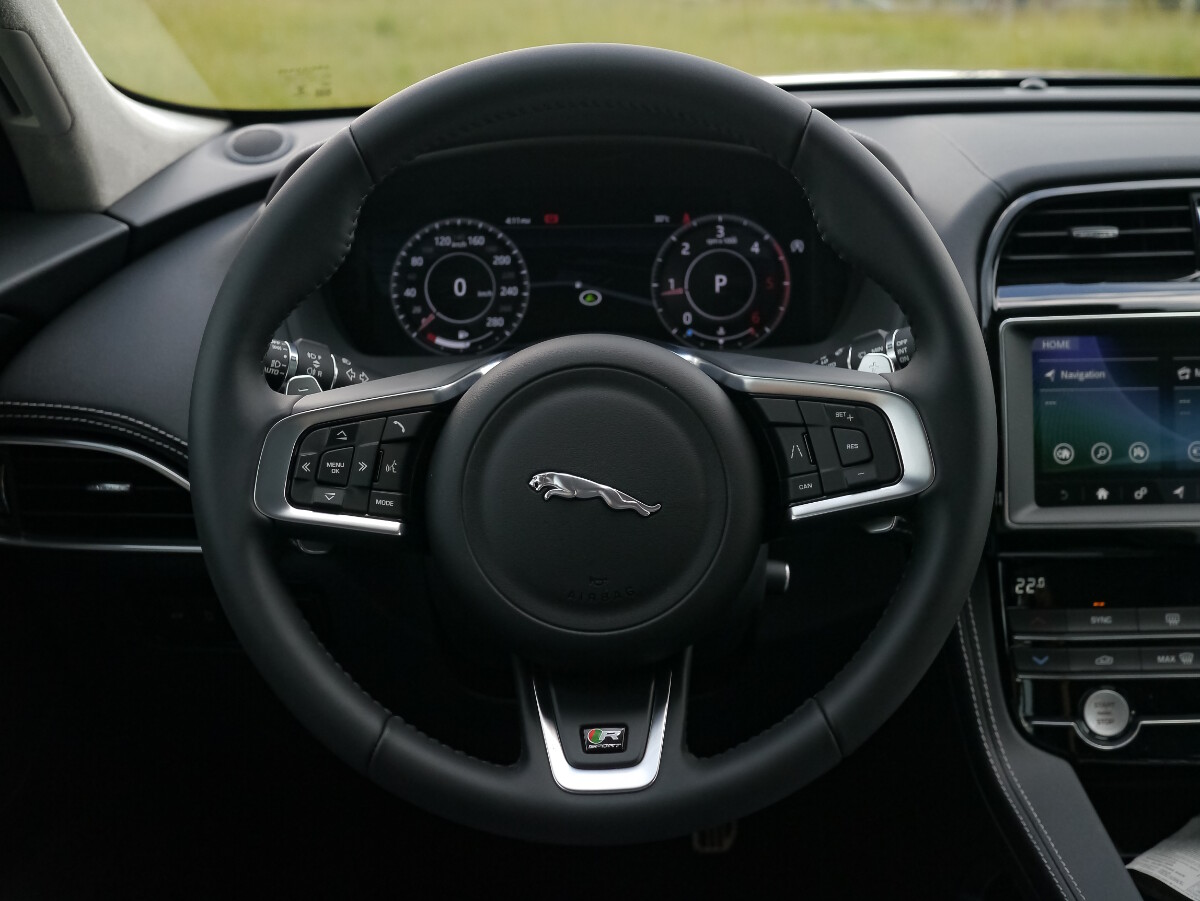 Where the base diesel makes do with analog dials, the R-Sport features a reconfigurable fully-digital instrument cluster paired with a 10-inch touchscreen. While steering buttons and accessory control functions aren't quite as high-tech as on some competitors, TouchPro offers smartphone app connectivity, navigation, and voice control for common functions. No wireless charging yet—that's coming next year—but you get a million and one USB charging points, Bluetooth connectivity, and an incredibly crisp and clear 380-watt 11-speaker Meridian sound system that works well for highly dynamic and nuanced music. I used it to listen to YouTube song mash-ups. So sue me.
Beyond that, the F-Pace is loaded with a wide variety of safety features, including 360-degree parking assist and cameras, lane-keep assist and cruise control, aside from reconfigurable stability and dynamic control systems that you can tweak from safe for the driver all the way up to "Daddy wants to play." However much playtime you can get with a trunk full of groceries and two to three child seats installed in the back.
Verdict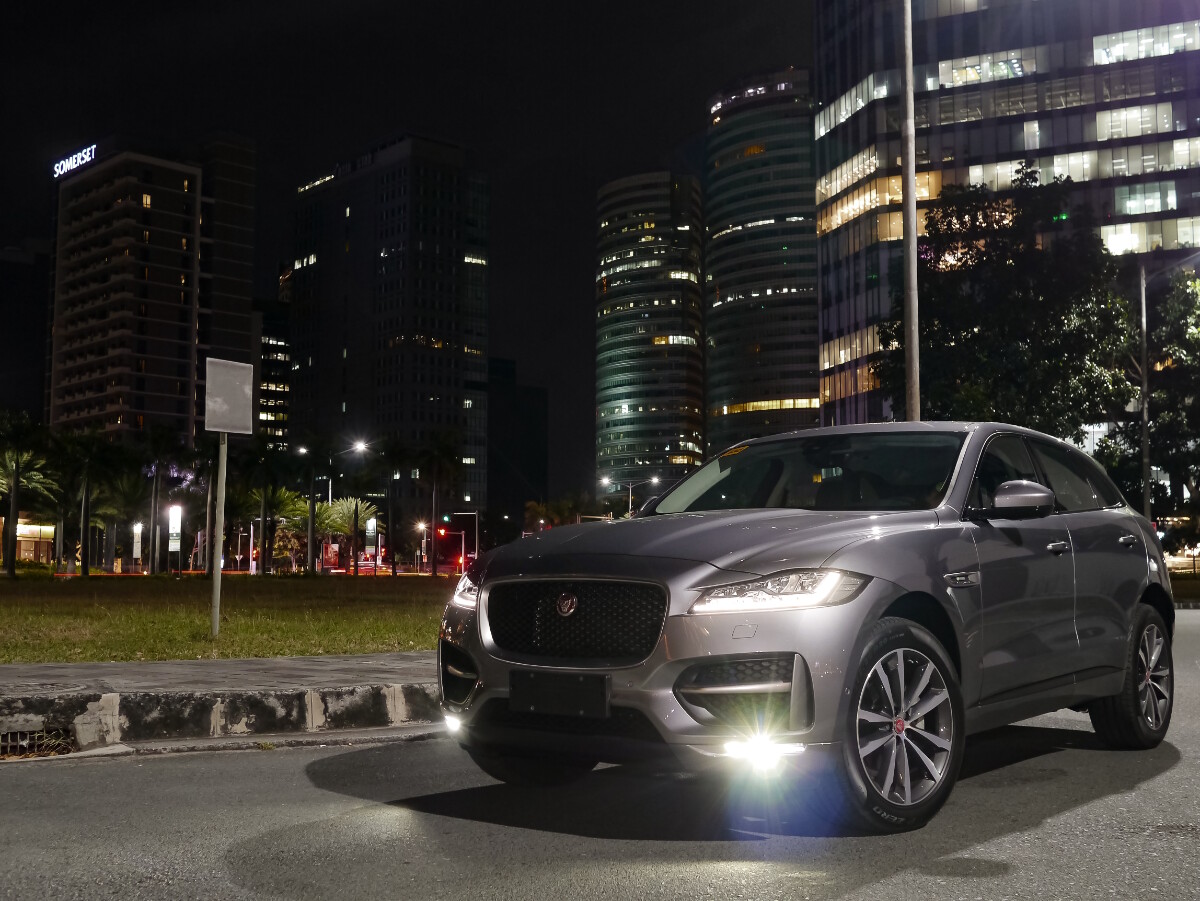 In the end, whatever sporting intent it has, the F-Pace will likely see that kind of duty in its day-to-day existence as a family SUV. But while it offers much more utility than smaller Germanic rivals, it still manages to drive as well as or better than any of them. No, it's never going to be as popular. Not in this German-obsessed market. But it does a lot of things right, and offers that uniquely Jag combination of style and sportiness.
The R-Sport package adds more depth to that appeal, and is more than worth the small price premium it commands over the base diesel Prestige. Granted, if you really want thrills, there's that range-topping V6 Sport, which is outfitted to go chasing high-spec Macans and BMWs, but at a rather impractical price premium.
Then again, who buys a Jag to be practical?
SPECS: 2020 Jaguar F-Pace R-Sport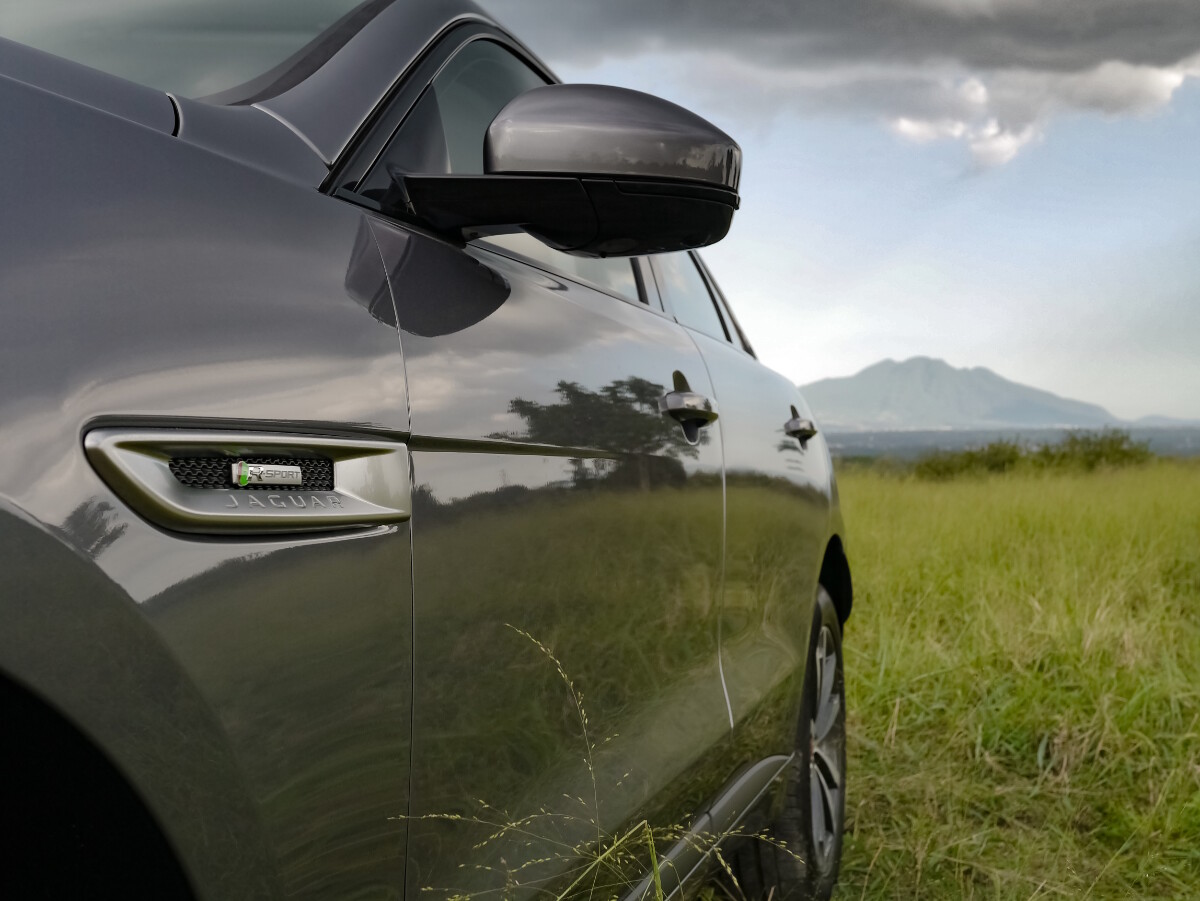 Price: P5,690,000
Engine: 2.0-liter turbodiesel I4
Power: 178hp @ 4,000rpm
Torque: 430Nm @ 1,750-2,500rpm
Transmission: 8-speed automatic
Drive layout: AWD
Seating: 5
Score: 18/20