It is one of the most overused clichés in cinema. That scene where our young starlet takes off her glasses, lets her hair down, trades denims for a dress, and glides effortlessly down the stairs—jangly Sixpence song playing in the background—revealing that the dorky nerdette was really a red-hot Cinderella all along. Even if you've seen it done by everyone from Anne Hathaway to Emma Watson, it's still an effective spectacle. Because the results can often be, uh, spectacular.
But deep down, it's all a conceit. Underneath the hair spray, eyeliner, plucked eyebrows, and slinky red miniskirt is still the same awkward young girl we met at the beginning of the movie. Nothing else has really changed.
Given the Jimny's extreme makeover, you could forgive Suzuki for not changing anything else. While the new car has traded the bespectacled secretary look for some thick black eyeliner and boxy fender flares, it still sits on a chassis that debuted over 20 years ago. But that doesn't mean that this transformation is merely skin deep.
Styling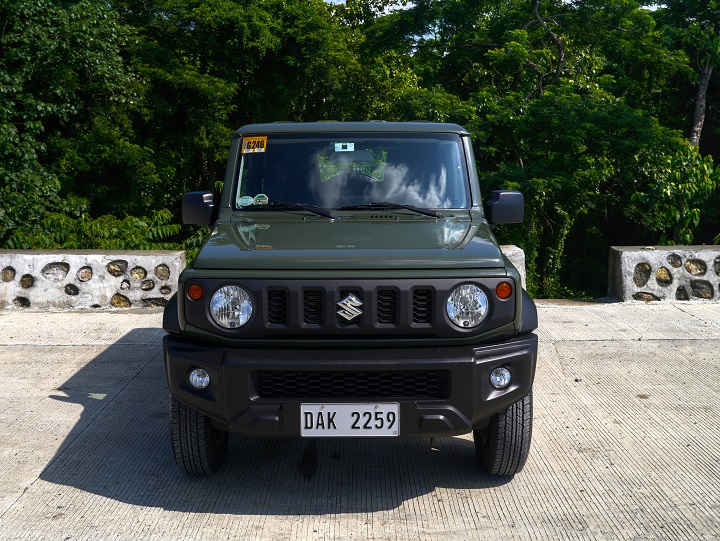 Continue reading below ↓
Recommended Videos
The boxy new Jimny is a tiny bit shorter and a tiny bit wider than before, but that's all down to the new bumpers and fenders. The body itself remains constrained by Japanese kei car regulations. That said, a wider and lower seat and thinner door panels—courtesy of relocated window switches—make for more comfortable seating, despite the lack of height-adjustable seats or steering wheel.
It feels like military-spec hardware rendered in 3/4th scale, with realistic-looking billet gauge surrounds, faux checkerplate panels and molded-in hex bolts, all eerily illuminated by hidden footwell lights at night. All plastic, but who cares? It looks fantastic.
Engine and specs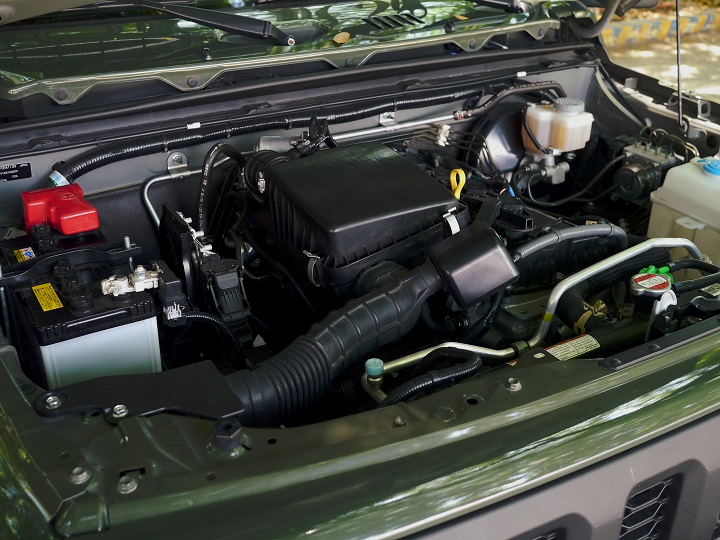 Also of note is the new 100hp 1.5-liter K15B engine. Packing 13 more horses than the old M13A, it gives the Jimny the performance to finally hang with taxis in traffic—just don't go racing any on the highway. The boxy shape limits top speed to around 145kph. There's a more positive shift feel from the solidly-mounted five-speed gearbox, but the real improvement is in fuel economy.
Performance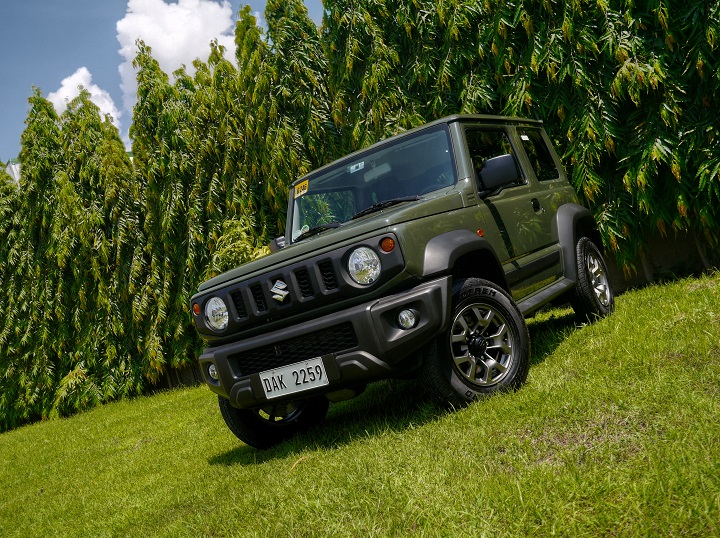 The Jimny does 11-12km/L in mixed conditions and 8-10 in light traffic, gains of about 2km/L in both areas. The best we saw on the highway was around 19km/L, limited by short gearing—2,500 rpm at 80 kph—and blunt aerodynamics. On the plus side, the radiused leading edge of the hood punts air over the windshield at highway speeds, limiting wind and road noise to whatever bounces off of the big side mirrors.
In terms of handling, the Jimny acquits itself well. While retaining the same ladder frame and suspension geometry as the previous model, extra cross-bracing and side-bracing result in improved chassis rigidity. Come corners, body roll is still notable compared to comparably priced crossovers, but it doesn't feel like it's falling over in the curves. New Dunlop Grandtrek AT tires have more grip than the Duelers on the old truck, but are otherwise unremarkable.
Steering is still via the same ancient recirculating ball connected to a pitman arm and a series of comically long steering linkages wrapped around the live front axle. Thankfully, it all tracks relatively straight. The suspension feels jiggly at low speeds—partly thanks to the short wheelbase—but adequately damped at high speeds, even over the worst the South Luzon Expressway has to offer. Granted, it's not crossover good, but compared to other 'trucks,' it's not bad at all.
Off-road, the lightweight Jimny has few peers. The miniature master of momentum glides over and around obstacles that bigger off-roaders struggle with. There's still no locking rear differential, but a low-range transfer case and electronic hill assist make the Jimny more capable than 'SUVs' costing twice as much. The suspension articulation is still awe-inspiring, benefiting a bit from the taller 210 mm ride height.
Maybe not as awe-inspiring as, say, a Defender or a Wrangler, but both cost around three times as much. The Jimny, on the other hand, isn't expensive enough to imperil your mortgage banging around off-road. There's even some armor-plating over the diffs for extra security. Not that it's necessary, the pumpkins on the old car survived minor rock scrapes just fine, but the plates do look pretty peeking out from under the Jimny's skirts.
We doubt, however, that most owners will notice or care. Instead, what most urbanite buyers will mind is how the Jimny deals with the daily grind.
Interior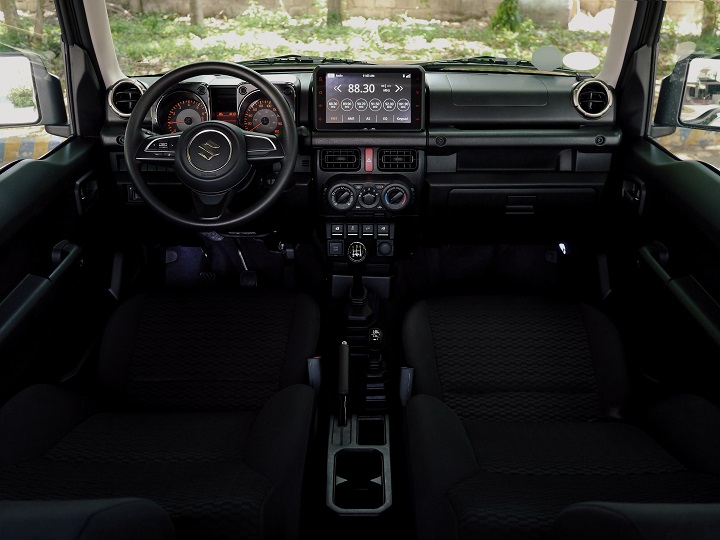 Despite the dolled-up/buffed-up looks, the Jimny is still basically a three-door Japanese kei car with plastic flares tacked on. Which makes it tiny compared to anything else out there. You can either carry two adults in the back or 380 liters of cargo, but not both at the same time. While those rear seats are impossible to get out of with any sort of dignity, they're surprisingly comfy. Lower side sills and a slimmer center seat-rest hinge make the bench just wide enough for three, though there's no center belt.
There are velcro straps to secure the rear seatbelts when not in use, to keep the buckles from banging around off-road. For parents, ISOFIX child seat mounts are available, but not even the cheapest umbrella strollers fit in the trunk. Grocery bags do fit, somewhat, but in-cabin storage is otherwise limited to whatever fits in the small-ish glovebox, under the front buckets, or inside the cupholders and shallow phone pocket behind the handbrake. Thankfully, Suzuki designed the drip rails on the roof for easy rack installation.
Extra features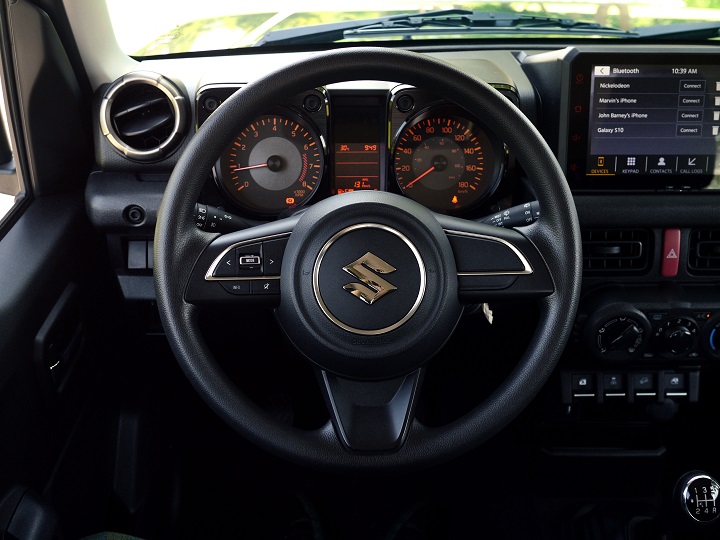 Other things of note, visibility is fantastic, with side windows notched for better sightlines off-road. But recessed defogging vents actually cause quite a bit of condensation at night. The touchscreen radio sounds decent enough despite a four-speaker set-up. Bluetooth connectivity, a USB port, navigation, and steering wheel controls are all neat add-ons as well. Rear parking sensors come as standard, but given the Jimny's size, they're not really necessary. This is a ridiculously easy car to park, with a tight turning circle and the ability to hop any curb, anywhere, any time.
Verdict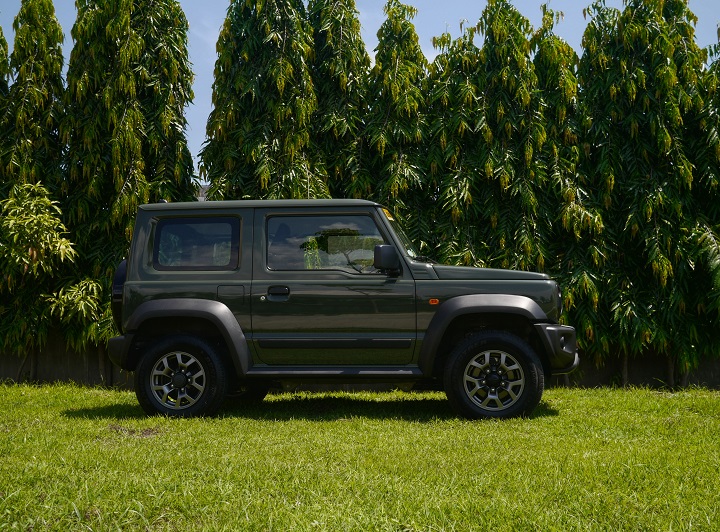 In the end, the Jimny is a compelling little car. But one you have to approach with the proper mindset. While it's dressed up as a miniature faux-luxury SUV, it's still the same adorkably awkward little trucklet it has always been. A little more refined, a little more powerful, but still falling short of the refinement and practicality of a modern crossover like the Vitara.
Look past the nerdy manners, however, and you'll find a lot to like about the Jimny. And whether you prefer the mousy secretary vibe of the old car or the classy retro lines of the new one, there's no denying that the Suzuki Jimny has something that vanishingly few crossovers have: A personality.
And that's something you just can't put a price on.
SPECS: 2020 Suzuki Jimny 1.5 GL M/T
Price: P975,000
Engine: 1.5-liter gasoline I4
Power: 100hp @ 6,000rpm
Torque: 130Nm @ 4,400rpm
Transmission: 5-speed manual
Drive layout: 4WD
Seating: 4
Score: 19/20