Once upon a time, British ships plied the oceans, British aircraft plied the skies, British computers plied the, er, bulletin boards, and British sports cars tore up backroads from Manchester to Manila. But with the decades-long collapse of the British Industrial Empire, many of its once-iconic brands were snapped up by foreigners. The likes of Jaguar, Land Rover and Mini all found willing buyers.
Morris Garages, on the other hand, was kicked around by various concerns before finally being absorbed into the SAIC automotive empire in 2006. The fruit of this long-delayed infusion of Chinese capital is a new series of vehicles that seek to make MG 'cool' again. The newest of these is the ZS, MG's second crossover.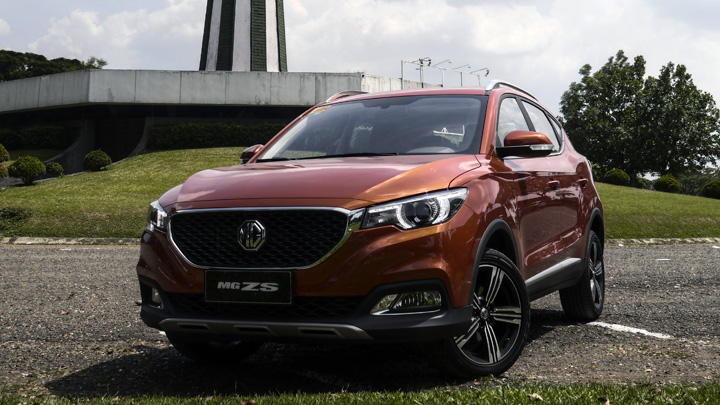 Continue reading below ↓
Recommended Videos
Styling
The ZS's "Emotional Dynamism" design represents a clean break from MG's previously Stormtrooper-ish appearance. Bold curves and creases give it a more premium look than the GS we tested a while back. Unfortunately, the lines are rather reminiscent of the Hyundai Tucson. Shape aside, it does feature some neat details, like a full frame grille with the MG logo set against well-detailed latticework, subtle chrome body and bumper accents, and snazzy 17in wheels that only seem slightly lost under those big fenders.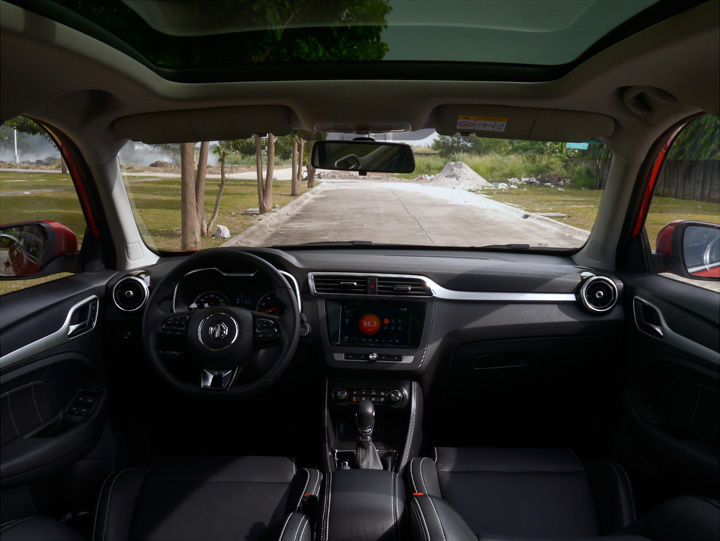 Interior
Gone is the old steering wheel with its clunky tombstone center pad, replaced by a flat-bottomed tiller with better control integration. The dash is sleek and modern, eschewing the octagonal ports of the GS in favor of fashionably chrome-ringed air vents. There's a foam dash topper that's pliable but reassuringly dense and heavy. Material quality is generally good, with firm and durable leatherette everywhere and good fit and finish. Even the somewhat passe 'naked carbon' finish on the console feels nice. Perhaps the only odd touch are the matte black plastics, which seem like they will scratch easily under heavy use, but that's par for the course nowadays.
Seats are firm and supportive, with a surprising amount of thigh and side support. Not enough for high speed shenanigans, but the ZS simply isn't that kind of car. The rear seat is larger and wider than mainstream rivals, and headroom trumps all comers—even with the panoramic sunroof on this Alpha variant. The trunk boasts 359 liters under the hard tonneau cover and 448 with it removed. While the HR-V can match that, the Honda starts at P1.3 million and still has a tighter back seat.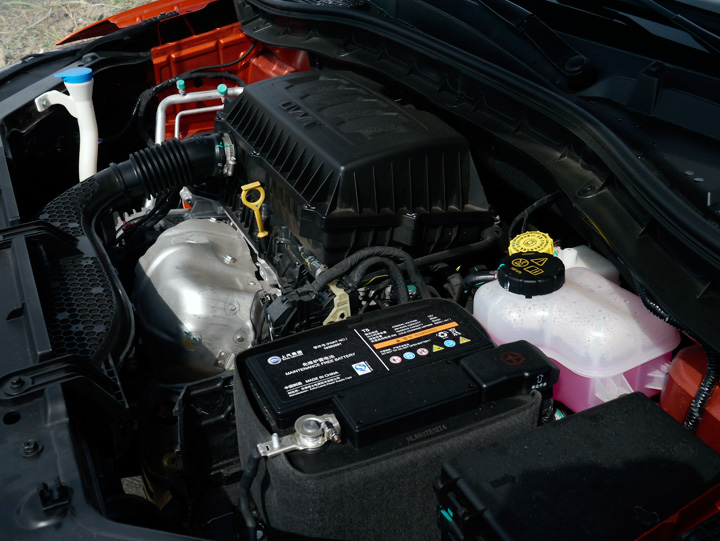 Engine performance
The new 1.5 liter four-cylinder is an Atkinson-cycle engine that makes 112 hp. While it requires 95 RON fuel, the upshot is a healthy 150Nm, competitive with the Vitara 1.6 and the new 1.5-liter mill in the Ford EcoSport. Power delivery is smooth and linear, kicking up slightly near the top of the rev range as the cams change over.
The four-speed Aisin automatic transmission shifts languidly in Drive, but in Sport mode, the torque converter clutch unlocks, allowing for more revs. Thus set, 0-100 kph comes up in 12.8secs. Not bad, considering this crossover's nearly 1.3 ton curb weight. There's a manual shifting mode, but with only second and third gear in play between 40 and 80 kph, there's not much to choose from. It's too soon to test fuel economy on this unit, as it only has 200km on the odometer, but it seems roughly in line with other 1.5 liter automatic transmission crossovers.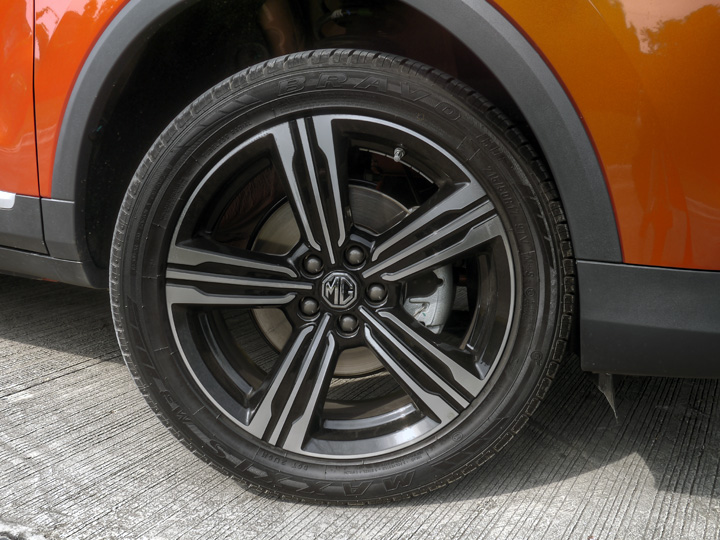 Ride and handling
While a far cry from the company that brought us the iconic MG B, today's MG fancies itself a worthy alternative to Mazda. As such, it has engineered its cars to drive with more verve than usual. The ZS is no exception. The steering is light but direct, and the car pivots sweetly through turns. 215/50R17 Maxxis Bravo HP/M3 tires provide surprisingly crisp handling, good stability and confident traction. Sadly, those tires expose a lack of roll control and suspension damping, especially through bumpy switchbacks and corners. The loss of body rigidity due to the giant sunroof probably doesn't help, either.
In more sedate driving, the ride is fine, save over the occasional deep pothole. Visibility is generally good, though high window sills and a small rear hatch make parking a bit difficult. The bundled parking camera and sensors help, but you still need to take extra care when parking against the curb.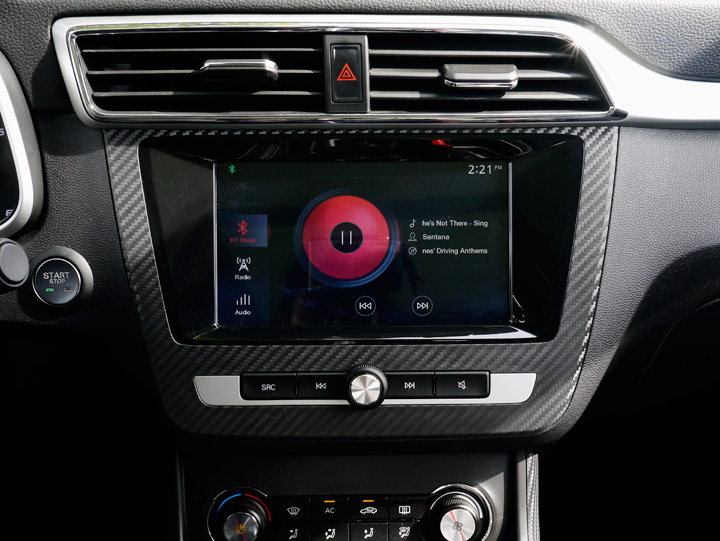 Extra features
Aside from that parking camera, the 8in infotainment system provides Bluetooth integration, video and photo playback via USB, and Apple CarPlay. Sound from the six-speaker system is crisp and clear, if not especially powerful. Steering controls give access to phone, media and a rudimentary LED data screen on the dash. This screen provides readouts on economy, traction control, and the bundled tire pressure monitoring system system. There's a separate stalk for cruise control, which feels more intuitive than wheel-mounted switches.
Other notable features include push-button start and speed-sensitive locks, though strangely, proximity unlocking isn't on the menu. There are front and rear foglights, a leatherette interior, and that gigantic panoramic sunroof complete with electric sunshade. Funnily enough, the sunroof and its controls are identical to the ones on the VW Tiguan. Which makes sense, as both crossovers are built by SAIC in China!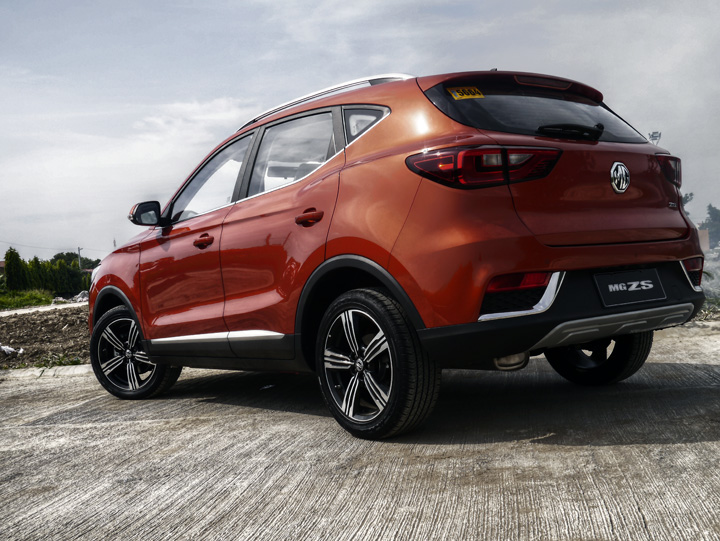 Verdict
As with the Tiguan, it's easy to forget that the MG is Chinese-made. Simply because it is still a European-engineered car. And it shows. Aside from the sometimes sticky rear doors, there's nothing to criticize about the build quality. And considering that you need to spend 100k more for the nearest comparably equipped car, the Suzuki Vitara GLX, it comes across as a grand bargain. Skip the giant glass roof, and the Style variant gives you nearly the same kit for 130k less.
Okay, performance is a bit of a letdown, given other markets get a turbocharged six speed variant. But the four-speed Aisin automatic should prove more durable than typically finicky dual-clutch or continuously variable transmissions.
As for other maintenance concerns, with the distributorship recently bought out by The Covenant Car Company, expect more options for dealership servicing in the months and years to come. MG may have technically re-entered the Philippines way back in 2015, but this time, it finally feels like it has arrived.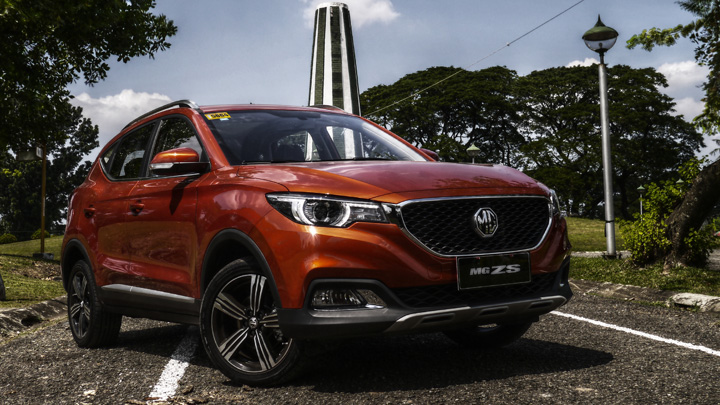 SPECS: MG ZS 1.5 Alpha
Price: P998,888
Engine: 1.5-liter DOHC I4
Power: 112hp @ 6,000rpm
Torque: 141Nm @ 4,500rpm
Transmission: 4-speed automatic
Drive layout: FWD
Seating: 5
Score: 16/20