Last month, we ran a first drive on the new Aston Martin DBS Superleggera. We liked it. A lot. The best car Aston makes, we said. Until the DBS, arrived it looked as though luxury car firms had abandoned the sporting GT sector, making cars that were either very GT-ish (Bentley Continental GT, Mercedes-AMG S63) or very sporting (Ferrari 812 Superfast).
I know this sounds like a slender niche, but it's slender for a reason—getting the blend of sport and cruise just right is difficult. Aston didn't manage it with the DB11, after all. It's not just a matter of speed and damping, but every facet of the car, from noise (must sound good, must also be quiet) to cabin ambience (must be intimate, must also have space) to visual impact (it must have attitude, must also be elegant).
The DBS hits these median points, and that's brilliant, but what it doesn't tell you is what it's like to live with. So being a fortunate guy, for a few days, I was able to try out the car in the real world. Here's how it panned out.
ADVERTISEMENT - CONTINUE READING BELOW ↓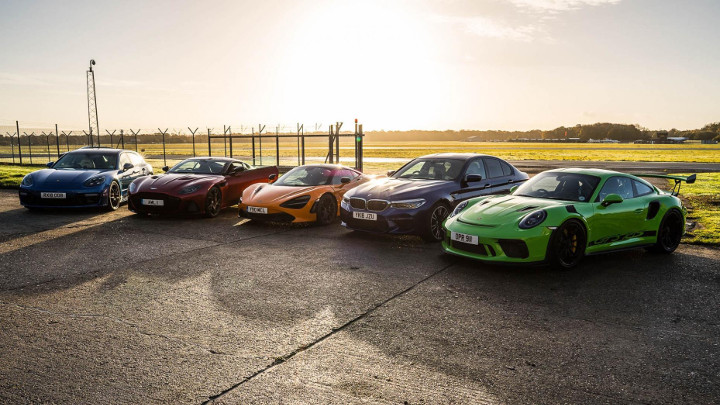 The DBS looks utterly tremendous. It has real presence but doesn't try too hard to stand out. Neat trick to pull off when it's sat alongside an orange McLaren 720S and a viper-green Porsche 911 GT3 RS, plus a BMW M5 and a Porsche Panamera Turbo. Why these cars? The chaps from People Just Do Nothing popped down to the TG track one afternoon...
I'd picked it up from the office, where two things struck me: Firstly, it looked fabulous; secondly, the cabin is tight for a big car. A lot like the DB11's, too, which isn't great when you're paying another £60,000 (P4 million). But it had motored down here (and motored is the right word) without any stress. Despite how low it sits, it manages to rise above the trivialities of everyday driving.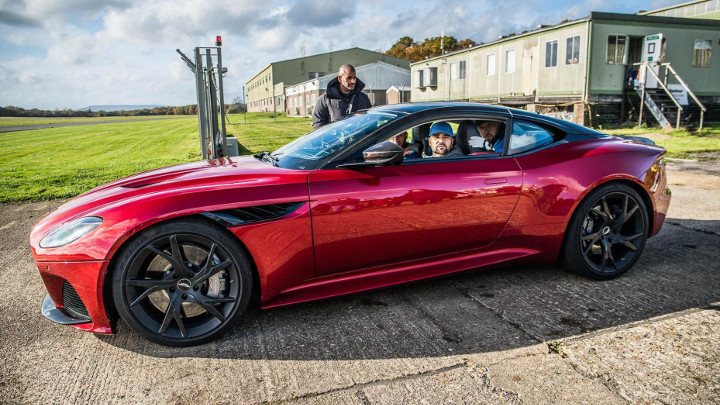 ADVERTISEMENT - CONTINUE READING BELOW ↓
It's filled with cameras, and the People Just Do Nothing boys, who arrived in a battered MkIII Golf GTI, are let loose on track. That passed without incident...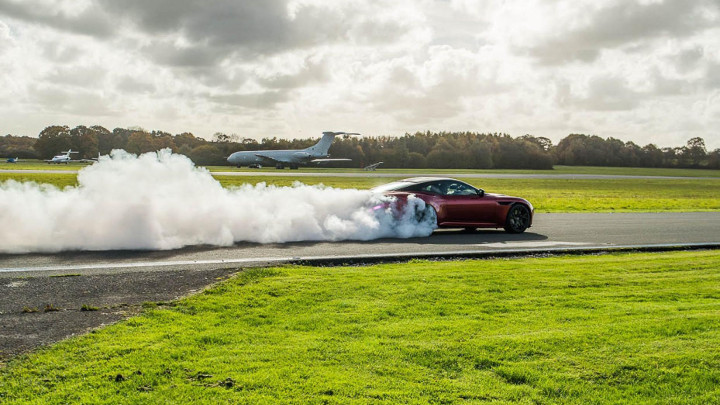 ...but then Chris Harris had a go.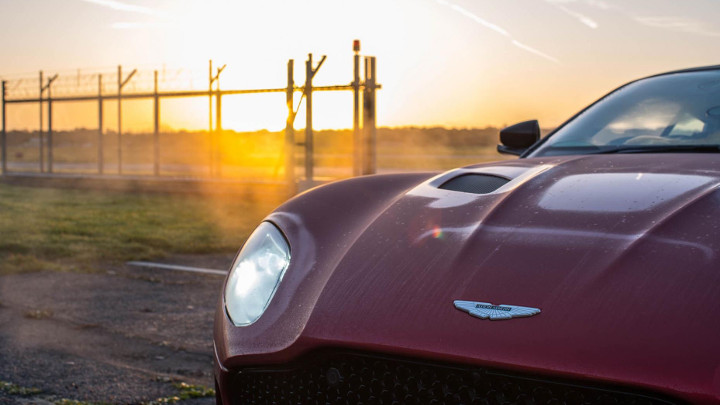 ADVERTISEMENT - CONTINUE READING BELOW ↓
The DBS doesn't have a separate launch control system. It doesn't really need one. In between takes, I snuck out and tested it. On a drying track, I couldn't quite match Aston's acceleration claims (3.4sec to 100kph and 6.4sec to 160kph), but was only a small clutch of tenths away. What impressed me most was how it piled on speed higher up. From 100-210kph, it was faster than a 911 Turbo S or an Audi R8 V10 Plus. But not as swift as a Ferrari 812 Superfast. But then, almost nothing is.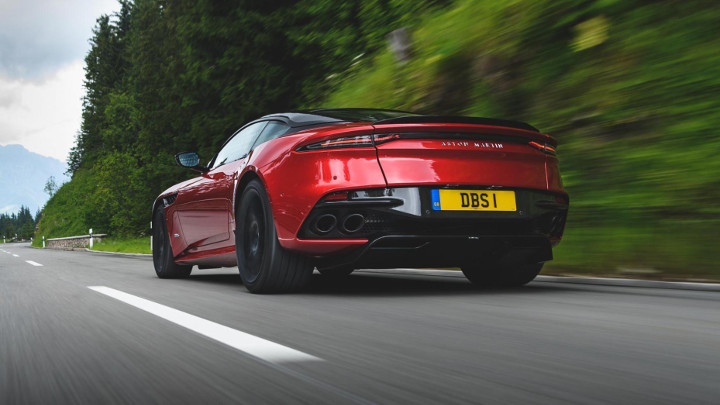 ADVERTISEMENT - CONTINUE READING BELOW ↓
Friday night is school night—9pm collection, but I rarely mind because my son's school is 24km away along a cracking set of B-roads. I'm approaching this with a certain sense of trepidation because I remember how unsettled the DB11 was along these roads.

And now it's deep into autumn, a wet blustery night, the road surface more leaf mulch than tarmac. I have—and I'm not kidding—put on my most sensitively soled footwear that didn't involve me opening the attic for my race boots. I want to make sure my foot can work out the difference between 300hp and 700hp.

In the way that these things do when you're preoccupied with the weather conditions, it only strikes me after a handful of kilometers just how well the DBS is coping. I feared the front end would skitter and slide, but it had real bite, and as for the rear, how the hell is it finding traction? And the throttle is so well-calibrated. Could have worn plastic boots and not found myself in a ditch. Would have been wearing the right footwear if I had, though.
ADVERTISEMENT - CONTINUE READING BELOW ↓
But it's not just grip and speed it's delivering, but also feedback and tactility. It had real poise, a car that holds its head up and is prepared for what's coming. It made a difficult journey easy.
Couple of points of housekeeping: No matrix headlights here, but the beams are strong. However, you sit low, which makes you more susceptible to being dazzled by oncoming cars. Oh, and it sounds really good at low revs as you burble through villages.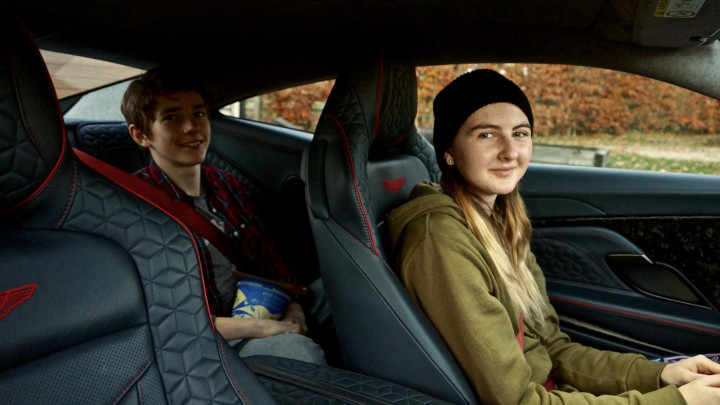 ADVERTISEMENT - CONTINUE READING BELOW ↓
Saturday was practicality day. First practical point: The car is not too bad over speedbumps thanks to 120mm of ground clearance, but watch out on slopes as the front splitter has a nasty habit of catching its chin on gutters and ramps. Next: Can you fit people in the back? As long as they're not fully grown, yes. They don't even complain too much. This is mainly because they're in an Aston Martin.
Three is okay—you just have to shuffle the front passenger forward a bit. But putting a fourth in behind the driver and having to shuffle them forward? Less satisfactory. But that's what needed to happen...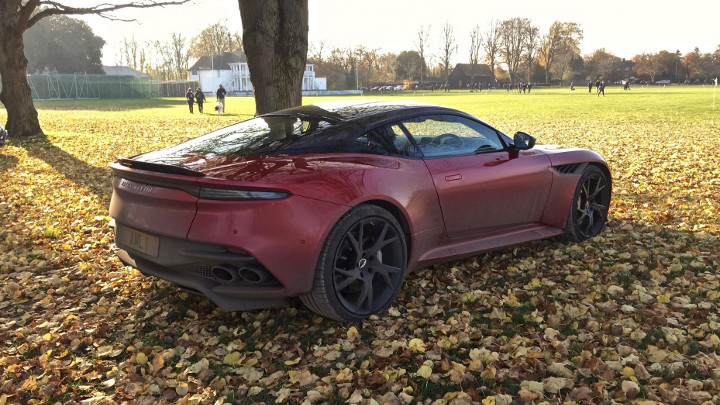 ADVERTISEMENT - CONTINUE READING BELOW ↓
… because these are the playing fields of Eton. Son had a football tournament. I was charged with bringing him and two of his mates home afterward. My wife had been skeptical when I said I'd take the Aston. I was breezily confident in my replies to her, but inside, I was skeptical, too—three kit bags for the trunk, plus overnight gear. But there was no way I wasn't taking the Aston. You can't deny 13-year-old boys that sort of experience. They'd remember it even more if they had to be wedged in with their own dirty socks because they didn't fit in the cargo area.
But it all did. Close run thing, but the trunk is deceptively wide (if undeceptively shallow), so a kit bag tucked into each side and a third went in the middle, then various rucksacks, sleeping bags, and sponge bags filled the gaps.
ADVERTISEMENT - CONTINUE READING BELOW ↓
The journey home was untaxing on the car's dynamics, but more testing for the Bang & Olufsen sound system. Musical tastes amongst 13-year-olds are varied (Abba to Stormzy), but the common factor is volume. Criticism was made of the fact that the volume control is on a touch-sensitive slider rather than a knob, and that the surround sound didn't quite have the depth it should and maybe the treble was a little pronounced, but on the whole, three boys emerged very happy. Especially once I'd convinced them to switch the tunes off and listen to the artillery barrage the exhaust was capable of delivering on the overrun.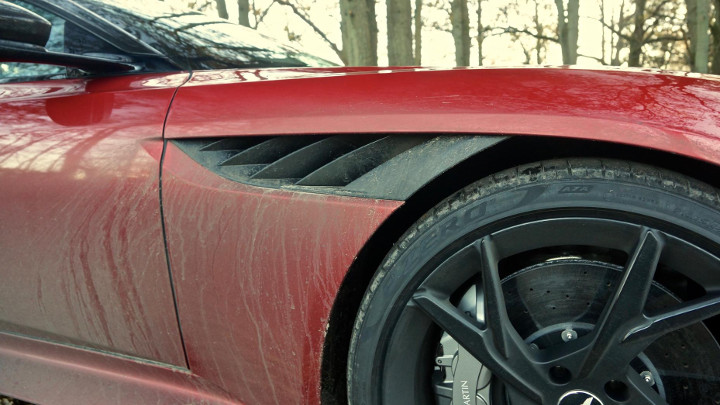 ADVERTISEMENT - CONTINUE READING BELOW ↓
The DBS has gotten dirty in interesting ways. General buildup of grime on the back, of course, but there are some interesting grimy contours over those huge rear arches, and streaky dribbles from these strakes. They're designed to reduce pressure buildup in the front wheel arches by venting air. Venting mucky water is probably a less desirable byproduct.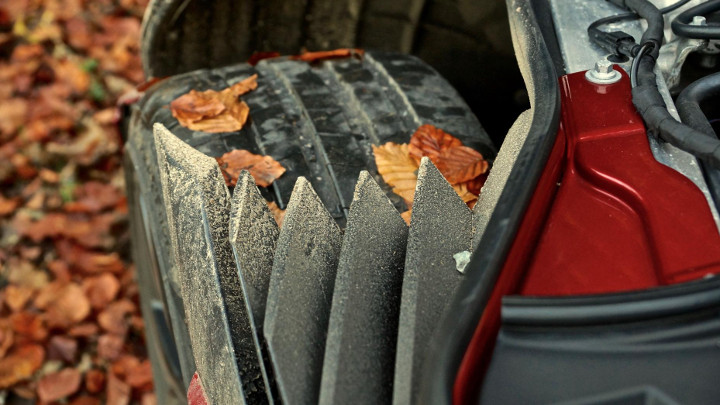 ADVERTISEMENT - CONTINUE READING BELOW ↓
Open the hood and you can see how complex the shaping of those strakes is. And how bloody awkward to clean.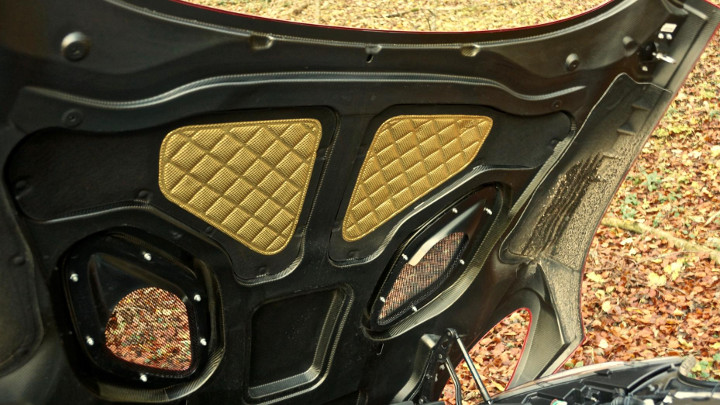 While there, I had a bit more of a poke-around. The hood is a one-piece carbon-fiber section—the whole car is carbon-bodied, in fact. The gold-colored pads? They're there to prevent heat soak into the carbon. Front-hinged and full-width, the Aston's under-hood area is a compelling piece of theatre. You lift it and people lean in.
ADVERTISEMENT - CONTINUE READING BELOW ↓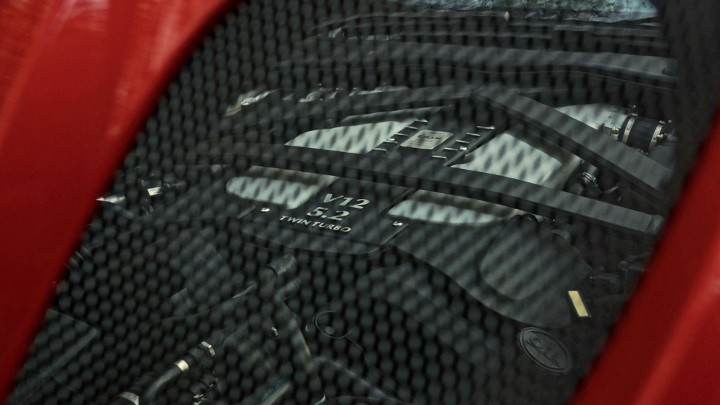 You could almost say the engine is best seen, if not from behind bars, then at least through a mesh grille. Its 715hp and 898Nm of torque make it a fearsome thing, but what surprised me most was how docile and tractable it was around town, and how well-calibrated the throttle was. You could use precisely as much as you wanted to.
ADVERTISEMENT - CONTINUE READING BELOW ↓
The torque was just amazing. Aston claims it peaks at 1,800rpm, but in reality, you don't get properly exposed to the force until 2,500rpm. From that point on, though, you're aware of this deep, primal surge thrusting you forward. It's not a sudden explosion, more a pressure build that carries you on. And it's exponential, behaves more like a naturally aspirated V12 than a twin-turbo one.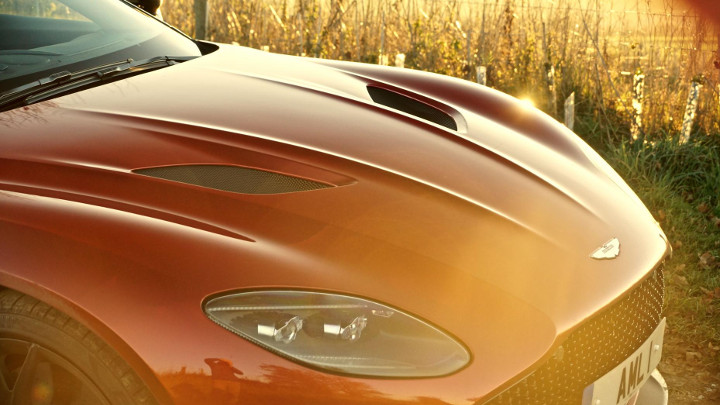 ADVERTISEMENT - CONTINUE READING BELOW ↓
I really, really enjoyed using it. It's not as ferocious and memorable as a Ferrari or Lamborghini V12, doesn't scream at you, but because it's less specialized, less demanding, the deep daily satisfaction it delivers is enormous.
As is the fuel consumption. The V12 was sucking on fumes after 381km, the trip computer reckoning on a 7.8km/L average. The truth of it was more like 7km/L. It's not good, but I suspect the pockets necessary to lay down upwards of £225,000 (P15 million) aren't going to worry about a fill-up every 400km. But they will care about the frequent stops.
To be fair, Aston claims 9.7km/L on the combined cycle, and at a relaxed motorway cruise, the DBS will match or better that, so expect 560km on a tank if you're pointing toward the Cote d'Azur. But anywhere else you point it, specifically town trawl, watch it.
ADVERTISEMENT - CONTINUE READING BELOW ↓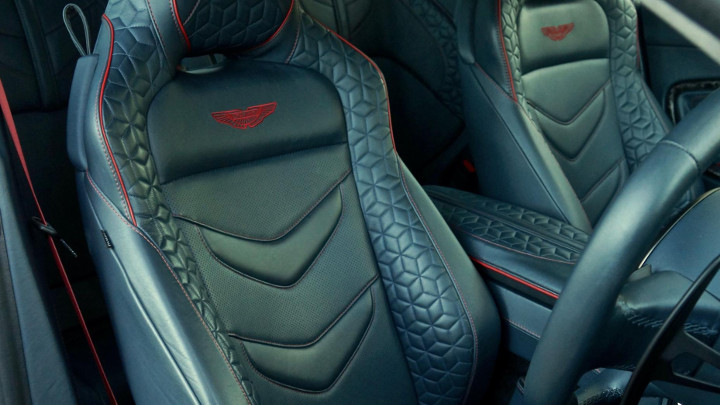 What does help the hours pass is seat comfort. I'm not sold on the pedantic quilting (too much design going on there), but the comfort and shaping is great. Long hours can slip by effortlessly. Your elbows rest easily either side, and even if you raise the seat to improve the view over the long hood, there's still decent headroom.
ADVERTISEMENT - CONTINUE READING BELOW ↓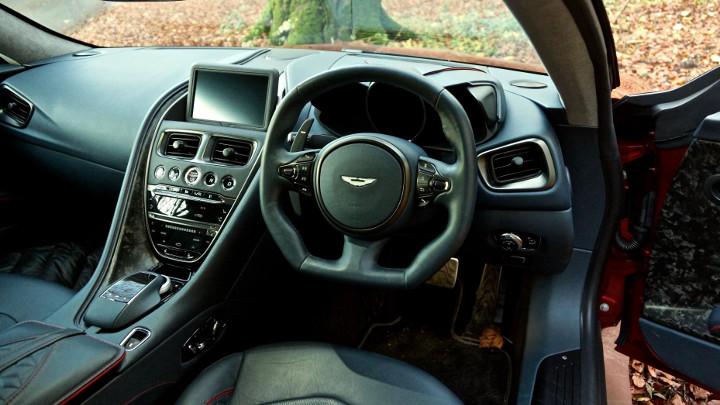 There are a couple of things you have to get used to, though. Foremost among them the octagonal steering wheel. It's not pretty. It's not great to hold. And don't spec the chopped carbon trim (you can see it on the door edge). Even if you do think it looks good now (and do you really?), it's not going to age well.
ADVERTISEMENT - CONTINUE READING BELOW ↓
Next gripe: the center console. It looks sleek enough, but actually operating it is more awkward—the touch-sensitive panel below the gearlever buttons won't recognize fingernail presses, so you have to angle your finger awkwardly. Same applies when you're adjusting the seat position, due to the controls being situated where your left thigh is.
Then there's the screen. Not touch-sensitive, so you operate it via clickwheel and pad. It's okay now, but it'll eventually fall off the pace.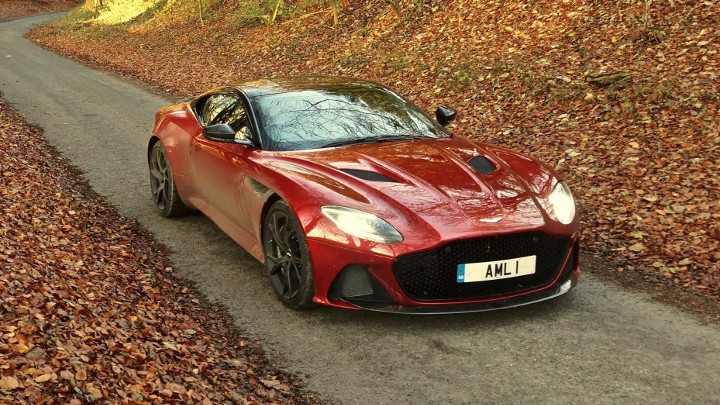 ADVERTISEMENT - CONTINUE READING BELOW ↓
Went for a walk on Sunday afternoon. The first time I'd got the missus in the car. She liked it. No, I'll go further: cared about it enough to want to talk about it. Had no issue figuring out how the door handles worked, liked the engine's deep purr and the way the Aston moved silkily and effortlessly. We got talking about the color, because it is a rather special red, really deep and lustrous (it's called Hyper Red and is a £1,195 [P79,600] option). That got approval too: The color tone was just right, apparently—immediately noticeable, but not brash.
The sun was getting low and we were heading up a deeply leafy avenue to the top of a hill. The car's color worked perfectly against the leaves. And not just the color. We decided the DBS was quite an autumnal car. A car almost perfectly attuned to this time of year.
ADVERTISEMENT - CONTINUE READING BELOW ↓
A little later, it also proved very adept at gathering leaves in its grille.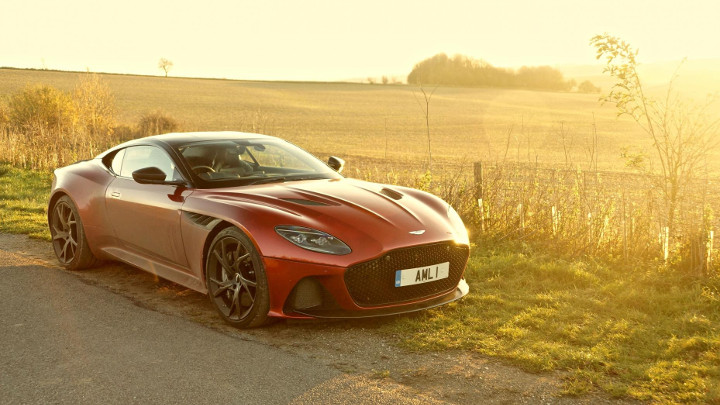 I found a dynamic flaw. The gearbox is way too eager to kickdown. It just doesn't need to when there's such colossal torque there. It barely needs a gearbox at all. In fact, one of the most satisfying aspects of the car is sweeping round roundabouts in fifth and just letting the torque shoulder charge you onward. There's also some tire noise on coarse surfaces, but a tweak of the volume slider sorts that out.
ADVERTISEMENT - CONTINUE READING BELOW ↓
Best settings? Engine in Sport Plus for the full last-night-of-the-proms exhaust (you get it in Sport, too), dampers in Sport to just bring in a hint of alertness. A special mention for the brakes: They're not only exceptionally powerful, but operate with the same easy precision as the rest of the car.
The DBS has a good gait, that's the best way I can describe it—an athletic flow that penetrates into everything it does and everything it represents. I'd driven the DBS before when it was launched in Austria and thought it was really good then, but this was the extra dimension—proper roads in proper weather. And the DBS came through with flying colors. The best Aston Martin in yonks, a car that drives as commandingly as it looks. Properly world class.
NOTE: This article first appeared on TopGear.com. Minor edits have been made.