THIS IS crazy. I'm sitting inside Nissan's newest MPV, a five-door, seven-seater family car that looks meek and retiring - a shrinking violet if there ever was one in automotive terms. Yet in sixth gear, at just under 5,000rpm, we've hit the speed limiter just short of 200kph. And it's not just us. There are ten other Grand Livinas banging on their respective speed limiters behind us. This has got to be Guinness World Records material for the fastest MPV convoy in the world. Insane!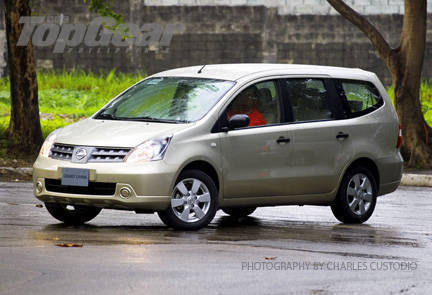 ADVERTISEMENT - CONTINUE READING BELOW ↓
Nissan knew that MPVs and small cars would be all the rage in the years to come - a growth sector in the Southeast Asian automotive market. Nissan says the Grand Livina drives so much like a sedan, you might forget it's an MPV.           
Well, honestly, it doesn't drive like any sedan Nissan has ever sold locally. It is like a simmering hatchback that begs Nissan's engineers to heat it up further.
The exterior apes that of a small station wagon. The seats are higher than those in a four-door sedan or a five-door wagon, and offer slide/tumble/fold capability for the 60:40 middle-row and third-row seats. The cargo bay, once the bench is folded, is completely flat with an almost perfect-square dimension, allowing you to load a 42-inch TV or two balikbayan boxes with ease.
There's influence from other Nissan cars, too. The gauge cluster is modeled after the 350Z sports car, and the center console that houses the audio system and the climate controls is similar to those in high-end Infiniti models.
ADVERTISEMENT - CONTINUE READING BELOW ↓
Recommended Videos
This is the low-end basic Elite variant we're driving so there are no power side mirrors, airbags, leather seats, ABS-assisted brakes and foglights, but the driving experience is the same (if not more stirring) as what you'd get from the Grand Livina's two higher-end four-speed automatic variants named Luxury and Elegance. Out on the open road, the Nissan MPV cruises happily at elevated speeds. But no thanks to the slab sides, it gets affected easily by crosswinds.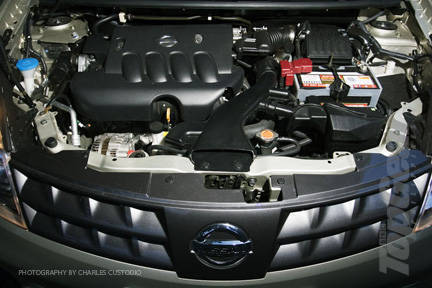 The 1.8-liter MR18DE drive-by-wire engine provides a decent 124hp output and 174Nm of torque, but it seems to have at least 50 more horses under its short hood, which is complemented by a quasi-Murano grille. The CVTC variable valve-timing system actuated by twin camshafts no doubt helps spread the love and power across the rpm spectrum. This is further aided by the short six-speed manual gearbox. It's closely spaced and low-geared overall, giving even more punch in stop-and-go city traffic.
ADVERTISEMENT - CONTINUE READING BELOW ↓
There's decent fuel economy at highway speeds as sixth-gear cruising at 110-120kph means your revs hover around 2,700-2,900rpm, keeping NVH levels and fuel consumption down. We manage to squeeze out 14.7km from a liter of fuel on our drive from Santa Rosa to Subic Bay.
The Grand Livina is smooth, easy and relaxing to drive at low speeds, and the clutch pedal never wears you out. It even delivers a decent 9km to a liter in the city. This with an engine that barely has a thousand clicks on the odometer.
Nissan's got a winner here. Crucially, it wins on both the fun-to-drive factor and the utility aspect. It's practical, versatile and perfect for the single-car Filipino family. Its breadth of abilities will overshadow any reservations you have about its looks. At just P848,000 for the Elite variant, the Grand Livina is a real steal.