"Three-point-two million bucks" can buy you some pretty good metal these days. You could get a Toyota Camry and a Hyundai Tucson; five Kia Rios to start up a taxicab fleet; a Ford Explorer and a Honda Civic; or you could spend it all on an Audi A4 TDI.
At around P3,190,000, you get one car, four doors, five* (note the asterisk for later) passenger seats, but also a lot of good stuff under the skin. Will it ever be justifiable to the pragmatic buyer? Of course not. But for the well-heeled and for whom P3 million isn't that big of a deal, the A4 can be quite the desirable car.

Continue reading below ↓
Recommended Videos
STYLING
Like all its siblings, the A4 has that "sculpted bar of soap" look that's both timeless and appealing, especially when painted in angelic white. Like its nemesis the BMW 3-Series, the A4 has adopted a very familiar silhouette through the years: stubby nose, rounded roofline and tapered rear end. The latest edition to the series wears the current Audi fashion statement of the large, honeycomb grille that reminds me of an Industrial Era locomotive; wavy LED daytime running lights; and a rear deck lid curving slightly up to form a ducktail. The corporate-look six-spoke alloy wheels look perfectly fine, but imagine how much more sporting the car would look with upsized wheels and tires.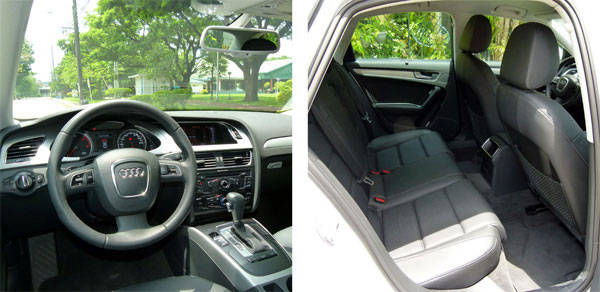 INTERIOR
The interior has always been an Audi strongpoint. It's a very classy place to be in despite the compact dimensions, with pleasing textures and accents that give off that bespoke aura. The large, no-nonsense analog gauges are easy to read, but the three-spoke steering wheel is just beautiful. The leather is perforated at the 10-to-7 o'clock and 2-to-5 o'clock sections, with strategically placed indentations for where you normally grip the wheel. The center console has the elegance of a premium German stereo, with a 6.5-inch LCD screen for flipping through the audio, navigation and vehicle-monitoring systems.
Premium leather upholstery is draped over the seats. The backseat is best kept to just two passengers. There's decent head and legroom for the two outboard passengers, but the middle seat is so hard that it feels like a piece of wood, and the empty driveshaft tunnel (shared with the AWD variant) means you must sit with legs splayed out.
ENGINE PERFORMANCE
Two liters and 143hp is nothing to crow about, yet the car feels remarkably spry and fleet-footed on the road. Maybe it's the torque output: 320Nm between 1,750rpm and 2,500rpm. Did they lift this engine from a pickup truck?
Paired with a "Multitronic" continuously variable transmission with eight ratios (yes, 8), the A4 TDI positively springs off the line if you give it anything more than a quarter throttle, powering up inclines and cruising effortlessly at several dozen clicks over the speed limit. The relatively low output means terminal velocity still isn't nosebleed-fast, but the ability to maintain a relatively high cruising speed (140-160kph) without feeling strained should appeal to most serious buyers.
When running 80-100kph, the average speed of most people on the highway, the drivetrain is practically snoozing at around 2,000rpm. The transmission adds paddle shifters to the mix, and you'll probably never use them in your daily commute. However, they're quite useful and intuitive when the road opens up and you head for the hills.
Given a diesel's penchant for creating a lot of unflattering noise, the A4 TDI benefits from what must be a heck of a lot of sound-deadening materials. In fact, peeking at the engine bay won't reveal much of the engine as a big plastic cover already does its bit to soak up some noise. From inside the car, only a faint rumble at idle is the giveaway that you're driving a diesel. And from the outside, you know the engineers did a good job smothering the noise when observers and--more importantly--gas station attendants have to ask if the car runs on diesel or petrol.
Everyone will like the TDI's fuel efficiency. I averaged 10-11km/L in mostly city and fast highway driving. While the well-off may be able to afford as much fuel as they want to burn, it's nice that a full tank can go a long way on road trips.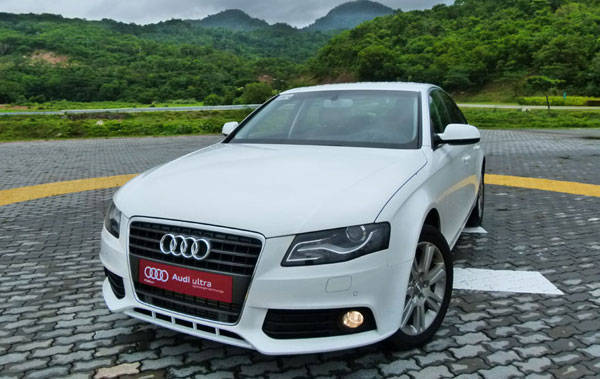 RIDE AND HANDLING
The A4's suspension has been tuned for all-day touring, with just enough compliance and rebound control to take the sting out of bumps and potholes while retaining a nimble feel. The steering is sharp and has good road feedback. It understeers at the limit, but has only modest body roll and very predictable transitions. Bumps, ruts and quick left-right-left turns are dealt with swiftly and quietly. No wallowing sensation or reverberation was felt through the chassis after the initial upset. Brake feel from the all-disc brakes is similarly good, with a firm initial bite and progressively harder resistance. This A4 isn't a track car, but nobody would mind driving half a day in it to get to the racetrack.
EXTRA FEATURES
The A4 TDI comes with some premium goodies that should keep its buyers entertained. Functionally useful stuff includes projector-type xenon headlamps, LED taillamps, hill hold assist, park assist, electronic parking brake, and the usual ABS and front, side and curtain airbags. It also comes with auto climate control, a power-retractable rear sunshade, and window blinds.
The "Symphony" premium sound system is so good that you'll hate it when you forget to bring your favorite music. Hard-charging owners will appreciate the standard brake-pad monitor, and road-trippers will love the cavernous trunk, which is big enough to hold several suitcases or a cooler and several gym bags or golf bags. However, it comes at the cost of a full-size spare tire. Instead, get a flat and you'll have to suffer the temporary embarrassment of using a dinky space-saving tire.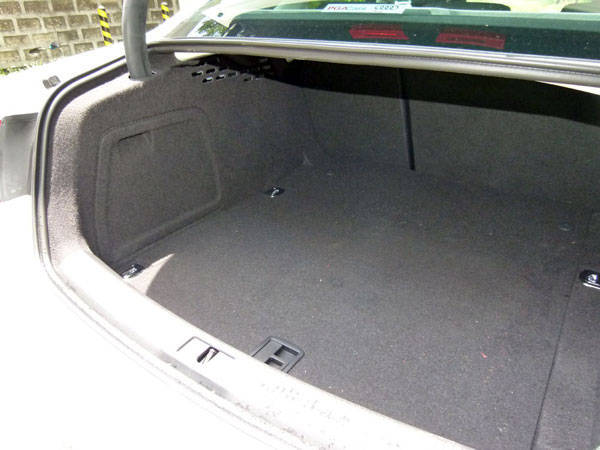 VERDICT
Audi's compact sedan is one of those arguments for "quality over quantity." It's priced and spec'd competitively against its European peers, and illustrates how it's possibly in another world when compared against sedans costing half as much. It's handsome, elegant and precisely engineered--justifying the premium pricing of its luxury niche.
SPECS: AUDI A4 TDI
Engine: 2.0-liter 4-cylinder 16-valve DOHC common-rail direct-injection turbodiesel
Transmission: Continuously variable transmission
Power: 143hp @ 4,200rpm
Torque: 320Nm @ 1,750-2,500rpm
Drive layout: Front-wheel drive
Seating: 5
Price: P3,190,000
Score: 16.5/20
Photos by Andy Leuterio