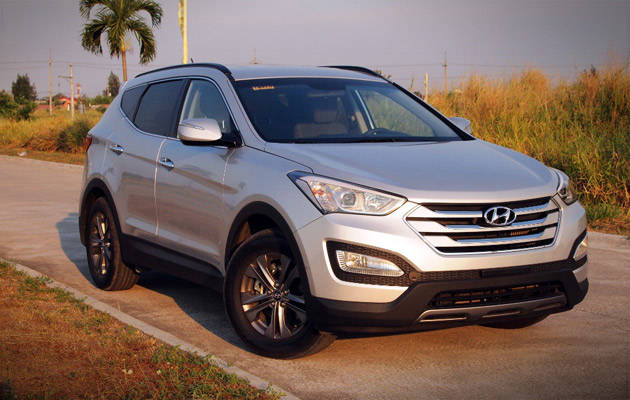 To say the new Hyundai Santa Fe is a game-changer suggests that there is a game, and that there are other players on the board. That would be misleading. Instead, the Santa Fe's upmarket aspirations push it so far beyond its former competitors that it now enters the uncanny valley between premium crossover and luxury crossover. It's neither here nor there--either a grand bargain or an expensive boondoggle, depending on which way you look at it. Before this drive, I would have said the latter was true. Afterward? Well, let's take a look.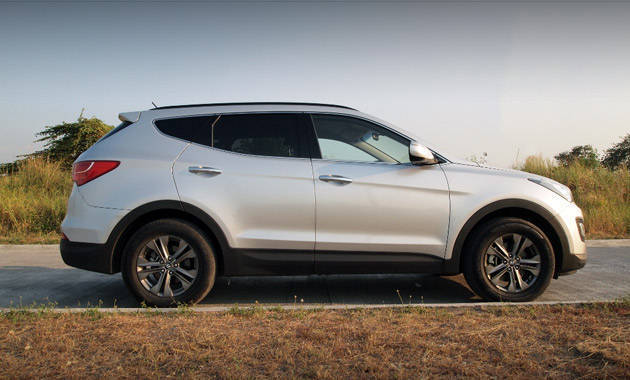 STYLING
While the old Santa Fe was handsomely anonymous, the new one is "in-your-face" visible. It's longer than before, and the low and slippery shape makes no pretensions about being a faux SUV. It's a muscular, aerodynamic, highway-devouring machine, and is proud of it. The plastic-clad lower panels make it look lower still.
The new grille and unique square-lens projector headlamps are quite distinctive, and foreshadow the looks of the upcoming 2014 Tucson. The 17-inch wheels look puny, but the meaty tires fill out the wheel wells properly. The only cheap note is the fake grille pattern around the foglights, but it's a small matter.
ADVERTISEMENT - CONTINUE READING BELOW ↓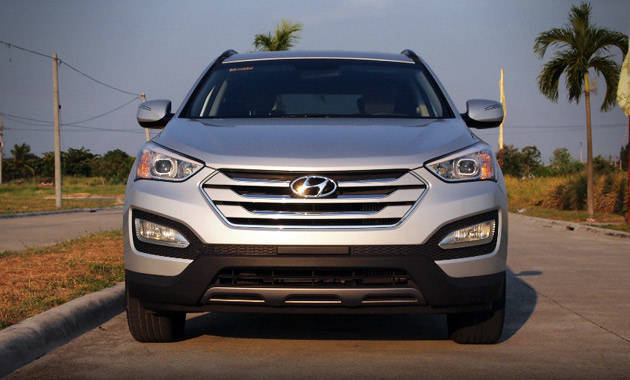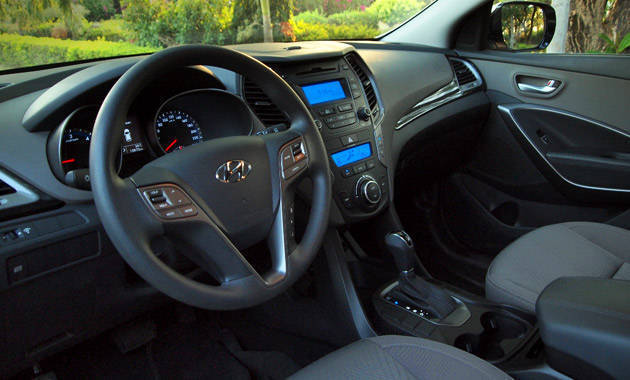 INTERIOR
Talking about upmarket aspirations, Hyundai goes to great lengths to showcase its precision assembly with the Santa Fe's complex, scuplted interior, with some two dozen separate panels on the dashboard alone, each a tactile delight. The stitched leather padding on the doors, complete with metal vanity plates, is a neat touch, too. There are power points and cubbyholes everywhere, as befitting a modern car. There's a lack of leather seats, but the fabric seats are thick and comfortable. The cabin is well-appointed, with more legroom at the expense of slightly less third-row headroom due to the sloping rear hatch.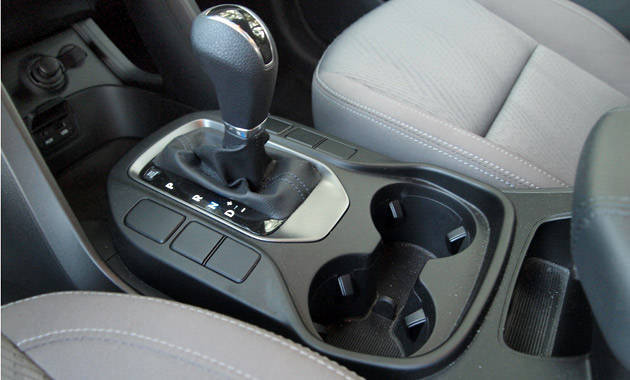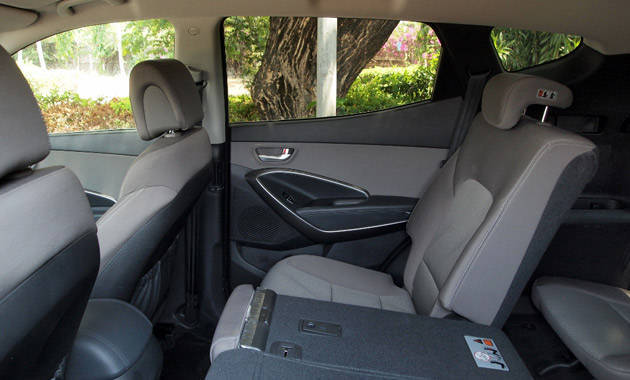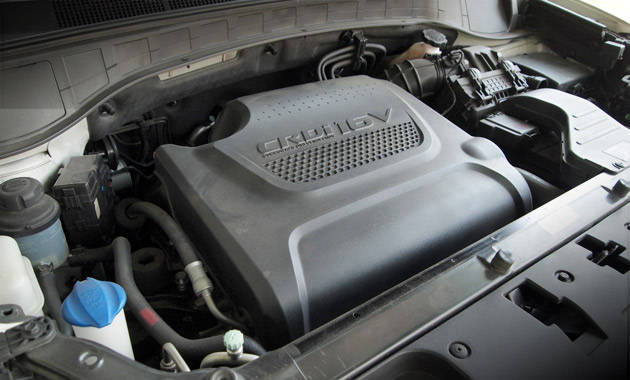 ADVERTISEMENT - CONTINUE READING BELOW ↓
ENGINE PERFORMANCE
There are no big surprises in the engine department. The 2.2-liter diesel is still a fantastic motor, with linear response, power everywhere, and a snappy six-speed automatic. This current iteration is a bit gruff, however, and there's more vibration at idle than I'd like. There's an Active Eco mode that dulls throttle response and alters shift parameters for economy, but it's borderline annoying when you want to hustle. Fuel economy is an incredible 14-18km/L on the highway and 8-12km/L in city traffic. You'll only see 8km/L in the worst traffic, where similarly powered diesel competitors get 5-7km/L.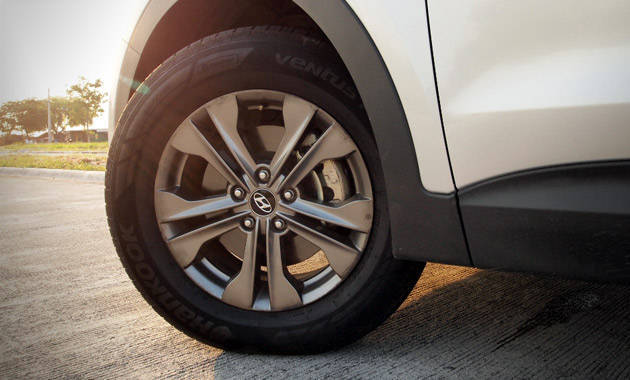 RIDE AND HANDLING
The old Santa Fe was a bit of a boat, but this new one is just about perfect. The ride is supple, with fantastic body control. The Hankook Ventus Prime tires are somewhat stiffer than the old Kumho Solus tires, but the payoff is more confidence at speed. The new Santa Fe is a tiny bit narrower now, and it feels handier in traffic. There's some torque-steer when you boot it, but not as much as the Kia Sorento it shares platforms with. Compared to the sporty Sorento, the Santa Fe is a quieter, more complete and competent package.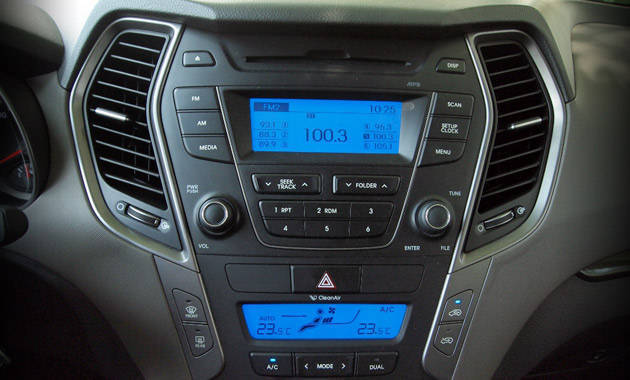 EXTRA FEATURES
As it's technically a "base" model, the 4x2 Santa Fe gets a simple built-in stereo system with MP3/auxiliary capabilities and a CD player. How quaint. Sound quality is decent, but I found myself fiddling with it constantly to get it to sound right. Beyond that, the vehicle has central locking, ABS+EBD, and Active Eco. That's about it. The variant doesn't even get backing-up sensors, which is a crime in this class of vehicle. Then again, you're buying such a nice truck, surely you have enough spare change to go down to the accessories shop to get that installed, right?
ADVERTISEMENT - CONTINUE READING BELOW ↓
THE VERDICT
The Santa Fe takes a big leap in terms of both price and market segment with the new model. But it's definitely worth the upgrade. It's so good, in fact, that Hyundai is dropping the Veracruz in other markets, instead offering a long-wheelbase MaxCruz variant of the Santa Fe. Good move, as the Santa Fe is arguably a superior product to the old Veracruz. With the jump in luxury and quality, the Santa Fe makes the already dubious case for "executive" sedans and "luxury" SUVs even more so. Because, at this price, there's nothing more luxurious than this.
SPECS: HYUNDAI SANTA FE GLS R-eVGT 4x2
Engine: 2.2-liter direct-injection VGT diesel
Transmission: 6-speed automatic
Power: 194hp @ 3,800rpm
Torque: 423Nm @ 1,800-2,500rpm
Drive layout: Front-wheel drive
Seating: 7
Price: P1,768,000
Score: 19/20
Photos by Niky Tamayo