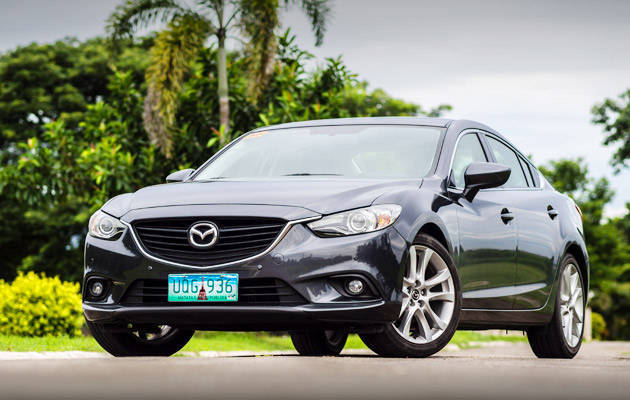 The Mazda 6 has always been a litmus test for automotive enthusiasm. For those given to dreams of twisty mountain roads and the mythical bond between man and machine, the 6 is as close as you can get to a four-door Miata. Of course, this has not always translated to spectacular sales. The 6 may be fun, yet it has always lagged the market leaders in terms of luxury and economy. Now, with Mazda's comprehensive Skyactiv philosophy, the 6 gets lighter, faster, more economical and more spacious. Could this be the car that catapults Mazda into the big leagues?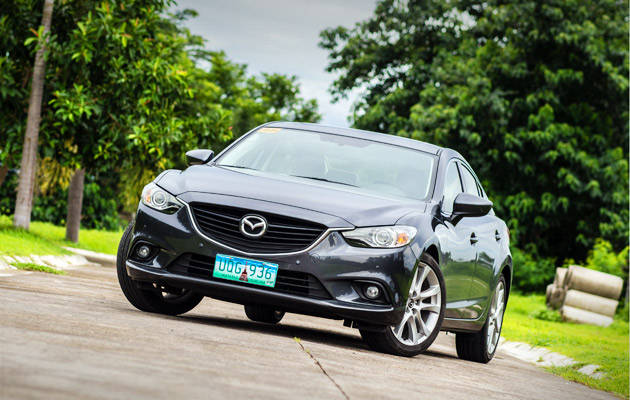 ADVERTISEMENT - CONTINUE READING BELOW ↓
STYLING
Mere photographs don't do the Mazda 6's amazing looks justice. While the front end looks a bit unorthodox in pictures, it's smashing in person. Not a line wasted nor out of place. The complex interaction of the clashing diagonal lines across the shoulder has to be seen in three dimensions to be appreciated. What does carry over in two dimensions is the strong side profile. Reminiscent of the finer efforts of Aston or Jaguar, it's an interesting blend of futuristic styling and classic body lines. The whole thing is set on tasty 19-inch alloys wrapped in rubber-band-thin 225/45 R19 Bridgestone Turanzas.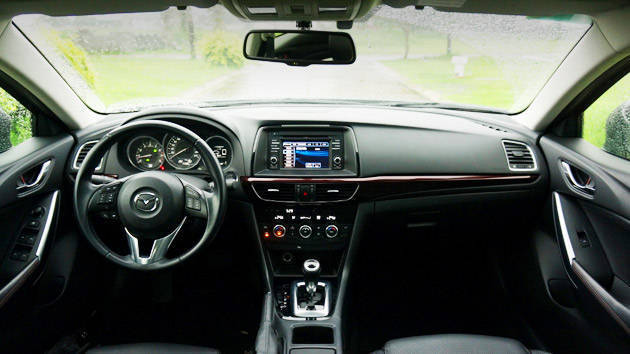 ADVERTISEMENT - CONTINUE READING BELOW ↓
Recommended Videos
INTERIOR
The interior is a study in understated luxury, with an ambience-enhancing moonroof, restrained brightwork and supple leather. The small leather-wrapped steering wheel is reminiscent of the Italian Nardi wheel on the MX-5. There are expensive-feeling textures everywhere and the plastics are first-rate. The new cabin is incredibly spacious, matching the market leaders in every way except, perhaps, with the headroom. Driver ergonomics is top-notch, thanks to tilt-and-telescoping steering and power seat adjustment. The classic three-gauge binnacle provides a wealth of information, although I wish the i-Eloop display and various economy gauges could all be displayed at the same time.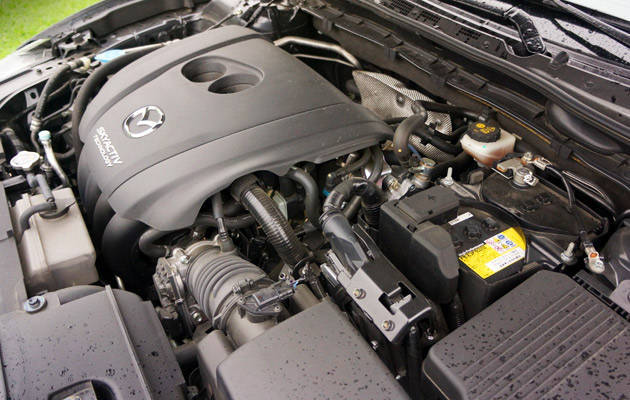 ADVERTISEMENT - CONTINUE READING BELOW ↓
ENGINE PERFORMANCE
The high-compression 2.5-liter engine revs briskly and pulls hard. While the direct-injection system starts with a diesel-like clatter, the growl filtering into the cabin is pure old-school Mazda. Other manufacturers brag about near-instantaneous shift times, yet lack the near-instantaneous response of Mazda's six-speed automatic. Flap a paddle or hit the kick-down detent under the gas pedal, and it'll happily jump down two or three gears to overtake, right here, right now. Yet it'll easily do 16km/L at 100kph. A reading of 18km/L or more is possible at 80kph, but who wants to go slow in a Mazda?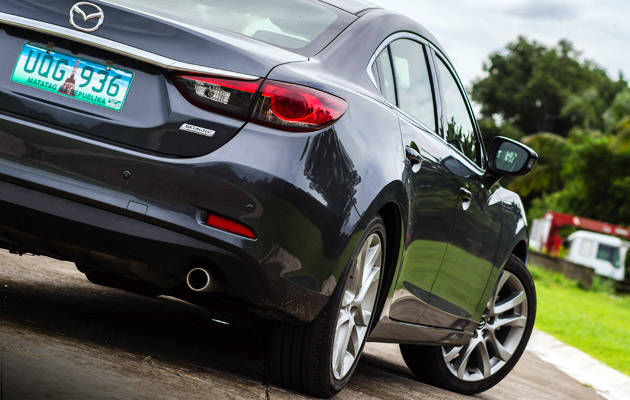 ADVERTISEMENT - CONTINUE READING BELOW ↓
RIDE AND HANDLING
No, this is a car that begs to be driven hard. Light weight and a taut chassis give it high handling limits. The suspension's blend of control and suppleness resembles that of the MX-5's. Just enough control and just enough grip. The electric steering is light, yet transmits a steady stream of information through your fingertips. You will find few dance partners--new or old--more willing than the 6.
While the big wheels tend to thump over potholes, refinement is near top-of-the-class. Its composed and refined road manners give it a very premium feel.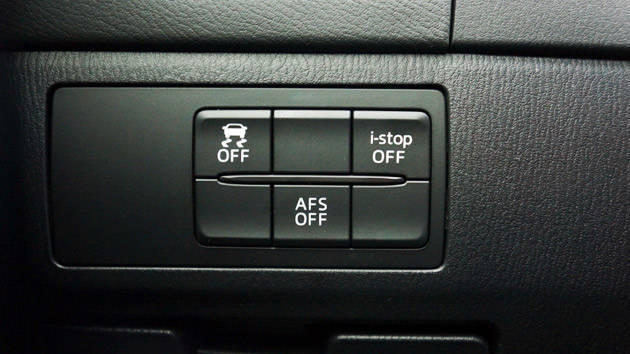 ADVERTISEMENT - CONTINUE READING BELOW ↓
EXTRA FEATURES
In addition to keyless entry and push-start functionality, there are also other extra features such as touchscreen infotainment system, voice command, front-and-rear parking sensors, and a backing-up camera. While the infotainment system is a bit spartan, sound quality is good. The big-ticket accessories, though, are i-Stop and i-Eloop. With i-Eloop, regenerative braking charges a capacitor bank to power accessories, lowering alternator load and fuel consumption. The i-Stop system, on the other hand, turns off the engine when you're, er, stopped, to save gas. Observed urban economy went from 7-8km/L with the system off to 8-10km/L with it on. Yes, it does work.
THE VERDICT
Even without all that eco-trickery, the Mazda 6 is a compelling package. It's both more refined and more enthusiastic than the previous model. It's also ultralight and very spacious. And, needless to say: It's absolutely brilliant to drive. If I were picking nits, I'd moan about the lack of a manual transmission option, but that's a given in this market segment. Otherwise, the new 6 is as close to perfect as a mass-market midsize sedan can get. Will that translate to sales dominance? Probably not. But if you ever get the chance to drive one, I wholeheartedly suggest you take it.
ADVERTISEMENT - CONTINUE READING BELOW ↓
SPECS: MAZDA 6 SKYACTIV-G 2.5
Engine: 2.5-liter Skyactiv gasoline
Transmission: 6-speed automatic
Power: 185hp @ 5,700rpm
Torque: 250Nm @ 3,250rpm
Drive layout: FWD
Seating: 5
Price: P1,705,000
Score: 19/20
Photos by Niky and Ken Tamayo