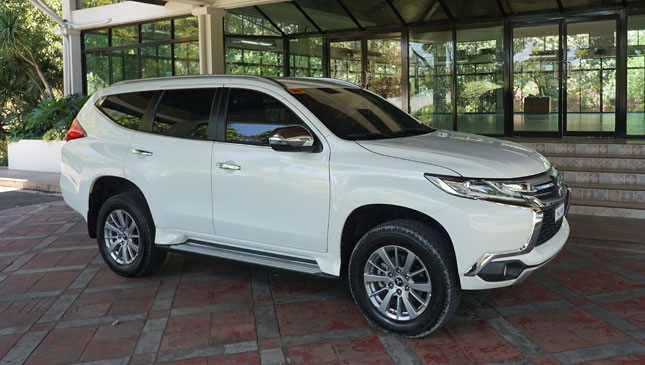 We officially declare 2016 to be the year of the midsize SUV. In just a span of four months, we saw the introduction of an all-new Toyota Fortuner, a new Ford Everest variant and a completely new Mitsubishi Montero Sport. It's a battle of the giants, and to the victor will go the reward of market share, profits and bragging rights. And in this arena, the new Montero Sport has a good chance of clinching the crown.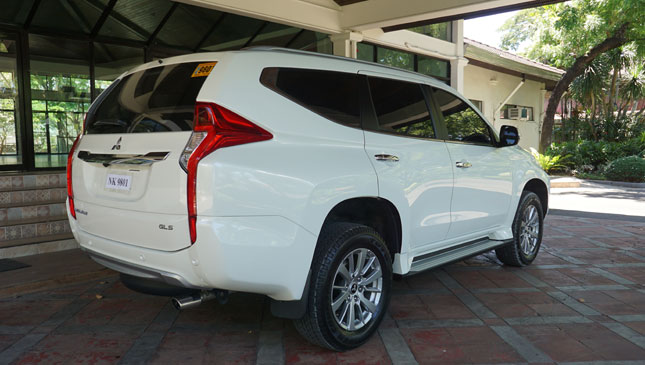 ADVERTISEMENT - CONTINUE READING BELOW ↓
STYLING
If the quest for market dominance were based on porma alone, everyone would be bowing down to Mitsubishi by now. But what's fascinating about the Montero Sport's exterior styling is that it's so polarizing. Most of us on the team like the strong prow and the futuristic stance. Taken separately, the chrome grille, the swept-back headlights, the drooping taillights and the prominent air intake seem like a discordant mess--but it's actually quite pleasing to look at.
However, I have met someone who vehemently disapproves of the Montero Sport's design. He called it a "Range Rover Evoque wannabe," and promptly purchased a brand-new unit of the previous-generation body. Aesthetic appreciation relies heavily on taste.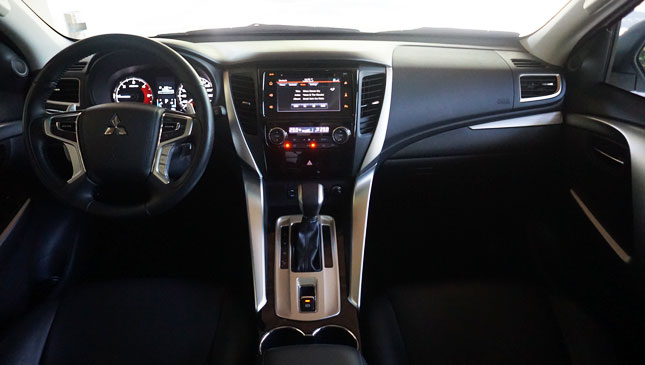 ADVERTISEMENT - CONTINUE READING BELOW ↓
Recommended Videos
INTERIOR
The Mitsubishi's cabin is heavy on class. You will be forgiven for thinking you're inside a Pajero, Mitsu's aging but still premier SUV. There's very touchable leather, smooth silver trim, and some shiny faux wood finishes. Owners will feel a sense of fulfillment just sitting here and grasping the leather steering wheel, while also fiddling with the AVT multimedia system.
In terms of space, I'd say the front perches are snug. Not tight per se, but more in a cocooning sense. Seat support is quite good, holding the body during quick maneuvers. For second row occupants, comfort during long drives might be a problem for tall people because of the low seat height. The third row will fit even near-six-foot persons, but again, ideally only during short trips.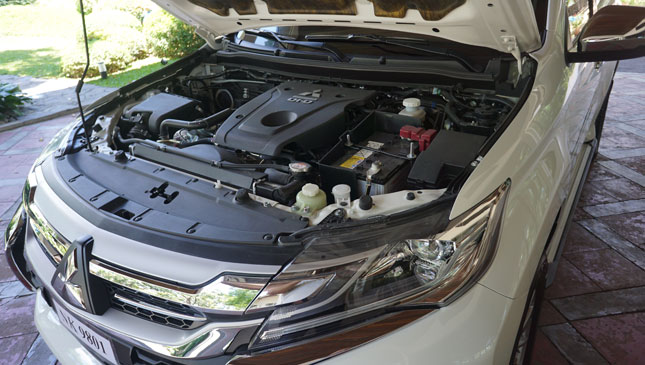 ADVERTISEMENT - CONTINUE READING BELOW ↓
ENGINE PERFORMANCE
The 2.4-liter turbodiesel is a marvelous engine. With 178hp and 430Nm, it's an athletic powerplant, but it doesn't seem to be in the eight-speed automatic transmission's character to hurry. Step on the accelerator and nothing important happens until the tachometer is past 2,000rpm. If I were to think conspiratorially, I'd say Mitsubishi wanted to prevent "sudden" movements coursed through the gas pedal.
But once you reach the power lurking beyond 2,000rpm, the Montero Sport darts forward capably and controllably. The beautiful digital information display told me I did about 15km/L when driving on the expressway, which went down to roughly 7.7km/L in really bad city gridlock.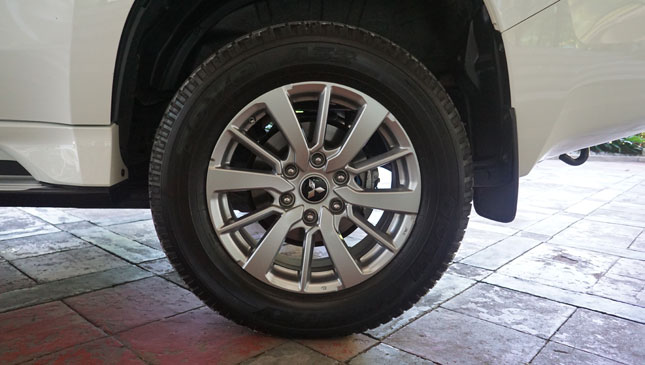 ADVERTISEMENT - CONTINUE READING BELOW ↓
RIDE AND HANDLING
The Montero Sport's ride leans toward the soft side--albeit in a smartly dampened manner. I felt a bit of sponginess when driving at a rapid clip, but there was still that palpable sense of control. You can confidently toss this midsize SUV into tight streets and sharp corners and it won't betray you. It will even reward you with delightful feedback and enjoyable driving.
When the Monty reaches triple-digit speeds, it shows off how stable it is. Vibration is minimal, and the SUV still feels very much planted.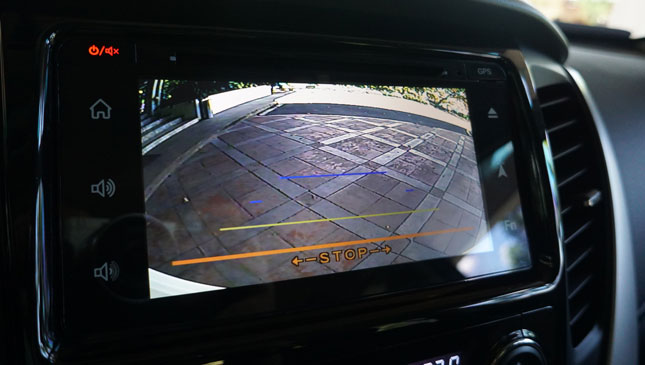 ADVERTISEMENT - CONTINUE READING BELOW ↓
EXTRA FEATURES
This is very much a modern SUV, and it has the conveniences to prove it. You don't have to test your arm strength every time you park because there's now an electronic parking brake. Also, there's no need to tire yourself turning a key for the ignition, as there's now a start/stop button. Sensors and a backing-up camera warn you of obstructions while parking, and steering-wheel buttons make it easy to activate cruise control and fiddle with the sound system.
A Mitsubishi staple that returns is the tire pressure monitoring system. This exempts you from that expression of doubt as you stare at your tires, wondering if they're properly inflated.
THE VERDICT
The Mitsubishi Montero Sport's journey as a product hasn't been smooth as of late. Persecuted by ignorance, the new model has to work extra hard to prove that it's the comfortable, stylish and sporty SUV it was designed to be. Those who still believe in the brand will be rewarded by a handsome vehicle that will turn heads and ferry its passengers comfortably.
ADVERTISEMENT - CONTINUE READING BELOW ↓
So don't listen to naysayers and online trolls. If you're drawn to the new Montero Sport, drop by the nearest Mitsubishi showroom and give it a try. If you find out that it's for you, you will feel a sense of satisfaction every time you approach it in the morning--and after it brings you safely home at night.
SPECS: MITSUBISHI MONTERO SPORT GLS PREMIUM 4x2 AT
Engine: 2.4-liter turbodiesel
Transmission: 8-speed automatic
Power: 178hp @ 3,500rpm
Torque: 430Nm @ 2,500rpm
Drive layout: RWD
Seating: 7
Price: P1,685,000
Score: 18/20
Photos by Dinzo Tabamo
Montero Sport