I like Nissans. Not all the time, but when the Japanese carmaker makes the good ones, they're really good. I fell in love with the Frontier Navara, which was a revelation in the small-truck market when it first bowed. Lovely CRDi drivetrains, suspension that was actually bearable for long stints, and space!
So, to make the next-generation Navara even better, Nissan stuck to the key points that had made the nameplate so good in the first place: powertrain, comfort and size—and multiplied these several times over. The result is a truck that's many times better than its predecessor. The look is authoritative and timeless, hinting of a lot of muscle beneath the skin.
Continue reading below ↓
Recommended Videos
The YD25DDTi 'High Power' engine still displaces 2.5 liters like before, but it uses a different compression ratio (15:1 versus 16.5:1 in the old Frontier Navara) to churn out 187hp at 3,600rpm and 450Nm at 2,000rpm. I never say no to a nice helping of horses in my cars or trucks, and I'll gladly trade a few pesos and km/L in fuel efficiency for a little more power and torque than I think I'll need. Matched to a smooth seven-speed automatic (a rather novel feature in a truck that should make one wary of post-warranty servicing), the engine pulls with authority. You can load up the NP300 and it still pulls. You need to exact speed discipline on the highways lest you unwittingly breach the speed limit. At 120kph, the engine is barely turning over at 2,500rpm.
Noise insulation and vibration reduction are also remarkable in that it almost feels like you're driving an SUV. In fact, if your hauling needs won't be covered by a midsize SUV, a Navara with a shell over the bed will do nicely. Not only is the backseat adjustable for recline, the angle is reasonably comfortable for most trips as long as you haven't stuffed it the rear with passengers.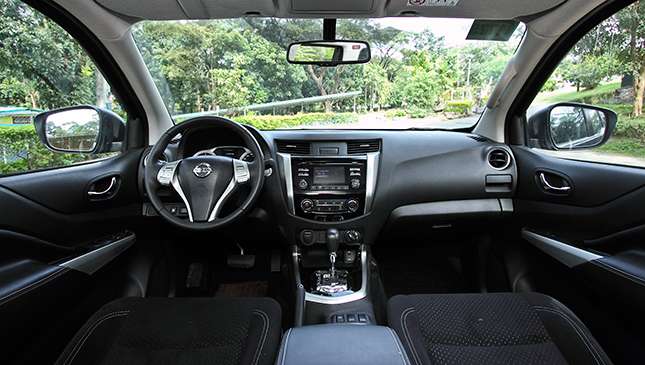 Incidentally, fuel efficiency was around 8-9km/L in Manila traffic, and improved to 11-12km/L on the highway. Before you go on about how poor this seems, note that I'm not the type to extract every last kilometer from my fuel tank. More conscientious folks will most surely do better than this.
All I care about is that the Navara can run like a bull if you floor it (hehe). Nissan has also showered the Navara with SUV-like features like cupholders everywhere (I counted six in front), trays below and above the dashboard, multiple power ports, and most important, high-quality 'Zero Gravity' front seats. The driver seat is thickly padded where it counts and wrapped in durable, highly breathable fabric. It's easy to find a comfortable position, with the tilt-and-telescopic steering column allowing you to set the wheel perfectly. Even though the Navara is a relatively large vehicle, the low cowl and window beltline allow all but petite drivers to have a commanding view of the road. I never have a problem parking it despite its length, because it also comes equipped with a rear-view camera.
Over the course of several weeks, I used the truck as a daily driver for my 40km (or three-hour commute), took it on a moderately long drive to and from Clark, Pampanga, for a duathlon, and never had a reason to take it off road. If I had, though, I'm pretty sure the truck could have handled any moderately difficult trail I would have dared venture on as I had the chance to drive it a few years ago in the sand dunes of Ilocos. The top-spec Navara has a limited-slip differential, hill-descent control, and an Active Brake Limited Slip system, so you pretty much just need to point it where you want to go on a sketchy descent/ascent, and it will do the rest for you.
You probably don't need all this four-wheel-drive hardware complexity (and maintenance requirements) if you're a city-based motorist like me, but Nissan also takes away a lot of the good stuff if you opt for the 4x2 version. For example, you lose the snazzy LED headlamps for plain halogens; the color display goes monochrome; the tires shrink from 18in to 16in; and the steering wheel loses the audio and cruise controls. If you go down to the poverty-spec 4x2 (P941,000), you even have to make do with steel wheels and acres of plastic cabin—best reserved for fleet accounts.
Of course, you also save a big chunk of money because the 4x4 VL automatic costs P1.536 million, while the (still) reasonably-kitted-out 4x2 EL Calibre automatic goes for P1.146 million. This particular 4x4 VL Sport Edition, however, adds goodies like a sportier front grille and rear bumper, a different alloy wheel design, a bed cover, a roll bar, and leather accents for the cockpit to raise the sticker to P1.656 million.
You'll have to make some pretty hard choices as to what variant you'd like to spend the next few years of your life with, then. Go all-in with the 4x4 to enjoy all the bells and whistles, or save money and live with the more utilitarian Calibre? If I were to get a truck more for the utility than anything else, the Calibre with the automatic would be the way to go. But if I wanted a truck that could do it all and make me feel good even when stuck in hellacious traffic, the 4x4 becomes mighty appealing. Either way, the basic chassis is rock-solid, the ride is very good for the class, and you'll never find yourself wishing you had more power under the hood.
SPECS: Nissan NP300 Navara 4x4 VL Sport Edition AT
Price: P1,656,000
Engine: 2.5-liter turbodiesel I4
Power: 187hp @ 3,600rpm
Torque: 450Nm @ 2,000rpm
Transmission: 7-speed automatic
Layout: 4WD
Seating: 5
Score: 17/20