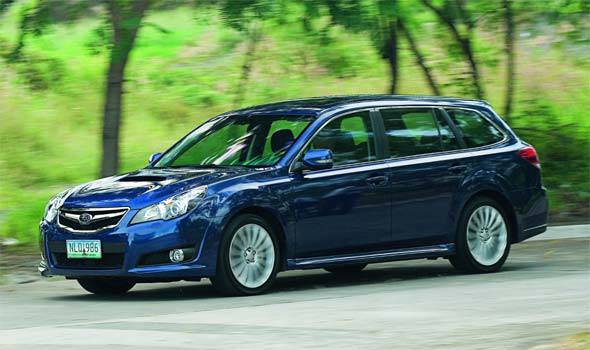 For most guys, being referred to as "mukhang tatay" is insulting, as it often invokes an image of a man with love handles, a growing beer belly, and a head of hair that's as bald as the Sierra Madre mountains.
When it comes to cars, midsize vehicles definitely fit the "pang-tatay" image, because society expects that once you've "matured" enough to abandon bachelorhood and start a family, all the familial responsibilities that come with it are now yours to bear--including picking your choice of vehicle. That means your economical subcompact car or sporty two-door coupe or even hulking SUV should give way to a midsize family-friendly sedan--or a station wagon.
But what if there's a vehicle that can give you the typical cargo-hauling capacity of a station wagon combined with a ripsnorting drive that only a turbocharged, rally-car-derived flat-four engine can offer? Well then, my compadre, look no further because the all-new Subaru Legacy GT Wagon is just the perfect compromise.
Although the latest Subaru Legacy wagon is a tad shorter than its predecessor, everything else about it is bigger than the older model. Besides the higher beltline, helping emphasize the Legacy GT's added bulk are the front fascia's imposing elements, like the large, upturned headlamps, the humongous grille and the aggressive airdam. So, to all you guys out there who are now in your 30s or 40s and have added a few pounds and some inches around your waist, don't fret--this car will make you feel younger than you've ever felt.
Continue reading below ↓
Recommended Videos
Inside, the Legacy is elegantly fitted with an off-black leather interior that is nicely complemented by faux carbon accents and brushed aluminum center console. The six-disc, six-speaker audio system is aurally pleasant and I'm able to tweak the sound to my desired effect, though I do miss the A-pillar-mounted location of the tweeters.
The ten-way power driver's seat allows me to find the perfect driving position. And compared to the driver's seats of its rivals, the Legacy's is the only one that fully satisfies my fatherly proportions. The rear seatbacks can also recline in one of two positions--perfect for the long drives if you've got passengers. Our lanky photographer Chino Acosta admired the spacious rear seats, and although the front seat could easily accommodate his six-foot frame, he wished it could have moved back a little farther.
Literally topping off the Legacy GT wagon's accoutrements is its glass sunroof, perfect for entertaining the kids with your reenactment of the tyrannosaur-through-the-SUV-bubble-roof-window scene in Jurassic Park.
Step around to the back to open the hatch, and you'll find that the wagon's cargo area is a little shallower compared to the previous model's. The rear seatbacks do fold 60/40, however, so you can free up more room should the need arise. You'll also find a few shopping bag hooks to prevent your wife's newly bought stuff from rolling around whenever you have that Petter Solberg-inspired moment driving the Legacy GT wagon a bit more wildly than most dads would. After all, this sporty wagon can certainly handle the thrashing.
That's because--thanks to the strut-type-front and double-wishbone-rear suspensions--the Legacy GT not only corners like proverbial rails on a track, it's also numbingly smooth as the imperfections on the road are readily absorbed. Only a move that's borderline adventurous and stupid will make the Legacy lose its fatherly poise.
Where the Subaru Legacy GT wagon truly stands out, however, is still under the hood. Based on my personal experience, Subaru engines have always been dependable and practically bulletproof in terms of reliability, so the 2.5-liter EJ25 powerplant on the Legacy is bound to continue this technological tradition. But what's potent about it is that it packs a turbocharger, boosting its power output to 261 horses. This is the same mill that powers the smaller Impreza WRX, which certainly doesn't have a reputation as a family man's car.
Despite the Legacy wagon weighing more than a ton and a half, it is quick off the line, with a 0-100kph sprint taking just 6.3 seconds--fast enough to replace the smirk on the faces of rice racers with an open-mouthed gape, as they find themselves being soundly beaten by what could be their old man's car that weighs much heavier than their Type-whatever.
The Legacy can do that with such composure and finesse, we couldn't help but gush about it. My colleague Sharleen Banzon lamented, however, that the car slightly disappointed her because it was too refined. Ah, the folly of youth. When she gets older, she'll probably appreciate what the Legacy GT wagon is all about--that it could be safe and very family-friendly one moment, and tremendously fast without being harsh the next. At 100kph, it's only cruising along; at 160kph, it's just starting a brisk run; at the 200kph mark, the car is only starting to break a sweat. I probably can go faster, but the light steering feel prompts me to slow down and simply err on the side of caution.
For all of the new Legacy GT's portly size and weight, I was still able to eke out 8.6 kilometers per liter in combined city-highway driving, and that was with the SI-Drive set in Sport mode the entire time the car was in my possession. Had I selected Intelligent mode instead, I very well could've pushed the mileage count to the double digits. Now, what father wouldn't appreciate that kind of savings in a car that's built with him and his family in mind?
The Legacy GT's five-speed automatic transmission is buttery-smooth, and the paddle shifters behind the steering wheel allow you to play out your F1 fantasies in a car that's built by a three-time world rally constructors' champion. Like in any automatic-transmission-equipped car, there is a response lag when the engine isn's revving high enough, but a quick blip of the throttle is sure to banish this. With technophobic men, the electronic parking brake could take some getting used to, though.
That does it for the good stuff. If there's one flaw to the Legacy wagon, it would be the fact that its horn seems to have been mounted just behind the glovebox, because it sounds louder inside the cabin than it does outside.
All my raves about this car notwithstanding, a station wagon will always be looked down upon as a family car. But if it's as good--and as fast--as the Subaru Legacy GT wagon, then this daddy--and many more out there--could hardly give a damn about what other people think.
Photos by Chino Acosta
From Top Gear Philippines, January/February 2010
[gallery]912[gallery]