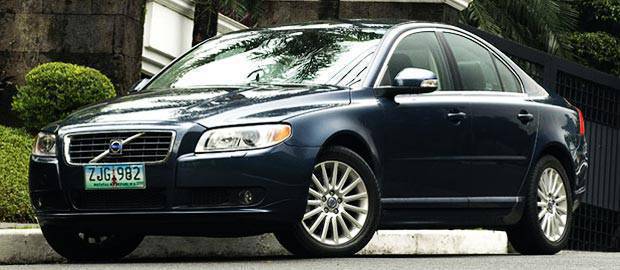 If the Vikings of old had the longboat equivalent of the Volvo S80, they just might have taken over the world - not by brute force but by reason, calmness, peace and inner strength. You see, the new S80 looks elegant, serene and a bit of a pacifist, but is one that carries authority well.
During the mid-noughties, the Swedes lost the plot and ended up with crashy-riding cramped sedans. Sure, the Peter Horbury-penned shape was timeless, but the rest of it aged like milk. The XC70 and the XC90 were great cars, and owners loved them to bits. But in hindsight, the sedans and estates left much to be desired.
ADVERTISEMENT - CONTINUE READING BELOW ↓
Now onto the new S80. TGP's VBS drove it last year in Europe and enjoyed the experience. But can the car hack it here, with our lunar-surface roads?
In basic 2.5-liter turbo guise, the S80 looks like a shrinking violet beside its bolder German rivals.
The tall stance gives it a smooth, supple ride, whereas the sleeker Germans, with their tarmac terrorist-spec ride height, look aggressive. The latter also have bigger 18- or 19-inch wheels that fill out the fenders with low-profile rubber, whereas the Volvo comes with modest 17-inch wheels with even more modest fat tires. Lastly, the Volvo doesn't have a curvaceous and aggressive body kit straight from the factory.
Finally, the ride feels smooth, mildly detached and somewhat isolated the way Lexus does it, but is definitely comfortable and - dare I say - confident. There's still some of the steering vagueness on-center, but apply more lock and it weighs up evenly, if not exactly Braille-like. Accelerate carefully but firmly, until you realize you're cruising at the 140-160kph range. It gets executive-express tasks done with a minimum of fuss.
ADVERTISEMENT - CONTINUE READING BELOW ↓
Recommended Videos
The interior is reminiscent of old Volvos, but freshened up and filled with lots of useful cubby-holes. There's a high-performance eight-speaker audio system swallowing six discs. It's pretty good but the bass is just a little too much. There's also multi-zone climate control to bring in an arctic frost despite the intense midday heat. Volvo even managed to stuff vents and airbags in the B-pillar without affecting structural rigidity and integrity. The S80's chassis feels solid, firm and composed.
Filming for ABC-5's Lifestyle Check, I sat in the rear seats while interviewing Loi Concepcion, one of Viking Cars' pretty PR ladies. I rarely sit in the back seat of a car because: a) I'm always driving; b) if I'm not driving, I'm riding shotgun; and c) I simply don't fit in most back seats of sedans, save for the BMW 7 or the Merc S. To that list, I should include the S80: comfortable, roomy and elegant.
ADVERTISEMENT - CONTINUE READING BELOW ↓
The dark-gray leather interior manages to look cool, classy and very modern, which ironically could have easily ended up looking boring indeed. It's power-everything inside, and there are loads of airbags, curtain bags and knee bags. I'm surprised a barf bag isn't included. Not that you'd need one, for the S80 rides smoothly regardless of speed and surface. It's also got ABS-EBD brakes with traction-stability control.
And the car is fast for sure. The five-cylinder light-pressure turbo-charged engine is a bit lazy at low revs, but it pulls enthusiastically past 2,500rpm all the way to redline. Cruising through SLEX, C5 and EDSA late at night and with no cars in sight, you just rest your foot on the throttle and the engine rumbles ever so slightly, thanks to good overall NVH insulation. The ride-and-handling balance is skewed toward comfort but handles predictably. With more seat time, it feels intuitive as you guide the wheel.
ADVERTISEMENT - CONTINUE READING BELOW ↓
A quick glance at the speedo shows a relaxed gait of about 140kph. Tire noise permeates throughout, however. Methinks it's down to the rubber of choice, the Continental Sport Contact 3. These tend to be noisy especially on slick and greasy blacktop.
Volvo has found its stride. The S80 is a relaxed, comfortable, high-speed touring lounge that has loads of Swedish cool. It is not something that should be rushed - it marches to a different beat. It has finally found its own unique identity and it's not a compromised ride. It knows what it wants to be and is confident enough to be different. It's not a sports-sedan wannabe anymore. That party is overcrowded anyway.
If you do want something more hooligan, the top-spec'd S80 has V8 power and AWD, plus bigger, gorgeous alloys. That sounds really mad, goes like stink, and will make the German hotrods sweat under their collars.
ADVERTISEMENT - CONTINUE READING BELOW ↓
So why would the Vikings have conquered the rest of the world if they had the longboat equivalent of the S80? Well, they'd arrive more relaxed; they wouldn't have been pissed enough to rape, pillage and plunder; and they would have wowed everyone with their fancy, smooth-talking longboat S80.
Not that you'd argue with someone covered with tattoos and who wields a giant ax and has a shield as big as a roof.