Which Volvo V60 is this?
The fast one, which also happens to be the plug-in hybrid one. It borrows the T8 'twin-engine' powertrain from the bigger Volvo 90-series cars, with which it shares the so-called 'SPA' platform. The result is all-wheel drive, with the front wheels driven by a 2.0-liter four-cylinder gasoline engine and the rears by a small electric motor. Total system output is 390hp and 639Nm. Nil to 100kph, therefore, comes up in less than 5sec, and you'll keep going until you hit the electronic buffer at 250kph. Claimed EV range is a little under 48km.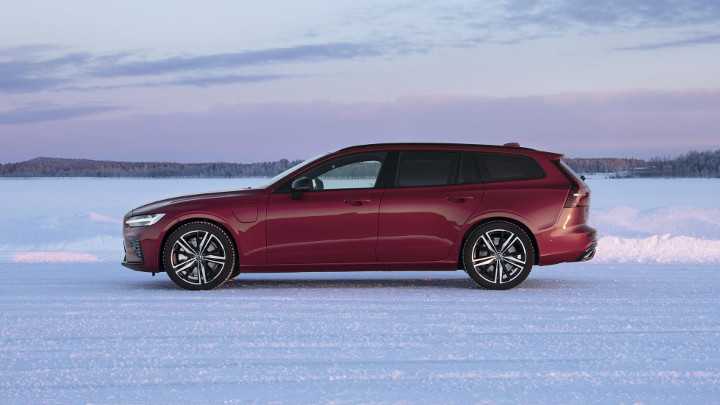 Continue reading below ↓
Recommended Videos
Looks quite serious, too.
That's because it's wearing new R-Design trim, which, a bit like BMW's M Sport or Mercedes-Benz's AMG Line, adds a schporty bodykit and slightly firmer suspension. Volvo expects so-equipped cars, albeit fitted with lesser gasoline or diesel engines, to account for 40% of all V60 sales in countries like the UK, because Brits like a bit of schportiness. Meanwhile, the excellent new V60 Cross Country will account for 10% of sales, and base 'Momentum' and luxe 'Inscription' trim cars will do 10% each.
So what's it like?
Our drive of the V60 T8 happened in northern Sweden, with temperatures hovering around -27 degrees Celsius. Driving on frozen lakes, with studded winter tires, is a lot of fun, but it's not really representative of what a car's gonna be like in other places that don't even see snow. That said, we did learn a few things from our trip north. Way north.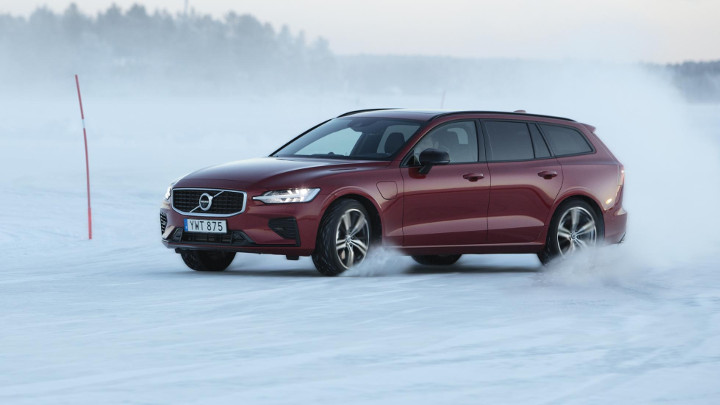 First is that the "stiffer spring rates, faster-responding monotube dampers, thicker anti-roll bars, and 12mm lower ride height" you get with R-Design trim have done little to transform the V60's character. While firmer-riding than normal, this is still a relaxing, comfortable car first and foremost, and a fun one second. The R-Design steers smoothly, feels quite agile, and controls its bulk well—it's objectively and noticeably the best-driving V60. But while it's closer than ever, the V60 still isn't quite as much fun as rivals.
That said, the bodykit certainly makes the R-Design look the part. V60s are exceptionally well-specified as standard, but the RD's interior and exterior trim, sports seats, and 18-inch alloys probably make it worth having, anyway, regardless of any improvement in handling. It's still mostly as comfy as a regular V60, too—at least out here, on the snow and ice. Who knows how the bigger wheels and the stiffer suspension will handle rougher road surfaces?
What about that engine?
Ah, yes. First, the T8 is fast. Faster, certainly, than it needs to be. Second, it's refined. Driven normally, it's very hard to tell whether it's the gasoline engine, the e-motor, or both that's doing the heavy lifting. Until you clog it, at which point the engine makes itself heard. It's not the nicest-sounding nor smoothest four-cylinder out there, which is a pity, but it gets you down the road just fine.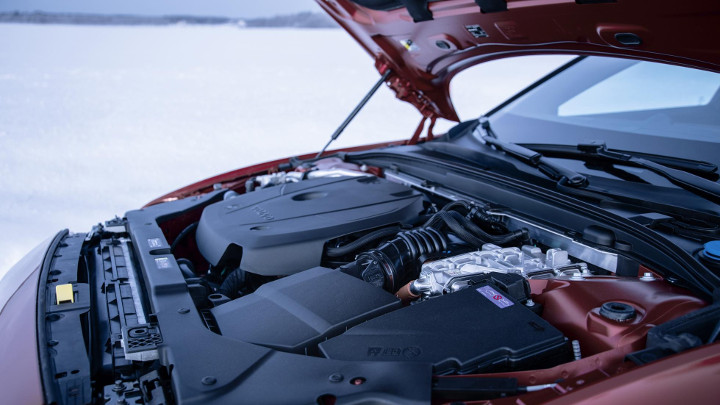 And because this is an R-Design, you get paddles behind the wheel for changing gear. Only R-Designs get these, and while they're worth having for the odd occasion you might use them, you'll seldom feel the need. The transmission itself is fine—smoother than we remember from other V60s, but not quite as decisive or quick to respond as the Germans' gearboxes.
Hmmm. So what's the verdict?
We'll reserve final judgement until we've had a go on highways and city roads, but on first impressions, this is a very good V60. They all are, really. You don't need as much power as the T8 and it'll be pricey to buy, but as with all PHEVs, if it works for your lifestyle, then by all means go for it.
As for R-Design—so long as the ride holds up in regular driving conditions (we'll let you know), you're good to go.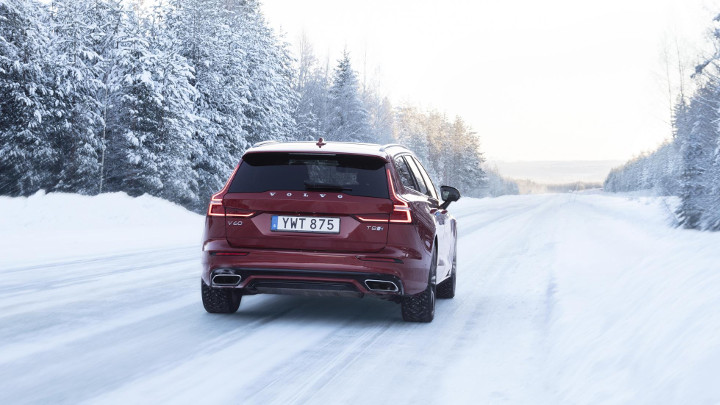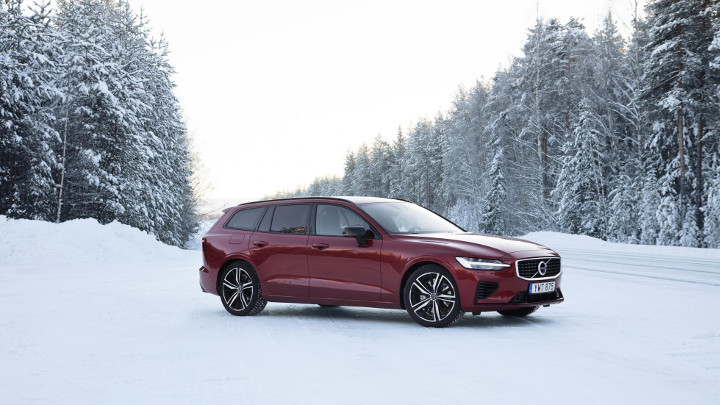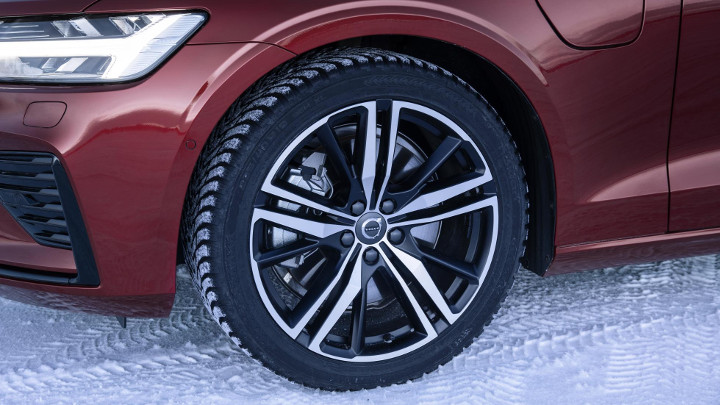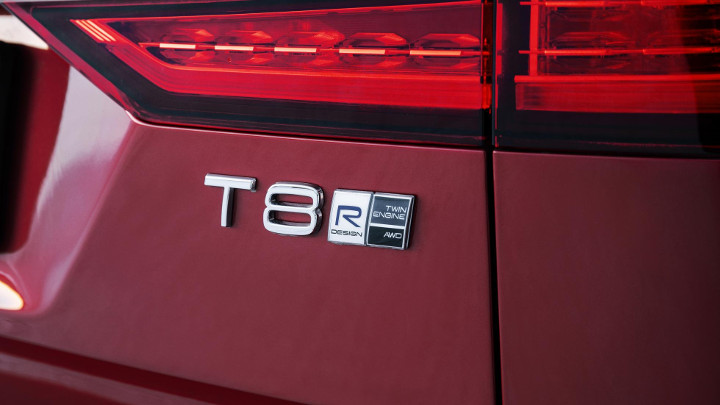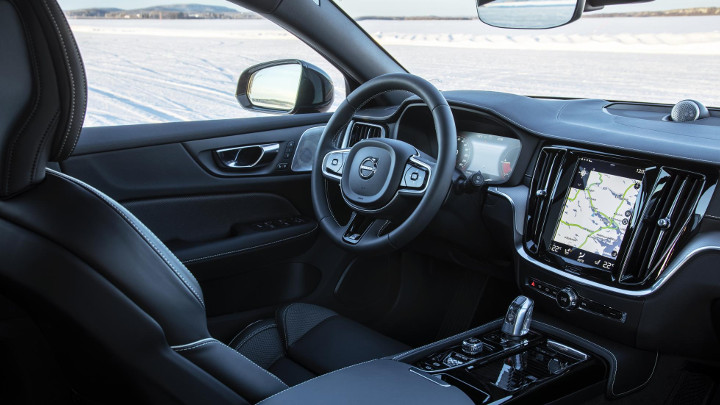 NOTE: This article first appeared on TopGear.com. Minor edits have been made.