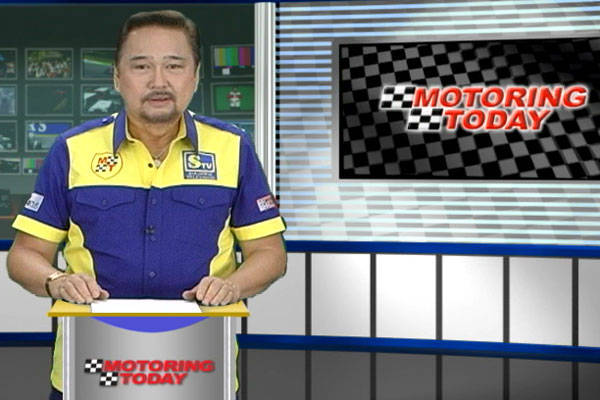 This week, the long-running local automotive TV show Motoring Today is celebrating its 25th anniversary. To help our colleague and friend Butch Gamboa mark the special occasion, we've listed 25 things we bet you didn't know about the show.
1. Motoring Today was first aired on June 7, 1987, on PTV-4.
2. The late great race driver Pocholo Ramirez served as Gamboa's cohost from the very first telecast.
3. Gamboa was encouraged to create the show after having produced the TV coverage of the Greenhills Grand Prix and other racing events of the Automobile Racing Association of the Philippines, the erstwhile umbrella organization for Philippine motorsports.
4. The very first taping of Motoring Today took place at the Playboy Club of the Silahis Hotel.
5. Guesting on the maiden installment of the show were Cam Wreckers' Billy Martinez and Auto Rallye Club of the Philippines' Gus Lagman, Robert Aventajado and Boy Saycon.
ADVERTISEMENT - CONTINUE READING BELOW ↓
6. The very first advertisers on the show were Marlboro and STP.
7. The very first vehicle featured on the show was a rally car owned by rally driver Robert Aventajado.
8. Motoring Today was the first Philippine TV program to have actually attended or covered international racing events, including the 1989 Macau Grand Prix and the 1991 Australian Grand Prix.
9. The show stayed with Channel 4 for almost two decades, only moving to Solar Sports when the government-owned station banned block-timers (independent producers).
10. The show's original time slot was 3pm every Sunday; it now airs at 12nn also on Sundays.
11. The "Car Care Tips" portion used to be known as "Arrive Alive."
12. Butch's brother, Rey Gamboa, used to be the corporate communications boss of Pilipinas Shell, which was among the most loyal supporters of the show in the past.
13. The show featured Formula 1 and World Rally Championship footage even before cable TV became mainstream in the Philippines. That was thanks to Pocholo's late son, Kookie, who was then based in the US.
ADVERTISEMENT - CONTINUE READING BELOW ↓
Recommended Videos
14. Motoring Today used to precede PBA games on PTV-4, which essentially gave it a sizable audience since basketball fans would often catch it whenever they tuned to Channel 4.
15. In the show's early days, when there weren't a lot of new cars to be featured, Motoring Today showcased almost on a weekly basis the cars of the architect and famous car collector C.C. de Castro. It is estimated that the show was able to feature "more than a hundred" of de Castro's prized possessions.
16. The show started with a work force of just seven people, including two cameramen using Video-8 camera equipment.
17. The very first production office of Motoring Today was located on Broadway Avenue in New Manila, Quezon City. The company moved to its present office in Valle Verde Country Club in 2006.
18. Jenny Bleza, the show's executive producer, joined Motoring Today as production assistant--when she was just 21 years old.
ADVERTISEMENT - CONTINUE READING BELOW ↓
19. Among those who have served as the show's scriptwriters are Top Gear Philippines columnist Erle Sebastian and Philippine Star motoring editor Manny de los Reyes.
20. Gamboa pens a weekly motoring column for Philippine Star, also called "Motoring Today."
21. The company that produces the show is owned by Gamboa and called Sunshine Television. It also produces another motoring show called Auto Focus, which also features Gamboa as the main host.
22. Motoring Today is now being shot and produced at a function room of the Valle Verde Country Club.
23. Butch Gamboa used to read his script from an old-fashioned "teleprompter" colloquially known as "idiot board," which was basically just a roll of Manila paper on which the script was written.
24. The show now advocates road safety through a segment called "Young Street Smarts."
25. Butch Gamboa's signature sign-off greeting is: "Happy motoring!"