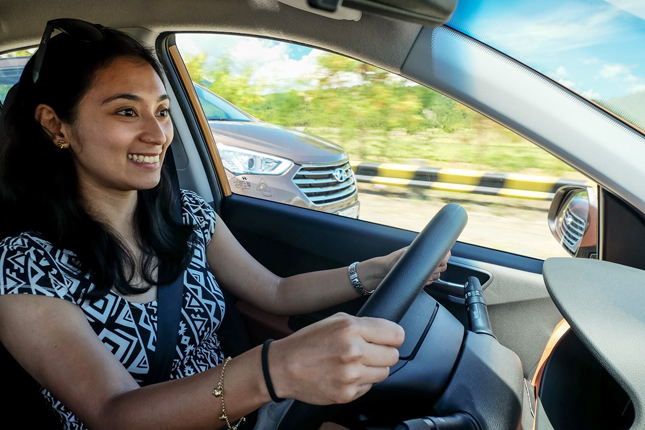 As Facebook may have reminded you, it's International Women's Day today--a celebration of appreciation, love and respect for the female of the species. And while it's nice to give gifts or send thoughtful messages to the special women in our lives, the outside world isn't as friendly.
There's still a long way to go to make life on the road better for our mothers, sisters, wives, girlfriends, daughters. Just today, I personally saw instances of women in difficult motoring situations.
And let's not bring up issues of gender equality here. Men and women are different, and we both have our strengths and weaknesses. It is what it is.
So here are areas which we feel can be improved, so that every day can be cause for celebration.
1. Worry-free streets. In our story about Maine Mendoza's solo road trip, someone commented on our Facebook page that it was good of her to wear a cap because she was driving alone. That way, her silhouette wouldn't easily give her away as a girl. It was a good point, and it reflects the perennial problem we have with safety on the streets--especially for women. And no, you deluded millennials, martial law isn't the solution.
Continue reading below ↓
Recommended Videos
2. Dedicated parking. ­We first saw car slots allotted for women in the basement parking of a posh hotel. At first, we wondered if it was mildly sexist in some way. It's like the hotel was implying that women can't park, thus a need to give them specific slots that are easy to maneuver into. But while parking for a business lunch earlier, I saw a lady--who was definitely of senior-citizen age--ask for help from the guards in reversing her Honda Civic into an empty slot. She leaned her head out of the window, old-school style, and backed up carefully (albeit a little jerkily). Right there, it made sense that the tight, cramped spaces we could fit our SUVs into, might not be as ideal to women who aren't as experienced behind the wheel as we are--especially older ladies.
3. Better and safer public transport. Last month, the widow of Tropical Depression frontman Dominic "Papadom" Gamboa, was held up inside a taxicab and then murdered. Teng Santaromana Gamboa was working in a call center in Makati, just like thousands of other BPO employees. This sort of thing should not be happening anymore, and a quick Google search shows that no progress has been made on her case. Yes, crime occurs even in First World countries, but we know how lax screening is here for taxi drivers, and even drivers in general. And ladies, when going home at night, use Uber or Grab because at least there's an information trail somewhere.
4. Easy-to-understand street signs. This morning, again, I was at the EDSA-Ortigas intersection, right under the flyover. I was turning left to head to Makati, and I entered the specific lane designated for southbound motorists. There were several lanes underneath the flyover, and if you entered the one for buses, a member of the MMDA would flag you down. True enough, a black Honda wandered into the bus lane, and a man in blue stopped the vehicle. The window rolled down, and I was able to glimpse the face of a confused tita, with eyeglasses on top of her head and all, looking earnestly at the MMDA officer. This was a very busy intersection, and if you didn't know where you were going, it was easy to wander into the wrong lane because the signs were poorly placed and/or confusing. This shouldn't be the case. And how many of us have experienced this in other locations in Metro Manila?
5. Just respect, plain and simple. We've all seen this situation: We trawl for a parking slot in a mall, and then the car in front of us stops, aligns itself with the empty space, and seemingly takes forever to park. We see an outline of a ponytail or wavy hair through the window, and we realize there's a woman behind the wheel. How many of us have sighed, smirked or snickered at this sight? (We hope none of you honked the horn; that's just bad manners.) Let's give courtesy and respect when we see female motorists on the road--not for any reason of skill, perceived gender handicap, or expectations of chivalry, but because it's the right thing to do.
Photo by Mikko David