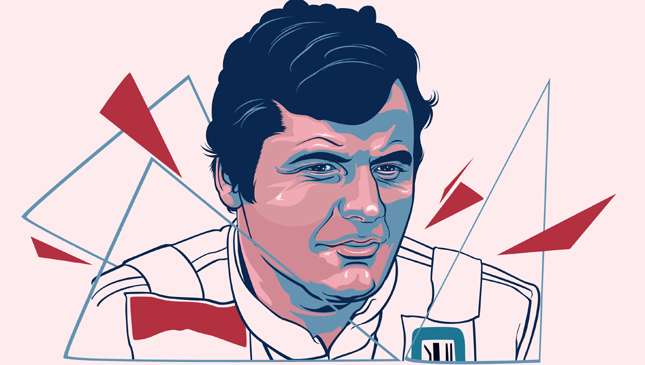 There is no end of people who proclaim the value of hard work in achieving success in racing, but very few have accomplished as much as Alan Jones has done while starting with so little.
Son of successful Aussie racer Stan Jones, the Melbourne native got an early start racing karts and Minis, but his first attempt at breaking into the European racing scene was an abysmal failure. Regrouping, he tried once more, returning to Europe with fellow Aussie racer Brian McGuire a few years later. Earning coin by trading secondhand cars, he managed to purchase a Formula 3 car—which was soon written off in an accident that left him with a broken leg.
Continue reading below ↓
Recommended Videos
Jones would bounce around in lower formulas for years after that, finally earning a Formula 1 drive at the rather advanced age of 28. He bounced between teams, most infamously driving the Durex-sponsored Surtees F1 racer, "back in the days when sex was safe and racing was dangerous," as he would say. His first victory was with Shadow in 1977. Racing for a team that was barely on the championship radar, he won the Austrian GP over defending champion James Hunt and the eventual champion Niki Lauda.
This caught the attention of Frank Williams. Along with the now-legendary designer Patrick Head, Jones joined the British privateer squad in 1978. Williams was second in the constructors' championship in 1979.
In 1980, Regazzoni was replaced by Carlos Reutemann, another former Ferrari driver. He and Jones helped refine the FW07B into a title-winning machine, with Jones ending up on the podium 10 times during the season, winning seven races on his way to his first and only F1 championship.
The next year, the two drivers had a massive falling out. Jones retired from F1 at the end of the season, after the teammates' tempestuous relationship all but handed the title to Brabham's Nelson Piquet. Jones made a number of abortive attempts to return to F1 in the following years, but due to accumulated injuries and poor health, he never successfully replicated his success at Williams.
Despite this, his effects on the sport and on Williams was profound. Frank Williams has nothing but praise for Jones, who has found a second life as a television commentator and occasional steward for the sport. At 70, he's still very much a man's man, and minces no words in describing F1's current crop of drivers with his own brand of sardonic wit.
Note: This article first appeared in Top Gear Philippines' May 2017 issue.