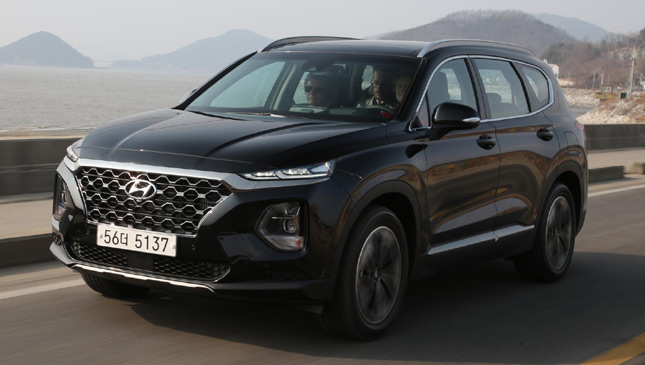 What is it?
A really big Hyundai, which in spite of its silly name, is actually quite appealing on a practical, family-first kind of level.
Midsize SUVs like the Santa Fe appeal because they're usefully smaller, cheaper, more economical, and less brash than conventional SUVs like the Land Rover Discovery, Volvo XC90 and Audi Q7. But you still get seven-seats--granted in most the two rearmost seats are good only for kids, but who sits fully-grown adults back there anyway?--a lofty driving position, a degree of off-road ability if you get one with all-wheel drive and some proper tires, and the ability to tow. And of course there's the image, which nowadays is even more important than whether the car is any good.
Image is a thing Hyundai might have struggled with a decade ago, but times have changed. Before 2001, they were known for building reliably cheap hatchbacks nobody really wanted or indeed deserved, but the chunky Santa Fe and its steady march upmarket (which continues with the new fourth-gen car) has overseen a revitalization of Hyundai's entire range.
We've always thought the last Santa Fe was a good-looking thing. Not good-looking like a Jaguar F-Type is good-looking, but in a refined, functional kind of way that somehow manages to look almost as modern now as the day it was introduced. The new car wears Hyundai's corporate look much more successfully (we think) than the little Kona crossover.
Continue reading below ↓
Recommended Videos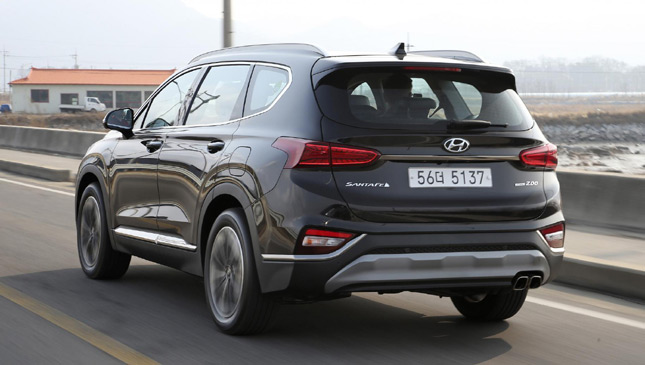 What is it like on the road?
Full disclosure: Our only experience of the new Santa Fe was in South Korea, and of an engine/drivetrain we won't get. In other markets, Hyundai will offer a choice between two diesels and one gasoline engine. It's the lesser of the two diesels, the 2.0-liter, we miss out on (but have tried), leaving us with the 2.2-liter diesel and 2.4-liter gasoline from the existing car. The former gets the option of a new eight-speed automatic transmission and all-wheel drive, whereas with the latter (which is still unconfirmed, but likely given the diesel situation) you're forced into all-wheel drive and the old six-speed auto.
From what we remember, the diesel is at least acceptable, if some way behind the best from the Volkswagen empire. The lack of a lower-powered diesel or small-capacity turbo petrol might hurt the Santa Fe's chances, though we'd put money on Hyundai eventually sticking its 1.6-liter turbo gasoline in there. Possibly a hybrid, too.
As far as comfort goes, wind/tire roar is minimal and it rides bumps well enough. Bit rolly if you attempt to corner 'with purpose,' but there's nothing to the steering or chassis to encourage it, so best leave it in Comfort (Sport does nothing of any use) and waft along. We haven't tried the manual, but the eight-speed auto is decisive and smooth-shifting, which is as much as you can/should ask from a car like this. No paddles on the wheel, not that you'll need them.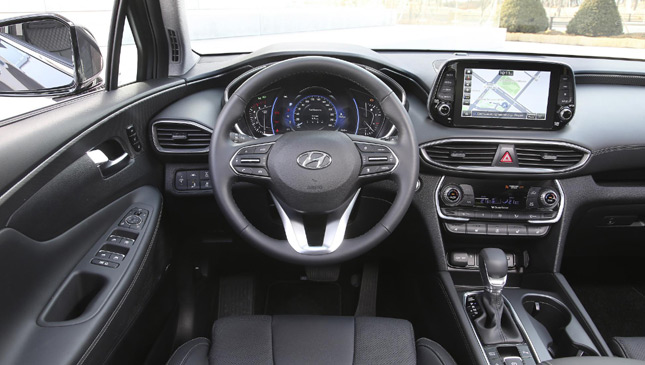 What about the layout, finish and space?
The old car's interior was functional if plain. Entirely predictably the new one aims for even more space and a more "premium quality." On the former, there's more boot-space (taking us to 625 liter in all), more legroom for second-row passengers and more headroom for those in the third, rearmost row. Access is straightforward thanks to second-row seats that unlatch and spring forward electronically. Slide the second-row forward and you're left with enough knee- and headroom for an adult to sit, quite unhappily we'd imagine, for a short journey. Hyundai says it's considering offering both five- and seven-seat versions of the Santa Fe, but that traditionally it's the seven-seater than sells.
As for the premium-ness all carmakers seem to be obsessed with nowadays, the Santa Fe eschews a conventional center-stack and instead goes for the very in-vogue tablet-like touchscreen setup. Screen size and functionality are proportional to money spent, naturally. The flagship eight-incher gets Apple CarPlay, Android Auto and much besides Climate controls look a little low-rent but on the whole, the Santa Fe's interior feels up to withstanding the rigors of family life, even if material quality is a little mixed.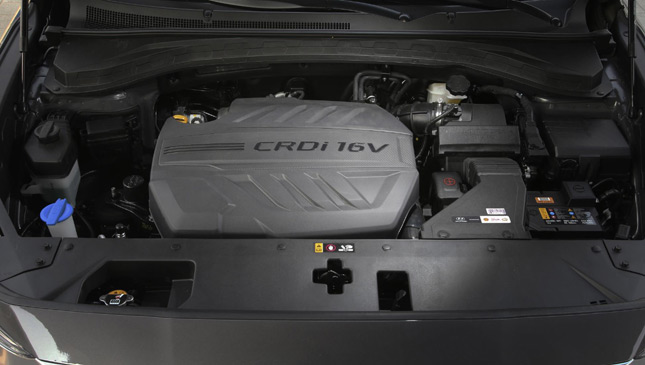 Final thoughts and pick of the range?
Has the makings of a capable, family car. The Santa Fe looks like it'd be a thoroughly decent alternative to the usual choices. Just don't go expecting any real excitement--family crossovers typically fail in this regard, and the biggest Hyundai is no different.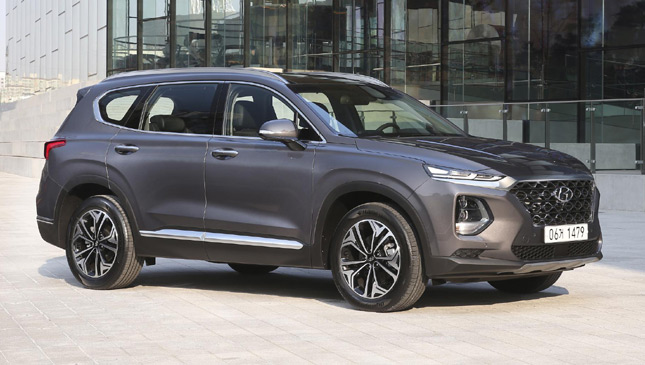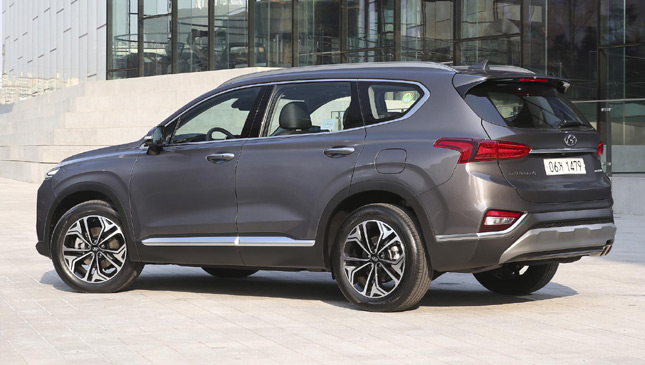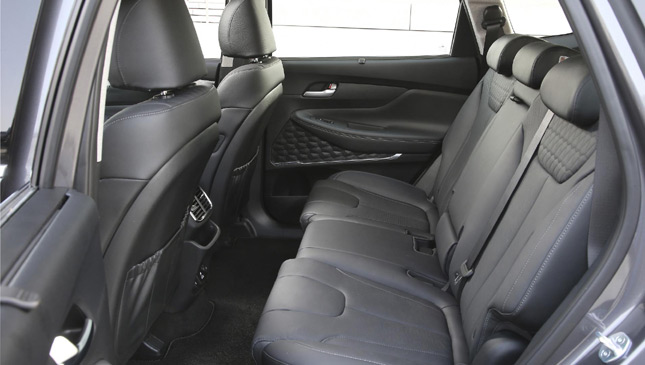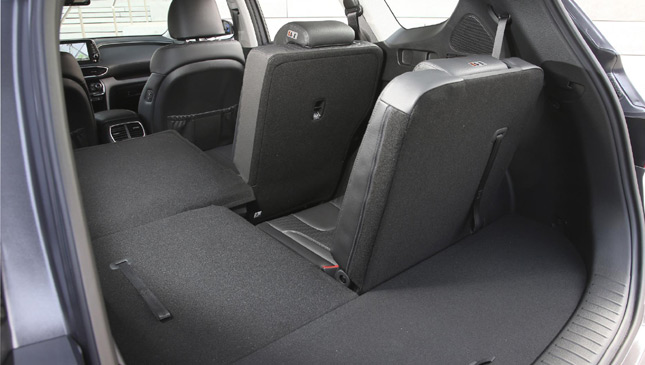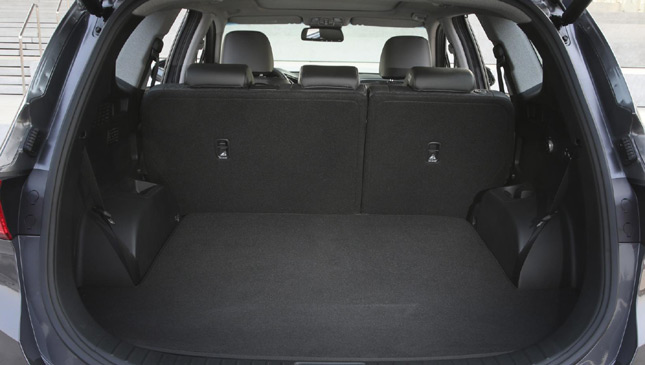 NOTE: This article first appeared on TopGear.com. Minor edits have been made.