What is it?
The latest iteration of Kia's smallest car, the Picanto, may be maturing as it enters its third generation, but it's also getting younger--if you catch our drift.
Topping the range is a sportier looking version called the Picanto GT Line, which hopes to capitalize on some of the petrolhead interest generated by the rear-drive Stinger GT. After all, Kia can't be outdone by its sister company, Hyundai, with its forthcoming N performance models.
Naturally, Kia isn't quite ready to drop a flame-spitting 200hp engine into its smallest car, so for now, the Picanto GT Line only gets the look of a sporty little supermini with a few modest tech changes.
Still, it sits on an all-new chassis, and while the 2017 Picanto is the same length as the previous model (3,595mm), it undoubtedly has an improved stance. Kia has achieved this by reducing the length of the front and rear overhangs while stretching the wheelbase by 15mm. Granted, that's not a massive increase, but the overall result is a car that sits much better on the road and creates a little more space inside for passengers.
For the GT line, there are bespoke alloy wheels that fill the arches nicely, giving the car a bigger chance of getting a second glance than any Picanto before it. Helping with that, the front end includes on-trend 'air curtain' intakes in the bumper that help channel air through the wheel arches to aid the aerodynamics. Not so sure how much of an effect that will have on your daily commute, but let's face it: Looking good matters a lot to buyers in this segment of the market.
Continue reading below ↓
Recommended Videos
And interior ambience is also gaining importance, as owners realize they spend more time looking at the inside of their cars than the outside. The Picanto's, especially the GT Line, is more interesting than most. It feels more grown-up too, thanks to a free-standing infotainment system and well-sized multifunction steering wheel.
You can even have it with flashes of red on the seats if you're feeling particularly daring. Thankfully, there's also good passenger space in the rear, helped by doors that provide wide apertures easing access.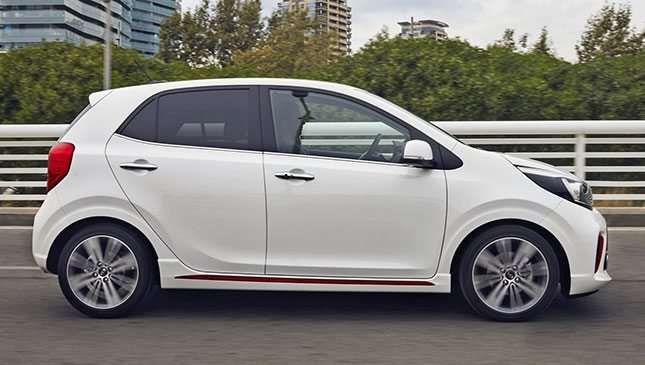 What is it like on the road?
Unsurprisingly, the Picanto--particularly in GT Line trim--is best sampled with the larger capacity engine option, a 1.2-liter four-cylinder, which produces 83hp at 6,000rpm and a modest 122Nm of torque from 4,000rpm.
That power gets to the front wheels via a five-speed manual gearbox and sees the Picanto's 0-100kph 'dash' take a nice even 12 seconds. Not what you'd call devastatingly fast, but perfectly fine around town where you'll never go near such speed anyway.
Power delivery from the naturally aspirated engine is smooth, and there's little in the way of vibration from it, even when you're trying your hardest to find that 83hp. The five-speed transmission suits it, and only occasionally on the motorway do you feel the need for a sixth gear. The shift between gears feels right and the throw isn't as long or vague as in some cars in the segment.
This engine is more refined than the three-cylinder alternative, though some will enjoy the more rev-happy nature of the triple as well as its more distinctive thrum. It's worth noting that, later this year, Kia will add a turbocharged 1.0-liter three-cylinder engine to the line-up, producing 98hp and 172Nm of torque, which should suit the GT Line.
The standard car is an agile and composed little thing to drive, and feels surprisingly surefooted for a car of its size. Helping the GT Line Picanto along are slightly stiffer suspension springs, which, considering the Picanto weighs just 976kg, might not be all that necessary. But they do all but eliminate body roll in the corners, allowing (and encouraging) you to carry that bit more speed through bends.
There is enough feel through the steering to give you the confidence to place the car where you want it, and it doesn't have the vague sensation that is often present in modern superminis. When you need to squeeze into a tight parking space, it is light enough, too, and the Picanto also has one of the best turning circles in the class. Out of town, road and wind noise aren't particularly prominent and even when you're asking more of the engine, it remains reasonably muted.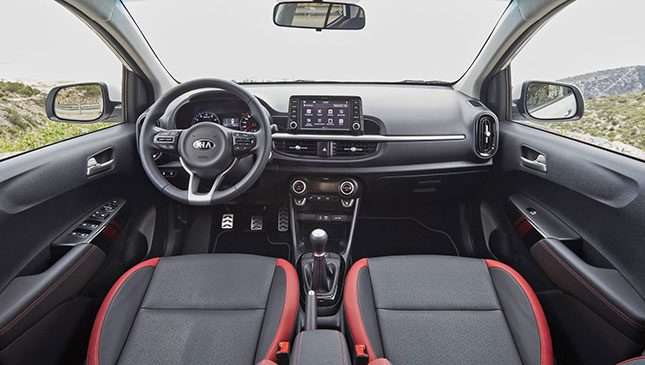 Layout, finish and space
Prepare to be pleasantly surprised when you climb into the new Picanto. Its predecessor had a rather dull and uninspiring design inside, but this time around Kia has made a concerted effort to improve things. Taking a cue from its bigger brother, the Rio, Kia has grafted a seven-inch touchscreen onto the dashboard of the Picanto.
Different color packs add some life to the dashboard air vents and doors, while the seat upholstery gets flashes of color on its sides. For the image conscious, Kia has even created what it claims is one the best vanity mirrors in a car today. Taking inspiration from what you'd expect to see in a Hollywood make-up studio, it uses three different sources of light to perfectly illuminate you as you apply your make-up or check for nose hair.
Sure, there are still some hard, scratchy plastics on certain areas of the cabin, but all the main touch points look and feel every bit as good as cars in the segment above. Moreover, there is a decent amount of passenger space in the rear. Kia provides three seatbelts and even though there is an almost flat floor, it's a squeeze for three adult passengers--but that's the norm in this sector, in fairness.
Boot space has been increased over the old Picanto, growing from 200 liters to a much more useful 265 liters. Drop the rear seats down and this increases to 1,010 liters, which is accessible via a wide opening, too. Elsewhere in the cabin there are door bins that can fit larger bottles than before, a center armrest with more storage underneath and a tray in the center console for more stuff--just don't put your keys there as they slide around noisily on the hard plastic surface.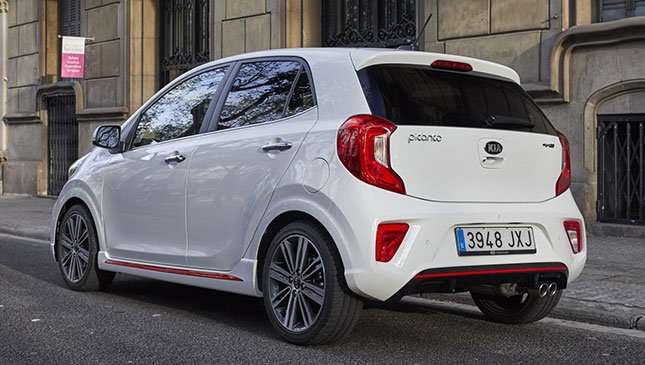 Running costs and reliability
Picanto prices start at £9,450 (P610,000)--a rise over its old £8,835 (P570,000) starting point to reflect the improvements--with GT Line models starting at £11,950 (P771,000). But you'll pay another £500 if you want the more powerful 83hp engine.
During our time with the Picanto GT Line, the best we saw returned on the trip computer was close to 17.13km/L, a far cry from the official 61.4km/L. Some more restrained driving might see this improve slightly, but if you want to have some fun driving the GT Line then expect your average economy to hover around that mark.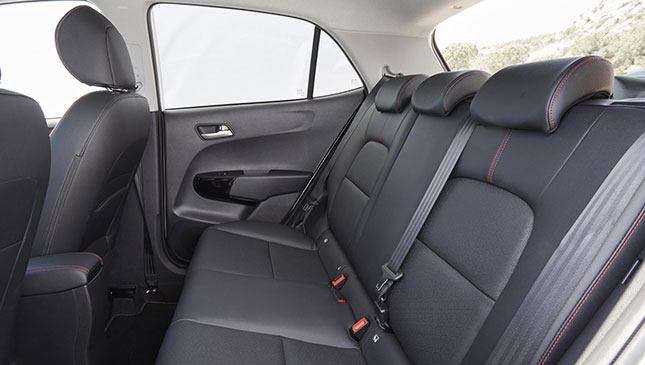 Final thoughts
As superminis go, the new Kia Picanto is a great all-rounder. The standard car looks decent and has the right proportions, while the sportier looking GT Line is better looking still. Flashes of color on the sills and around the air intake allow it stand out that bit more without making it look like a cheap trainer.
The Picanto's refined interior is also going to win over some new fans, especially with that large seven-inch touchscreen infotainment system. Having the option to specify some brighter colors inside, even if they are only in small sections like the air vents, helps make the Picanto feel like a more expensive car and not just some cheap plastic supermini.
But what makes the Picanto GT Line package work best is how the car performs on the road. The 1.2-liter engine provides enough power to keep you entertained in town and can tackle longer motorway journeys with relative ease. Both the steering and suspension feel better than many rivals', if not quite class-leading. It also grips the road well enough to let you have some fun with it at legal speeds.
The promise of more power from the new turbocharged 1.0-liter engine is an attractive prospect, as the car certainly feels capable of handling the additional performance that engine is set to bring, and could be worth holding out for. A junior Stinger? Perhaps not, but the Picanto is certainly more interesting than it has ever been before.
NOTE: This article first appeared on TopGear.com. Minor edits have been made.