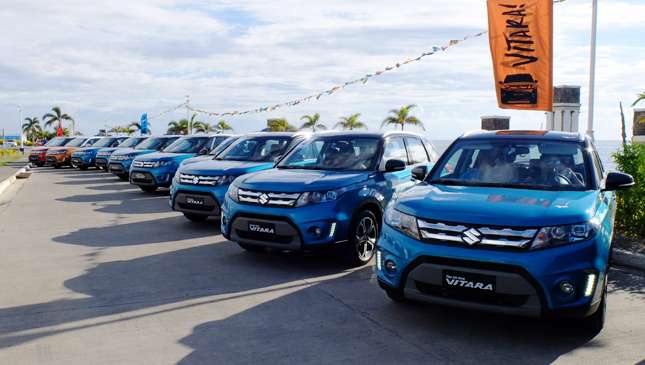 The Suzuki Vitara is going to shake up the budget crossover market. Yes, we know it might be a bold claim, especially considering how well Ford and Nissan have done for themselves with the EcoSport and Juke, respectively. But as we found out during a recent drive with Suzuki Philippines to La Union, the Vitara offers considerable bang for the buck.
"It lives!" is the company's slogan for the crossover's re-entry. It's short and simple, but fitting because the car's been equipped to make a hell of a comeback.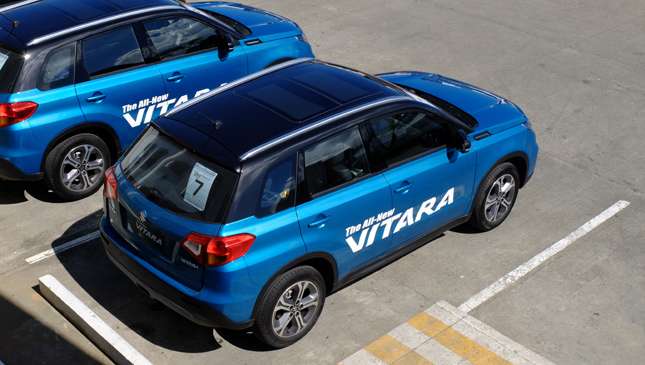 Continue reading below ↓
Recommended Videos
For starters, the design is great. It's reminiscent of a Range Rover—simple and strong with bold character lines, while its compact size (shorter than an EcoSport, and just 10mm wider) gives off a practical vibe. We have to give props to the vehicle's application of chrome, as well as its nice-looking hexagonal taillights and two-tone paint job.
We arrive at the company's Caloocan dealership along EDSA at around 6am, greeted by around 20 Vitaras in two-tone, turquoise and black paint jobs. We can't help notice how commuters' gazes turn toward the fleet with every passing bus. It's available in a few other colors, including bright red and orange, too. But if you want to stand out, we say go for the blue.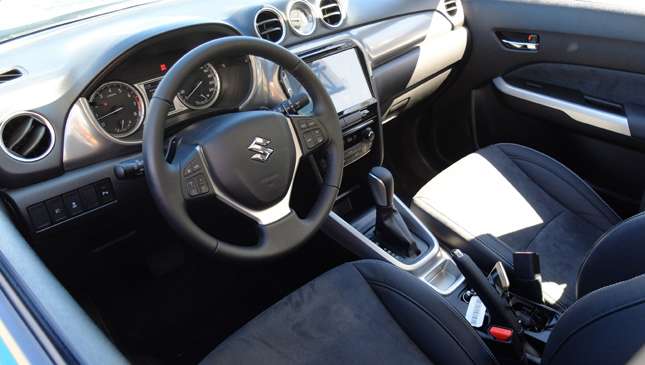 The equipment list is just as impressive. We're setting off with the top-spec GLX unit, which gets cruise control, a speed limiter, automatic headlights and wipers, front and rear parking sensors, daytime running lights, a ton of airbags and a panoramic sunroof.
So far so good. We step into the driver's seat and head out.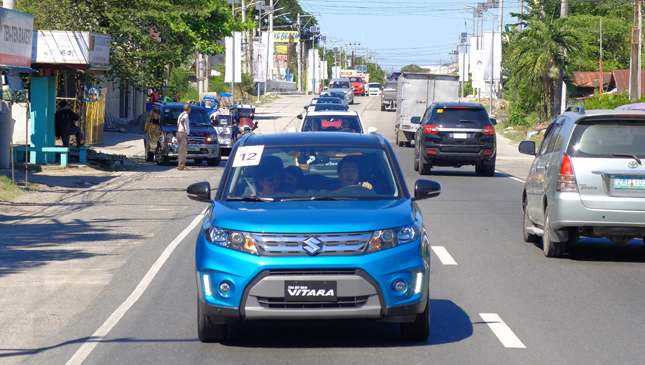 We had hoped that we would see the 1.4-liter tubocharged model or a diesel here, but we can more than make do with the 1.6-liter gasoline engine one (115hp and 156Nm @ 4,400rpm) we're manning. Driving is surprisingly dynamic. It's not that speedy (nor should you expect it to be), but acceleration is smooth and throttle response is good. Overtaking can be made via some prodding of the pedal, and at no point did power feel lacking throughout our drive.
Handling is on the light side, and while we can see how people will appreciate it in city driving conditions, it tends to feel slightly too assisted at highways speeds. Still, the steering is precise, and the Vitara had no problems hurrying through corners on our way to La Union. There was relatively little body roll, too, and the ride was comfortable all throughout.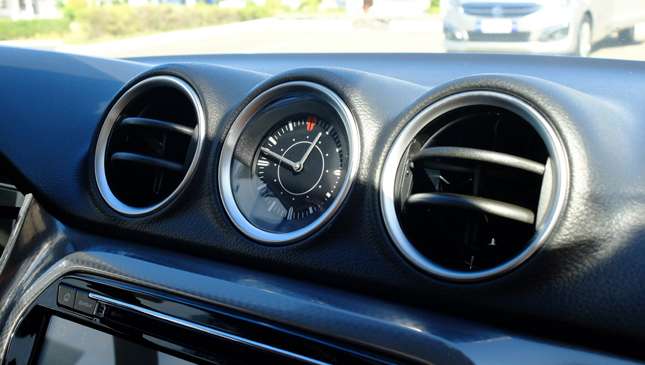 Things get a little less endearing once you notice where the car sort of cheaps out. The interior materials are just plain uninspiring. The faux carbon fiber trim on the dash is lackluster, plus you're enveloped by hard, shiny black plastics. Also, we're not digging the analog clock up center—these things are supposed to convey a sense of premium-ness, and the one on here does anything but.
On the bright side, it's pretty roomy, the seats are comfortable with great suede and fabric upholstery, the new three-spoke steering wheel is nice to hold and has telescopic adjustment (great for shorter drivers), and there's a huge touchscreen infotainment system. Not bad at all.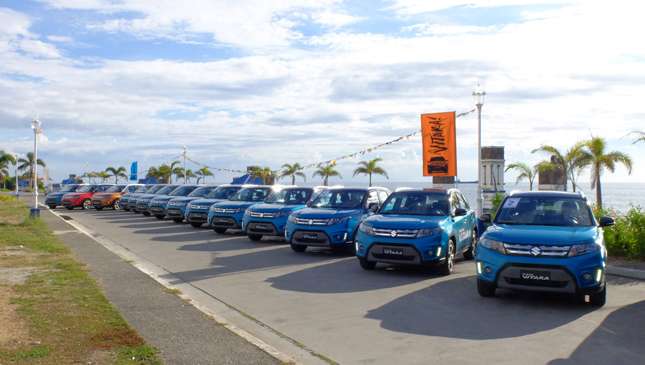 By the time we arrive at our destination, it was obvious: The budget crossover segment is going to be a toss-up between the EcoSport, the Juke and now the all-new Vitara. The car isn't perfect, but considering its P1,048,000 price tag (P938,000 for the base GL unit), features, and a few distinct advantages over its competition, this car is a contender.