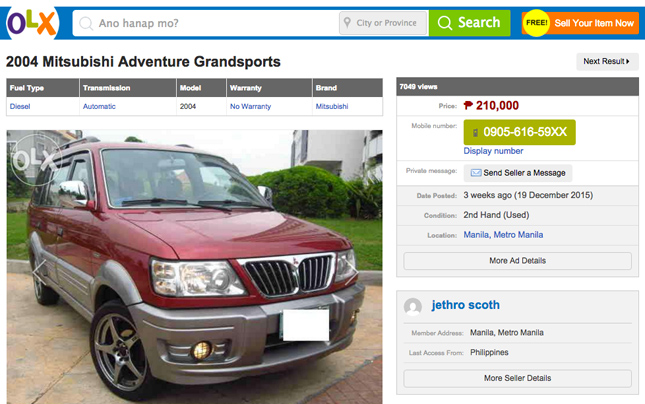 You might recall that in September 2014, we reported an online scamming incident in which the victim had been duped into depositing P20,000 to the bank account of the scammer, who had put out the bogus classified ad on OLX for a "1995 Chevrolet Camaro."
Well, it looks like these douche bags are still in business, because another victim by the name of Michael Dela Peña got in touch with us today. He wrote (in italics):
Greetings, I have a problem. I saw a 2004 Mitsubishi Adventure for sale on OLX posted by Jethro Scoth. The asking price was just P210,000. When I called the contact number that was provided in the ad, we were able to talk with an American (well, he had an American accent). He said that the last price was P180,000, so I was very much interested. He told me to make a P20,000 deposit for reservation, and another P5,000 for the gasoline because they would need to transport the car all the way from Baguio. We agreed. We made the deposit via Western Union. We texted the confirmation number for the deposit. Our supposed meeting place was here in Manila. But I waited until 12 midnight for nothing. The guy was no longer replying to our texts or calls. We already called Western Union and had them locate the branch where the money had been withdrawn, and they said that it was in Bacoor, Cavite. The person who withdrew the money was someone named Marlou Reyes Otengco. What shall I do? Please advise.
Continue reading below ↓
Recommended Videos
Frankly, there is nothing the victim can do now. His hard-earned P25,000 is gone. Just like that. That's the price you pay for trusting someone you've never even met. Online classifieds for cars are now so rampant it's nearly impossible to tell the legit ads from the fraudulent ones. We've said it before and we'll say it again: Never, ever wire money to a complete stranger, no matter how desirable the "car" he or she is selling.
Better yet, do not shop for cars on consumer-to-consumer sales websites, particularly the local ones. We don't care if these websites promote themselves to be professional and legitimate--they will never reimburse you for your loss. We repeat: No concrete proof of the merchandise, no payment.
Spread the word, guys. That's the only way victims can get back at these scumbags.