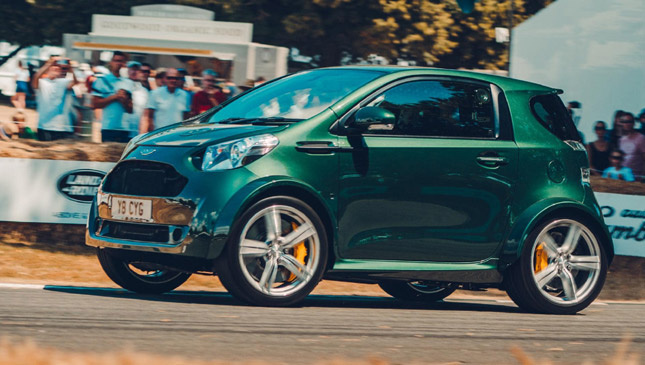 What. On. Earth.
As ever, there was all sorts in the supercar paddock at Goodwood this year: Koenigseggs to Ferraris, McLarens, Porsches, rarities such as the Brabham BT62 and Apollo Intensa Emozione, the previously unseen Polestar One, Lambo Urus, AMG GT 4dr. None, with the possible solitary exception of that astonishing Apollo, got more attention than this. And none, with no exceptions whatsoever, got more love than this.
The Aston Martin Cygnet V8. A proper 'what-if' made reality. Turns out you can fit the oily bits of the recently replaced Vantage S into the bodyshell of a Cygnet. Well, provided you fatten up the arches a bit.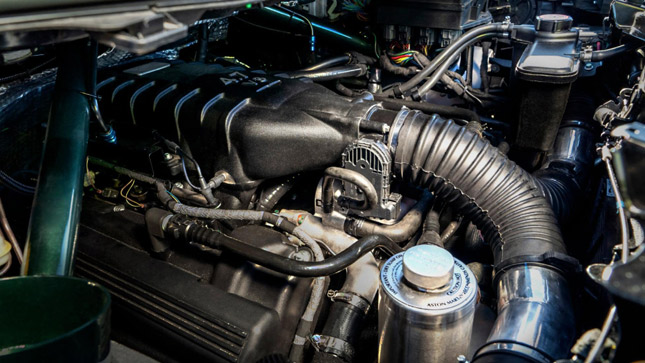 Continue reading below ↓
Recommended Videos
What's going on here?
Aston claims it's a one-off commissioned by a customer (who already owns a Vulcan), although privately I suspect it's actually been in quiet development by a bunch of engineers for quite a while. After all, leave some clever people alone with a small city car and a large V8, and sooner or later the inevitable will happen. At least you hope so–if it needed a customer to point out the potential here, something is misfiring up at Aston.
But here it is. The front and rear subframes from a Vantage S, with all their key components (suspension, engine, gearbox, wheels, brakes, track widths), have been bolted to the central chassis of a Cygnet. That's it really. A 4.7-liter 430hp V8 is dry-sumped and up front, sitting so low and behind the front axle line you assume it must protrude half way back into the cabin. But it doesn't. In fact, apart from pedals positioned out to the right, there doesn't seem to be much of a packaging penalty for replacing the 1.0-liter four cylinder with a motor of twice the cylinders and five times the capacity. Should have been like this all along.
At the back the rear transaxle gearbox (yes, it's rear-drive only through Aston's Sportshift automatic gearbox) has required a few changes. The fuel tank is currently in the boot.
So basically it's two halves of a Vantage S, joined across a city car center by a tiddly torque tube about the length of your forearm. You can get your head around the silly wheels and fat stance, you look at it and think "that looks ridiculous," so you should be prepared for the noise that erupts from it. But somehow you just aren't. These are especially fruity pipes. Every time it fired up in the paddock you saw people casting around for where the thunderous rumbling was coming from, before their disbelieving faces fell on the British racing green urban cube.
And.. does it work?
Conventionally enough if you know your Astons. Press glass key into dash, rumbling and barking occurs, press D, release fly-off handbrake and off you go. Now, Aston stressed that although the package has been made to work, it hasn't yet received much actual development. It's very softly sprung, upshifts takes an age, it points at the sky under acceleration, and appears to want to dive beneath the tarmac under braking.
But the weird thing is that it feels more like a Vantage than I ever expected. The center of gravity is low, so even though you sit high, the car is much more stable and confidence-inspiring than I feared. The weight feels well centered in the car. Okay, the stubby wheelbase makes it nervous when it dives under braking and the lag in the gearbox means you have to be patient when getting back on the power, or a spike of torque can twitch the back axle, but these are eradicable issues.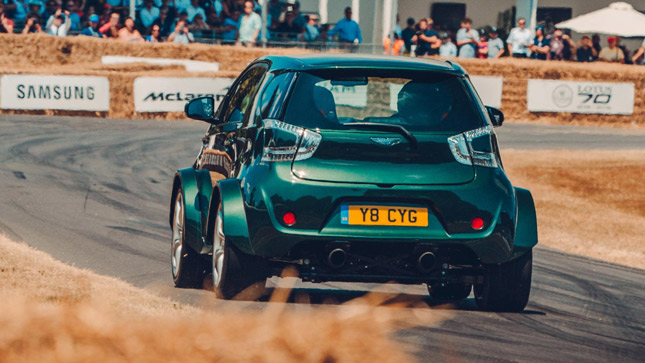 Must be quite light, though?
It's not as light as you'd expect. With no optimization done yet, it's around 1,350kg. Although that's a useful quarter of a ton lighter than a regular Vantage S, I suspect this only feels faster because it's less well planted on the road. Is it actually 430hp? Couldn't care less. It's bloody fast enough, okay?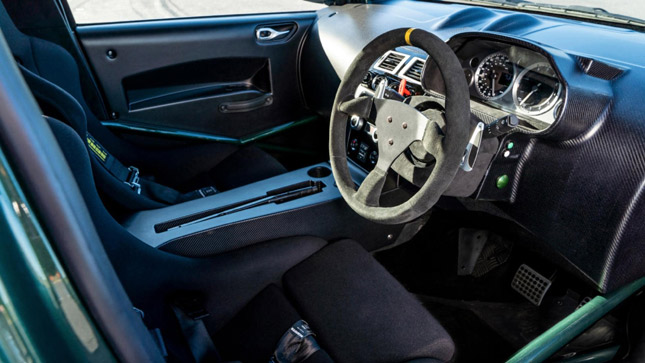 Understood. So it's good, then?
The fundamentals are good, and that means that when pointing in a straight line up the Duke of Richmond's crested course you can keep it pinned and relish the exceptional noise and determined acceleration. It's not an angry car, more an exuberant one, a natural performer delighted to have an audience. It grips, it goes, it handles (after a fashion) and it's a proper, honest-to-goodness, belly-tickling, shoulder-shaking, thigh-slapping laugh. A proper anti-depressant. Should be available on prescription.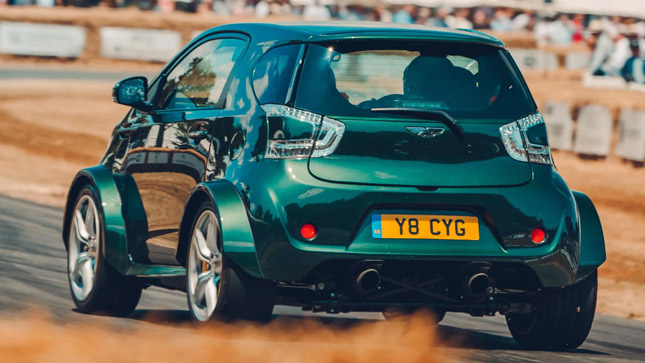 NOTE: This article first appeared on TopGear.com. Minor edits have been made.