While snaking through the back roads of Nueva Ecija, associate art director Raynand Olarte and I decide that we will ditch the fuel-economy-run aspect of the competition and just drive at normal speeds. It would be a shame to crawl at 60kph on this twisty two-lane tarmac anyway. Plus, driving without using any fuel-saving techniques would give us a more accurate idea of what it's like to live with the diminutive Hyundai Eon, the Korean carmaker's latest addition to its Philippine product line.
And these roads are indeed excellent. Though not as straightforward as taking MacArthur Highway and SCTEX, the route via the Magilas Trail in Pangasinan is much more picturesque. An added draw is the fact that large trucks hardly ever use this road anymore. In effect, we are kings of the road—all 20 of us.

Our fleet of 20 Eons must be quite a sight as we pull out from Hyundai north EDSA one by one, especially as each car is painted in a very bright color. Our destination? Baguio City—what we believe to be an excellent choice for a final stopover in a test-drive event dubbed "Live Brilliant." The first leg of the test drive is a fuel-economy run from Manila to the
base of Kennon Road, with a completely different competition planned for when we are up in the mountains.
Continue reading below ↓
Recommended Videos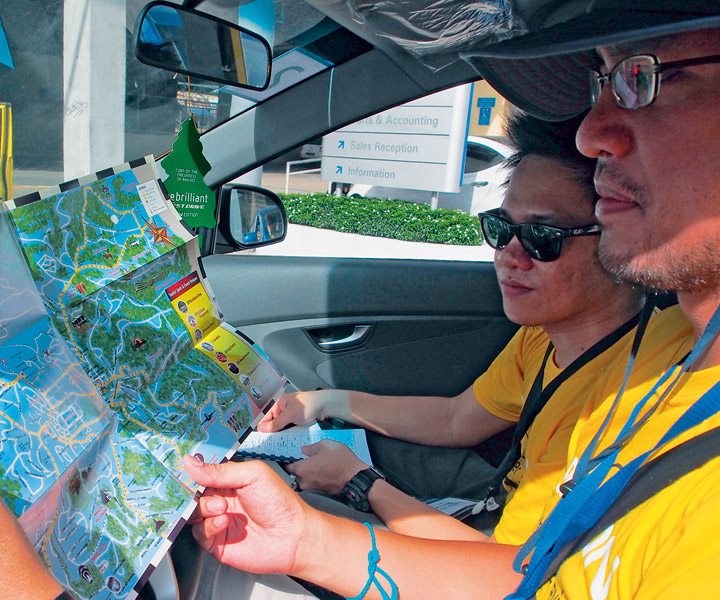 Our path was already planned beforehand, so all Raynand and I have to do is to follow the handy route book. If you intend to take the road less traveled on your next trip up to Baguio, just follow these directions: From the end of the SCTEX, turn right toward the small town of La Paz, Tarlac, and then follow the road signs that will lead you straight to Baguio. You will pass the towns of Victoria, Pura and Cuyapo in Nueva Ecija. Once you cross the border of Pangasinan, you will then enter the Magilas Trail. Keep following the signs to Baguio until you reach the town of Binalonan. From there, you may now get on MacArthur Highway and make a quick blast up the mountains. It's actually very simple, and getting lost won't be a problem. In fact, this is ideally the better route to take when expecting heavy traffic on MacArthur.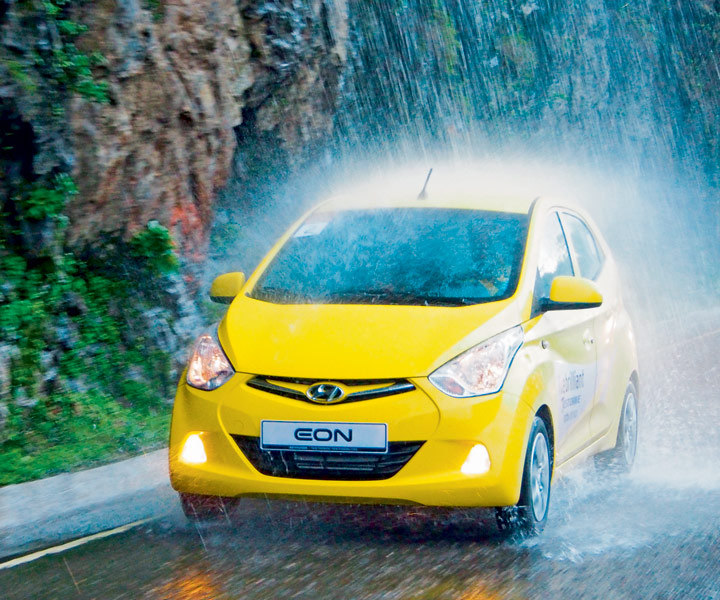 The drive up Kennon Road is nothing short of spectacular. As the rains continue to fall, the tree-covered massifs glisten because of the deluge. The Bridal Veil Waterfalls that can be seen from Camp 2 are at "full power," so to speak. Motorsports editor (and lensman)
Mikko David and his assistant Taz Dacumos are in another Eon, and we do our usual ritual of snapping a photo of me driving under a small waterfall that cascades over a short section of road. On what other mountain pass can you do something like that? Some folks fear that a rock could come tumbling down with the water, but I haven't seen anything like that happen—yet. Our videographers also have a bit of a field day, as our convoy of colorful Eons is a bright contrast to all of the greenery.

Now, our Eon is loaded with luggage and gear, but it remains undaunted by the steep climb. Surprisingly, the 800cc, three-cylinder motor develops enough grunt to safely get us up the mountain. Drivers can push a little harder should they wish to progress at a faster rate, and to do this all you have to do is to keep the engine singing above 4,500rpm. all 55hp will be utilized, and you will be amazed that 75Nm is all you need when faced with a steep climb. Revving hard will give you some aural pleasure, too, as strangely enough, the eon has a very badass engine and exhaust note. This is an excellent match for the standard five-speed manual transmission.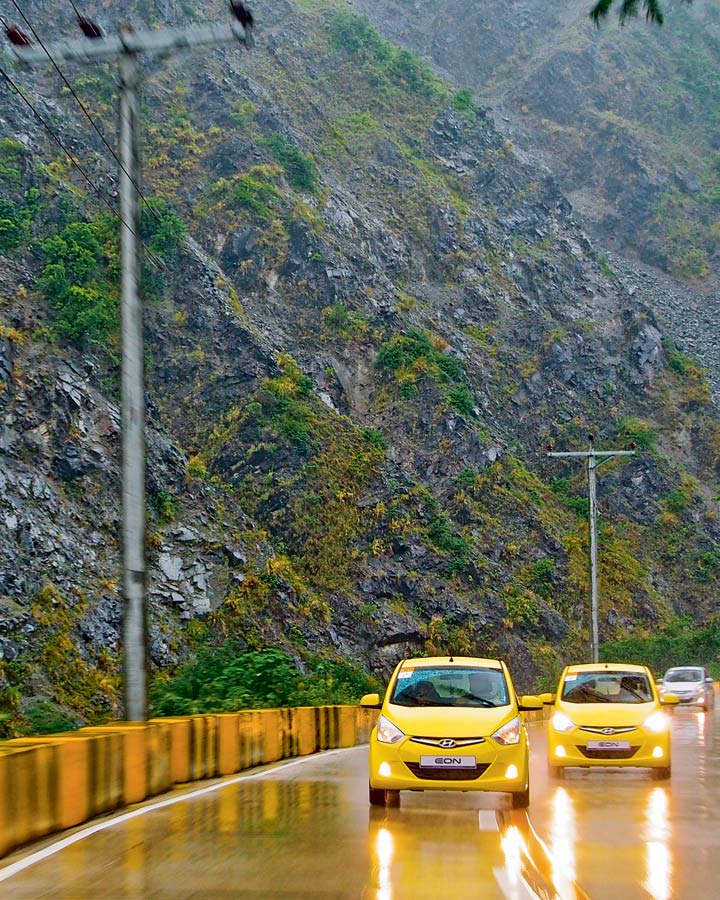 Upon arriving in Baguio, we are greeted by chilly air and a warm welcome from the staff of The Manor at Camp John Hay. There is more excitement to come the following day.
A photo scavenger hunt awaits us on the morning of the second day of the event. Each team of four is given a set of clues, with the answers being the locations of popular Baguio tourist attractions. Once at the location, we are to take photos of the Eon, keeping in mind the "Live Brilliant" theme of the event. Our team is a force to be reckoned with: Raynand is there to plan the photo layout; Mikko and Taz, as usual, are at their photographic best; and I, being from Baguio, know all of the shortcuts to get us to each location. I'm not too bad at providing witty captions either.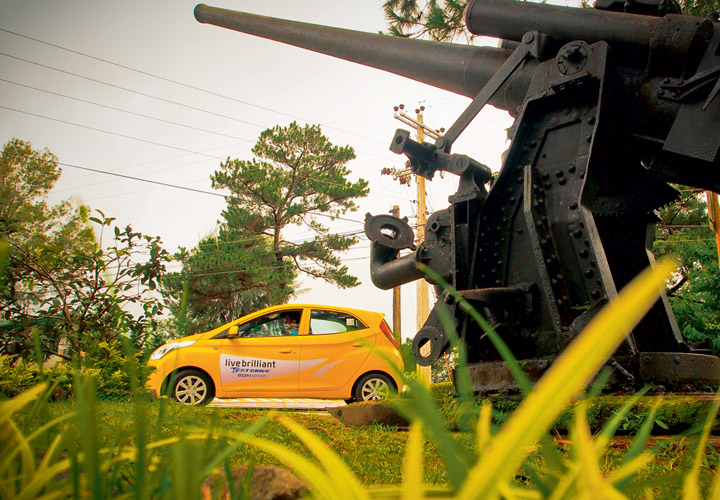 The morning is spent going to the horseback  trail in John Hay, the track oval at Teacher's Camp, the gate of the Mansion House, the grounds of the Philippine Military Academy, and finally, the Botanical Garden. We are feeling quite confident at this point, especially as our photographs are looking great. The Eon, too, is an excellent companion. With the tight roads of Baguio, this city car fits right in. And even with four passengers on-board, not once does the tiny engine complain.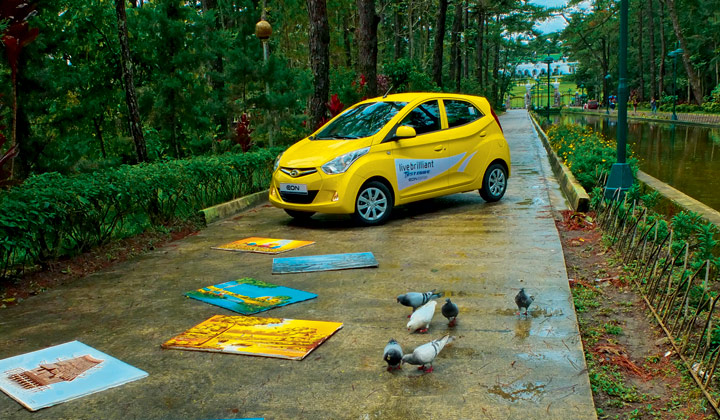 When the scavenger hunt ends, a sumptuous lunch is waiting for us at the Hill Station Tapas Bar and Restaurant. With our choice of fresh greens and salads, it's an excellent way to top off a morning in the mountains.
So, when the time comes for the awarding ceremony, team TGP bags second runner-up in the photo scavenger hunt. Mikko's close-up photo of a horse's eye—with the Eon reflected in it—is a perfect example of the "Live Brilliant" theme of the road trip. We don't bag any awards for the eco-run, though. But if you are curious, we were able to do 19.98km/L. Even without a trophy, I think that we still emerge as winners because this is indeed excellent mileage.

Who says that these small cars can't be at home on a long, countryside drive? (Paulo Rafael Subido, photography by Mikko David)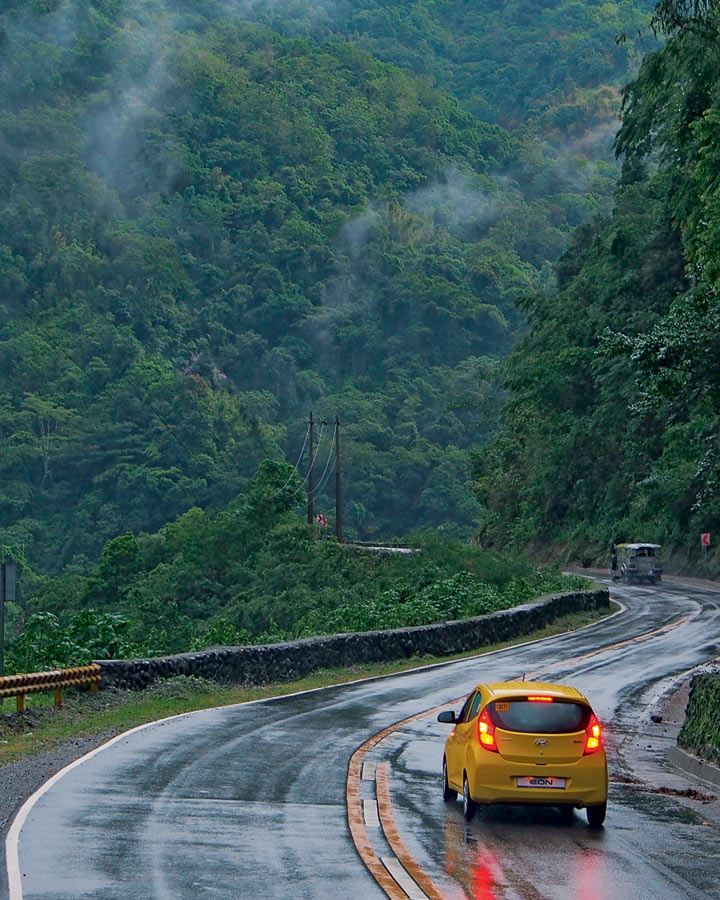 NOTE: This story first appeared in Top Gear PH's August 2012 issue. Minor edits have been made.