The opportunity too good to miss. What started out as a ride-and-drive and fuel- economy event organized by Isuzu Philippines Corporation (IPC) turned out to be a huge mind-opener and unique experience for me because our 'toys' for the day were Isuzu Forward trucks and buses.
Trucks and buses? Let me preempt that mocking sneer and say there is space for those vehicles in Top Gear PH because, after all, they do share the road with our cars. The event was simple: Each of the members of the motoring media and representatives from bus companies (drivers, mechanics and owners) was assigned to drive the Forward Series bus and truck. But not before taking a seminar on proper driving techniques to save fuel. I had never driven anything larger than a Ford Expedition so the prospect was exciting.
The Isuzu Forward Series is a flexible platform that can be adapted to make a bus, cargo hauler or even a fire engine. Much larger than the N-Series, this medium-sized platform is known for its robustness and reliability— hence, its popularity for heavy-duty transport and hauling purposes. Under the driver's seat is a 7.8-liter, six-cylinder CRDi, turbocharged diesel engine that develops 240 horses and a staggering 706Nm of torque at 1,450rpm—good for pulling a total payload of 10,160kg. The bus version is big. Not as large as a Victory Liner bus, but very close. It's 1,795mm wide and 9,255mm long.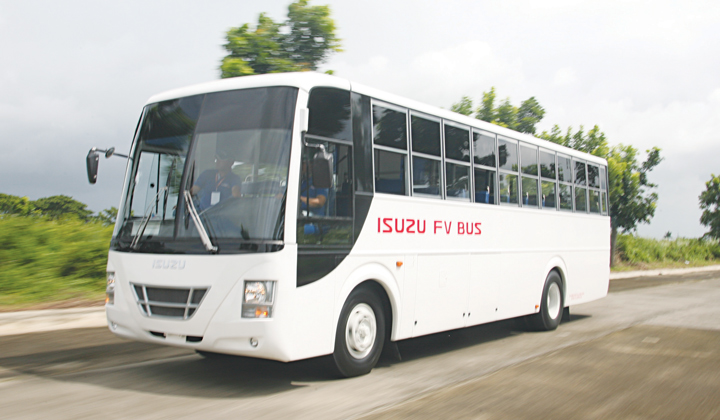 ADVERTISEMENT - CONTINUE READING BELOW ↓
The prospect of driving it was intimidating, but I'd always been up for new experiences behind the wheel. An eco-driving competition to showcase the engine's efficiency and Euro-2 compliance was all well and good, but I wanted things to be more interesting. How about I get behind the wheel of the bus, load it with passengers, and then take it out for a spin? And while at it, why don't I get to know the guys who drive these behemoths on a daily basis? You know, the guys we curse almost every day on the road.
Menaces on the road?
Buses (and their drivers) get very bad press because we see them swerve, speed, load and unload everywhere. However, I remain intrigued. What goes on in the mind of a bus driver? Well, that's what I want to nd out. Drivers from G-Liner, Erjohn & Almark and other provincial and city bus companies are very open to answering all of my questions. That alone is enough to make them cool in my book.
Aniano Batusin, who has been driving an Erjohn & Almark bus for almost 20 years, shares he spends more than 12 hours a day behind the wheel and has to contend with bribing officers for more time to load and unload passengers. He sees bus lanes as a good thing, though. "Iwas aksidente 'yun, kaya mabuti," he says.
Still, the hardest part of being a bus driver is dealing with the passengers, who insist on boarding the buses away from the bus stops. "Iyung tao na wala sa lugar, kapag nagmamadali, naaaksidente," he adds. "Bawal na nga, sinusubukan pa!" Efren Gamboa from G-Liner has been plying the Quiapo/Cainta route for 10 years, and he also complains about undisciplined passengers. "Iyung mga pasahero pa ang galit sa driver kung minamadali kami ng MMDA," he says. "Dapat 'yung pasahero ang pumunta sa bus stop. Iyung MMDA naman, dapat tiketan 'yung pasahero na wala sa bus stop," he laughs.
Let's drive
After much prodding, I manage to convince our friends from Isuzu to let me take on passengers for a drive—the bus drivers themselves. This is the perfect way to get feedback on how well I can handle a bus. My new friends from the industry happily agree to rate my performance after a five-kilometer stint at the wheel.
Is it hard to maneuver such large machinery? Surprisingly, it is very easy. Six forward gears that have very low ratios and are spaced close to each other, require plenty of shifting to stay within the proper rpm range. With all the torque on tap, getting moving is not hard at all. My only problem is manipulating the air brake. Even the gentlest press produces a jolt, but over time it becomes easier. Driving is a breeze on the empty road course, but I can only imagine how challenging it would be on EDSA. Let's not forget that you are also responsible for all the lives on board your bus.
So how am I doing? Apparently, I am horrible. Efren tells me that I talk too much. Driving a bus requires utmost concentration, so I fail when it comes to that. A driver must not converse with anyone— even his conductor. Swerving is also frowned upon. No matter how good you are, says Efren, you may end up hurting someone with a vehicle this big. Minus points for me since I swerve to avoid all the speed bumps on the course.
ADVERTISEMENT - CONTINUE READING BELOW ↓
Aniano, meanwhile, notices that even if I keep glancing at my mirrors, I still don't check my surroundings enough. Lastly, my braking is dangerous because I don't slow down from a farther distance. Wow, these guys really know their stuff.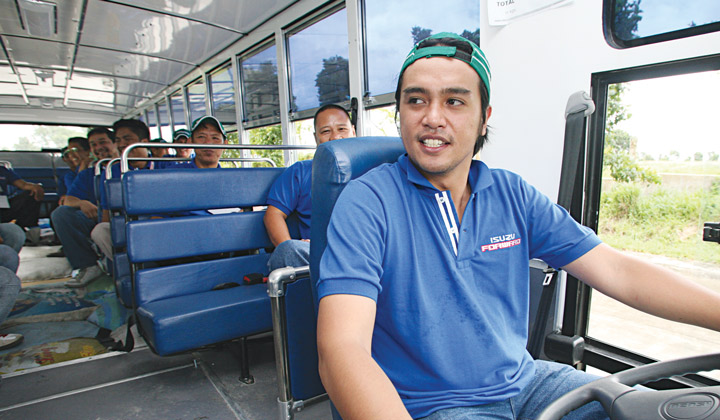 Driving a bus is a huge responsibility and a challenging task. As fun as the experience is, I cannot imagine being behind the wheel of a bus for a 12-hour shift—in a gridlock. However, I am flattered when the proprietor of G-Liner asks me if I want to give driving a bus another go, this time with real passengers—on an actual provincial route. And then I realize he's just pulling my leg.
Get on or get out?
It's a tough job. These men are always caught in the middle of the big mess that is EDSA. They bribe MMDA officers for special privileges. And since they are required to line up at all those bus stops, they sit through more traffic than most motorists. And then they are accused of taking shabu, being merciless toward accident victims, and having no manners on the road whatsoever. How much more crap can these guys take?
On our congested roads, we all need space to maneuver, and these big buses obviously need more room than most other vehicles. I think buses are vital to the transport industry. The population will be crippled without this economical mode of public transportation.
We need the bus. I am now aware of the hardships that bus drivers face every day. I now also know that the crazy ones out there are the exception rather than the rule. (TGP Nov. 2009)