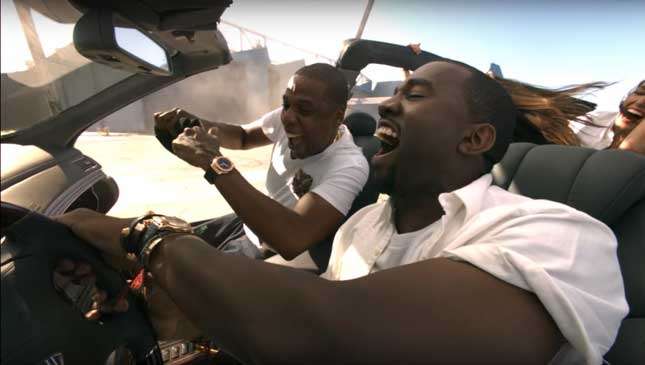 Hip-hop artists to love to rhyme about how cool their whips are. We probably would, too, if we had the kind of six-figure bank accounts they preach about with equal fervor. Alas, all we can manage is the next best thing: lip-sync to their songs about luxury car brands while we're stuck on EDSA in rides they would probably use as golf carts.
Envy aside, hearing talented musicians weave automotive references into their lyrics is (literally) music to our gearhead ears. They give us that chest-thumping feeling, making us proud to be part of car culture. On that note (get it?), we've put together a little challenge to put your music-listening skills to the test.
Can you guess which hip-hop songs these car-centric lyrical snippets are from? Take our quiz and share your results in the comments. Holla!
Can you guess the hip-hop song based on these car-related lyrics?
1.
They ain't seen me cause I pulled up in my other Benz
Last week I was in my other other Benz
"Otis" - Kanye West, Jay-Z
"Can't Touch This" - MC Hammer
"Take Your Shirt Off" - T-Pain
2.
So your girlfriend rolls a Honda
Playing workout tapes by Fonda
But Fonda ain't got a motor in the back of her Honda
"Rapper's Delight" - The Sugarhill Gang
"Baby Got Back" - Sir-Mix-A-Lot
3.
And I think I've got a black Bimmer
But my dream is to own a fly casino
"Straight Outta Compton" - N.W.A.
"2 Of Amerikaz Most Wanted" - 2Pac, Snoop Dogg
"Boyz-n-the-Hood" - Eazy-E
4.
I feel you creepin'
I can see you from my shadow
Wanna jump up in my Lamborghini Gallardo
"Smack That" - Akon, Eminem
5.
Girls were hot wearing less than bikinis
Rockman lovers driving Lamborghinis
"Jump Around" - House Of Pain
"Gettin' Jiggy Wit It" - Will Smith
"Ice Ice Baby" - Vanilla Ice
6.
I'm going down, down, baby, your street, in a Range Rover
"Livin' It Up" - Ja Rule, Case
"Country Grammar (Hot S****)" - Nelly
7.
50-inch screen, money-green leather sofa
Got two rides, a limousine with a chauffeur
"Juicy" - The Notorious B.I.G.
8.
After the show or after the Grammy's
I like to go cool out with the family
Sipping, reminiscing on days when I had a Mustang
"Glamorous" - Fergie, Ludacris
"Super Bass " - Nicki Minaj
9.
Now I'm not tryin' to be rude
But hey pretty girl I'm feelin' you
The way you do the things ya do
Reminds me of my Lexus coupe
"Ignition (Remix)" - R. Kelly 
10.
King of the beats, you ride to 'em in your Fleet (Fleetwood)
Or Coupe DeVille rollin' on dubs
How you feelin' whoopty whoop, n**** what?
"Black And Yellow" - Wiz Khalifa
"The Next Episode" - Dr. Dre, Snoop Dogg