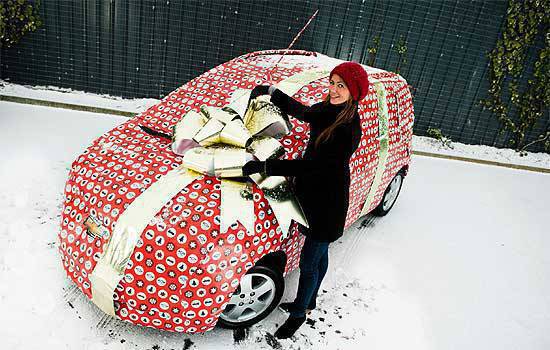 If you had a clean slate this year (read: no traffic violation tickets or attempts to bribe officials to keep your records clean) then Santa Claus has probably placed your name under "nice" on his list. And if actually exists, you'd most likely get the car you've been dreaming of the entire 2010. We asked our friends on Facebook about the car they deserve for being such angels this year.
"Mayback." - Gaia
"Toyota Prado and perhaps a BMW 3-Series, both for my parents." - Joseph
"Kahit Mazda 2 lang ma-receive kong gift mula kay Santa, okay na!" - Dionysus
"Honda Jazz, okay na din sa akin 'yun!" Leonard
"Yeah! Honda Jazz! Compact and fuel efficient--just right for everyday city driving. Di na kita mahintay, Santa!" - Lorenzo
"Nissan GT-R R35. Hehehe!" - Jomari
"A fully-loaded white Lancer EX + Takata Green TE37 and carbon hood, trunk and roof." - Rean
"A BMW X3 for my nephew! Wow, wishing..." - Carol
"A black 1967 Chevrolet Impala." - Paulo
"Rover Defender!" - Art
"Mazda MX-5 or a BMW 1-Series M Coupe." - Germain
"A BMW X1--a realy joy to enjoy this season!" - Susan
"KPGC1- Skyline GT-R lang po... I've been naughty kasi." - Ryuji
"Kung service ko sa school, Honda City 1.3. Pero kung dream car, Aston Martin V12 Vanquish, okay na ako." - Gummy-Bear
"Pwede na 'yung Cruze!" - Kevin
"Prius" - Jake
"2011 Hyundai Elantra. Thanks, Santa!" - Arvin
How about you? What car do you deserve this Christmas? Share it here or join our thread on Facebook (click here to join Top Gear Philippines' Facebook community).
Photo from Chevrolet