In the'60s, big-brained engineers came up with all sorts of ways to shave a few seconds off lap times. Upside-down aerofoils, exotic monocoques, gas turbines, early ground effects—things that required an unsociable grasp of physics and a forehead best measured in acres. But one of the smartest breakthroughs came not from something virtuoso designer, but from an unknown Italian cobbler, whose invention—the world's very first pair of speedy shoes—made everything else look somewhat over-engineered.
Believe it or not, in the first 50 years of motor racing, nobody had ever thought to make a shoe for that purpose. Drivers were suited, but still clumpy-booted. From the top down, the typical uniform consisted of an open-face helmet, some comedy goggles and a baby-blue onesie, all incongruously offset by pair of smart, hard-soled shoes, sometimes bound in gaffer tape for a cosier fit.
But that was to change, when in 1965 a trio of Alfa Romeo drivers called into a shoe shop in the Sicilian town of Cefalù, the seaside base for teams competing in the famous Targa Florio road race in the nearby Madonie Mountains. Inside the shop, on the promenade across from the sun-spangled Mediterranean, they found a short, steely-eyed man named Francesco Liberto—Ciccio to his friends—who did a nice line in orthopedic shoes. Could he possibly make them a pair of shoes for driving in, they asked?
Continue reading below ↓
Recommended Videos
Later on, in a local pizzeria, they discussed what they needed: a pair of racing shoes strong enough for a footwell workout, but as thin and supple as a second skin, for maximum pedal feel. The solution was high-top booties, cut from soft, seamless leather with slim eyelets for superleggera laces. Within days Ciccio had made his first prototype pair, which was—by all accounts—quite terrible.
"I decided to glue the sole and upper to give maximum softness, without seams," says Ciccio. "But racing shoes have to deal with high temperatures in the cockpit. So unfortunately they melted."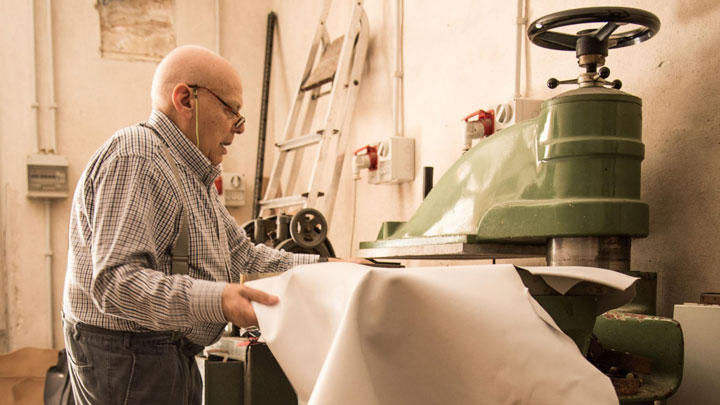 Lesson learned, Ciccio reverted to what he knew best—stitching with a manual sewing machine, made by Pfaff in Germany sometime in the '20s, which he still uses today. His second pair was much more successful, and so, keen to cash in on his new invention, Ciccio began approaching other drivers in the Targa Florio paddock, including Britain's Vic Elford.
"In 1968, he came round to all the drivers saying he'd like to make a special pair of racing shoes for us," recalls Elford. "Everyone else was dismissive, but I took him up on his offer. He put a piece of paper on the floor and traced around my feet to get the shape—which was just as well, because most of the big toe on my left foot is missing."
Elford went on to win the Targa wearing the shoes, and Ciccio became an overnight sensation. "Everyone and his dog wanted a pair," says Elford.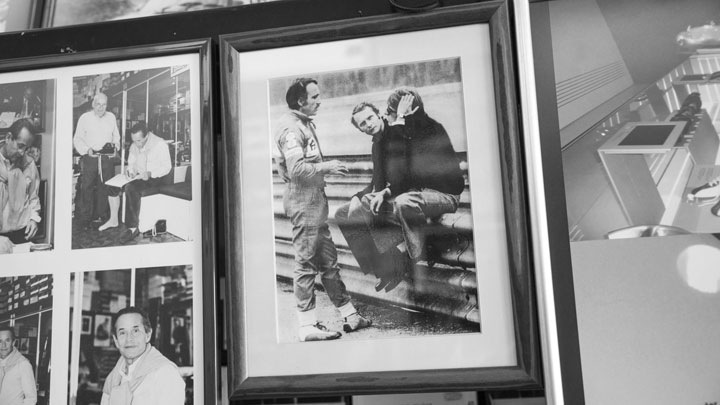 Before long, motorsport's biggest hitters were wearing Ciccio's shoes. Jacky Ickx. Emerson Fittipaldi. Mario Andretti. Niki Lauda wore a pair of Ciccio boots when he won the F1 Championship in 1977, by which time Ciccio had become the Scuderia's official footwear supplier. "At the end of the season," he says, "Enzo Ferrari personally included me in his acknowledgments of the partners who'd contributed to the success of the Cavallino." To an Italian, the endorsement was essentially a consecration, second only to a blessing from a pontiff.
Today, Ciccio's shop isn't really a shop at all, but a shrine to his work—a jumble of shoeboxes, wooden lasts, sketchbooks and memorabilia. The walls are packed floor-to-ceiling with letters, pictures, movie posters and signed prints.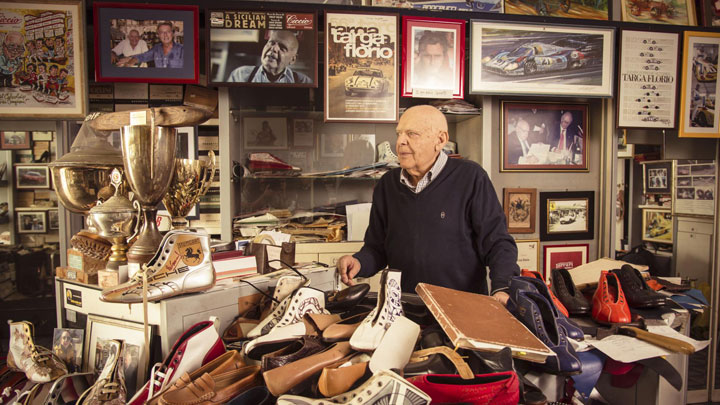 We find Ciccio behind his counter—five-foot-three, spectacles on a string cord, checked shirt and trademark braces. "Ahh, the Englishmen!" he says. "Come in. Kiss me!" We oblige—one on each cheek, Sicilian style. Ciccio gestures to a shelf, pulls out a ring-bound sketchbook and starts flicking through the pages. Inside are the outlines of drivers' feet, page after page of them, just as Elford described. Ciccio says it's the only way he sizes people up, although he also shows us a plaster cast of Elford's foot, complete—or rather, incomplete—with semi-amputated big toe.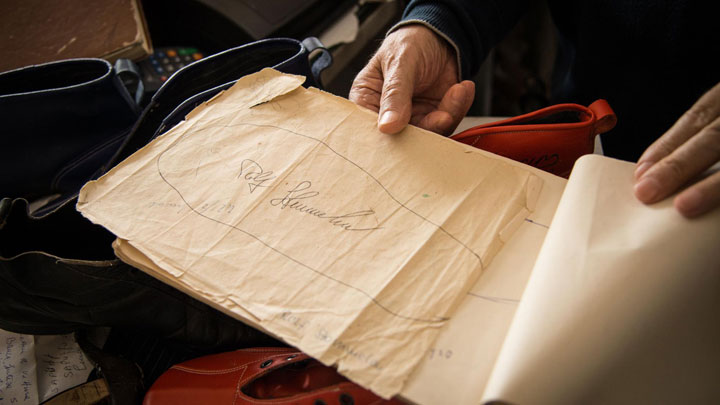 After looking through more sketchbooks, and rummaging around the shelves and drawers, pulling out hand-written thank-you letters from various drivers, Ciccio takes us to his workshop in the old town, up a steep, cobbled, trench-like side street.
It was near here where Ciccio Liberto was born in February 1936, into a large and poor family. "I left my parents very early, when I was just six, due to the war," he says. "So I grew up with my uncle, a shoemaker. I started to work with him. At that time I was very good at making orthopedic shoes, tailormade. It was a very important experience for my future."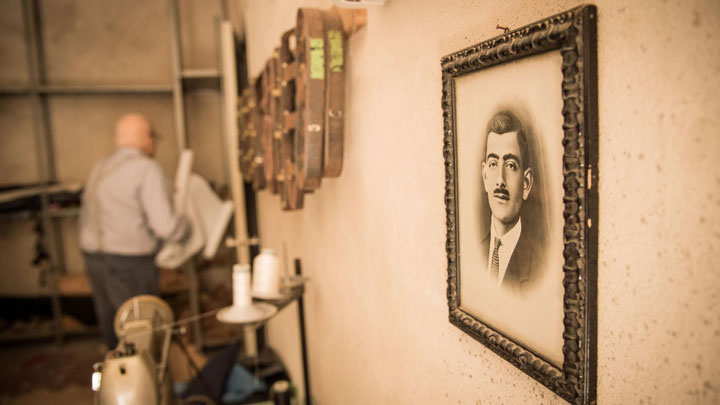 On the wall above his sewing machine is a framed, sepia print of that very uncle, a man whose eyebrows neatly replicate his thick black moustache. Also hung on the wall are wooden sole templates, while all around are scattered offcuts of expensive Italian leather. Ciccio picks up a sheet of royal blue hide and slices through it with a scalpel. "And now, I stitch," he says.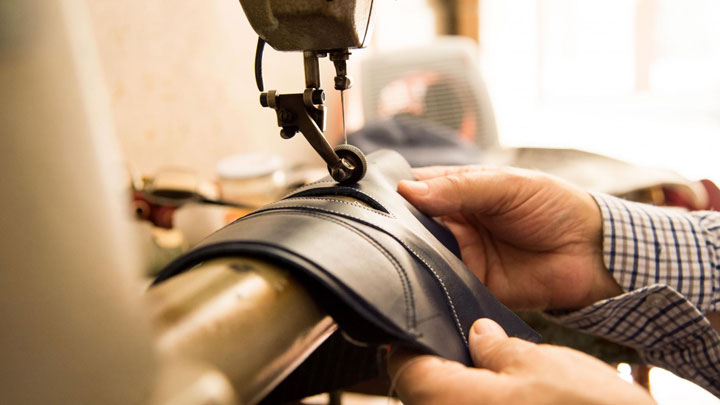 Laying the fabric on the machine he rolls his heels back and forth on the treadle (footplate, if you don't know your sewing machines). This foot-rocking motion moves a series of belts and pulleys which make the needle bob up and down with a rhythmic click-clack. Thread unwinds from a bobbin and is punched into the hide with robotic precision. The flat leather slowly starts to take shape as a simple 3D boot.
Ciccio's basic design has been widely copied and often abused. Let's be honest—unless you are an actual racing driver, there is no excuse for walking around in a pair of racing boots. They should never be worn outside of a car, or at least away from the immediate vicinity of one, and certainly not on a casual basis. People have been sent home from the Top Gear office for committing this offense.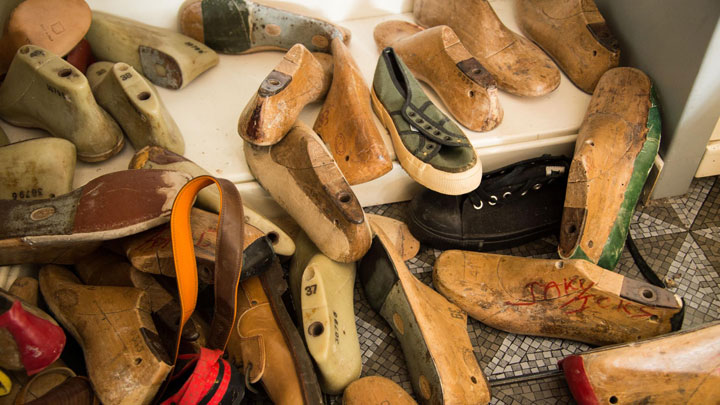 But for the world's racers, they are essential workwear. And he's still making them, all by hand, all in the same old workshop. If you fancy a pair, be prepared to cough up. They're €1,500 (P87,500) a pop. Even more if you want custom colors or painted illustrations on the leather (the money/taste paradox is neatly represented by some of Ciccio's more lurid creations over the years). Thankfully, in the depths of footwell you don't notice any of that.
Will he ever give it up? "I work because I'm happy," he says. "This year, I am 83. The day I stop is the day I die." To which we say this: Long Live Ciccio, The World's Quickest Cobbler.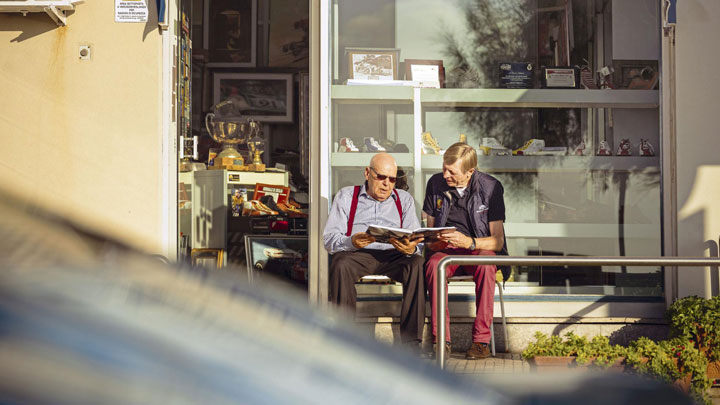 NOTE: This article first appeared on TopGear.com. Minor edits have been made.