Honestly, parking somebody else's car used to be one of the things I hated the most. It didn't matter if it was for a friend, my brother, or even my wife; the idea of parking another person's car was simply unappealing to me. To me, it's not that different from putting on their clothes for them.
And then I got a call from my editor. "Would you like to be a valet attendant for a day?" I didn't know how to react. Tired from covering nasty issues surrounding the Philippine National Police and the Armed Forces of the Philippines, I thought I deserved a breather. Then here I was being asked to play the role of a valet attendant—complete with the requisite uniform. Please, give me a break. I wish he had asked me to be a massage parlor attendant or even a macho dancer instead. But obviously, the role had to be motoring-related.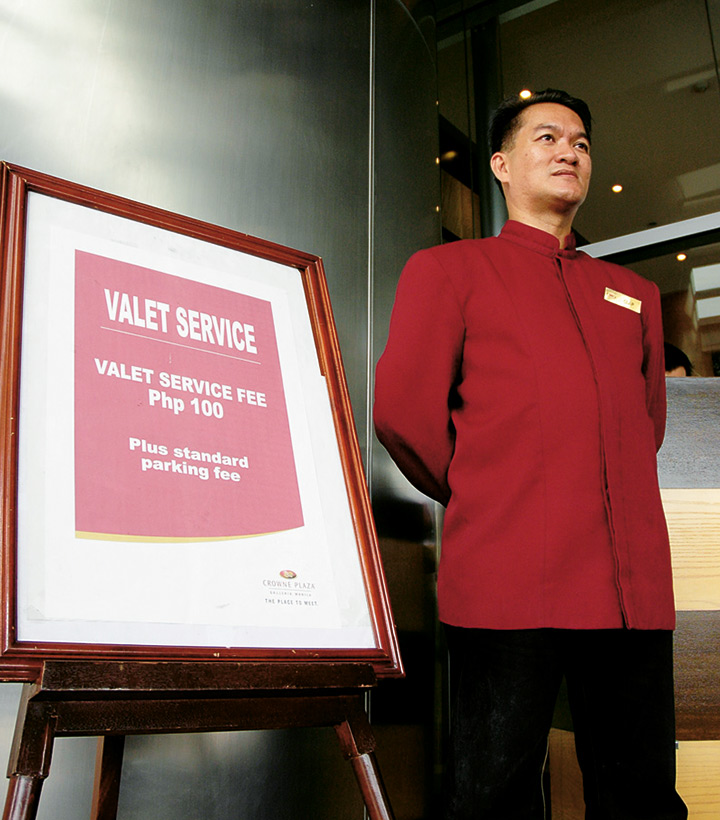 Continue reading below ↓
Recommended Videos
Despite my reluctance, my EIC's sales-talk skills—exactly the kind he uses on women—won me over. So Crowne Plaza Hotel in Ortigas Center, here I come. Here's a confession: Even after agreeing to do it, I felt so jittery about the whole thing that I actually attempted to wiggle my way out of the assignment. I did it by canceling the first scheduled pictorial session. Unprofessional? Maybe, but I was prepared to take whatever they had to say as long I could free myself from this potentially embarrassing scenario. I was confident my editor would just be so disappointed that he'd eventually just get another writer to finish the job. But he simply rescheduled the shoot. Hence, this story.
When we arrived at Crowne Plaza shortly after lunch, the hotel's charming PR staffer, Abigail Chang, was there to meet us at the lobby. Everything was normal around the hotel on this day. The hotel staff members were courteous and snappy. Having a pleasant personality, I realized, is a must for hotel valet parking boys. Concierge Renj Musni quickly briefed me on the ABCs of being a valet attendant. It looked easy at first, but after learning about the possible consequences of sloppiness, this job could actually send me to jail. I soon found myself in the laundry room, donning authentic, neatly pressed valet attendant attire with a matching nameplate that indicated I was "Clap" during my stint here. Weird name, but I liked it.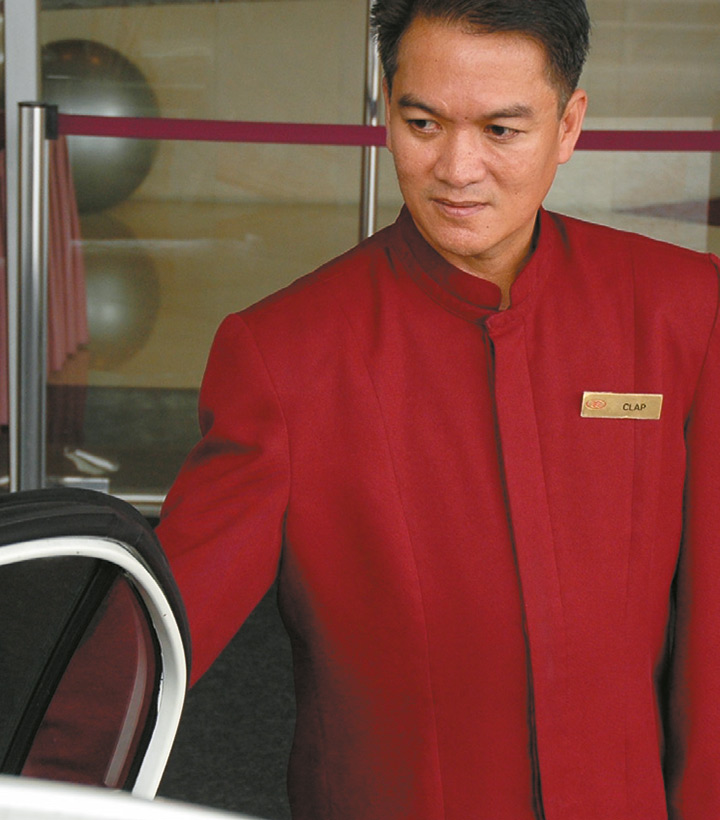 When I saw the car keys on the front desk, I had another urge to go home and call it a day. The emblems indicated that the cars I'd be driving weren't cheap. My parking skills honed throughout my nine years in the motoring beat would be put to the test. "Some cars can be really confusing," complained Renj. "There are units that don't have keys to start the ignition, and there are others that open their doors by themselves." I know, Renj, I know—I drive them all the time.
Pretty soon, guests started to arrive at the front driveway. "Good afternoon, ma'am. Welcome to Crowne Plaza Hotel. Do you want a valet parking service?" Funny but true—I uttered this standard greeting in a modulated manner as though I was doing my reports on DZRH. Call it force of habit. There were vehicle owners who just threw me the keys, while others walked away with the engine still running. But most amusing was this lady who hurriedly left her Nissan X-Trail with me but took the keys with her. With an emphasis on courtesy, I chased her and asked for the keys. What a guy, this Clap.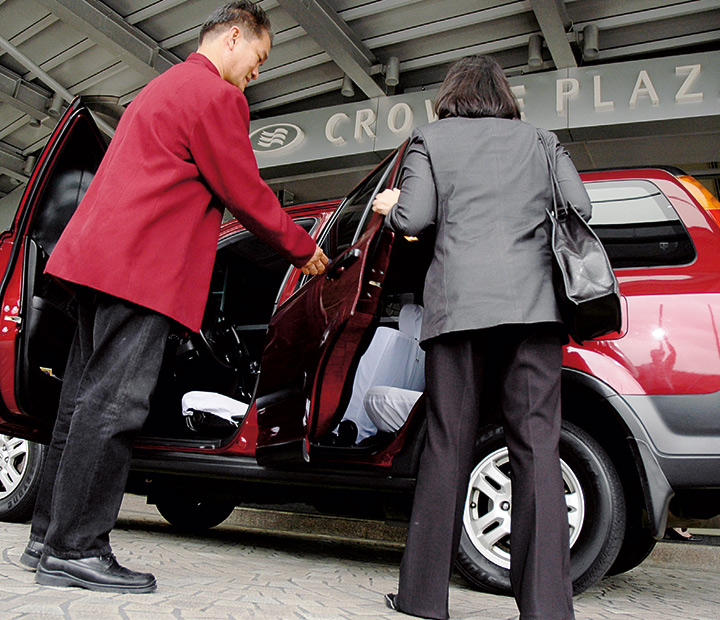 I guess the most important asset of being a valet attendant isn't parking skills but honesty. There are times when drivers leave valuable items like wallets and mobile phones inside the car. There are guns, too. In order to protect yourself from accusations of theft, there is a stub on the parking card on which you declare the specific valuables left in the car. Now if you still end up getting accused, in-house investigators will handle it.
Another portion of the parking card is a sketch that indicates existing dents and dings around the car. So a vehicle owner cannot go screaming about a scratch he knows was already there when he handed his car over to you. After a few rounds of driveway-to-basement parking, everything just became systematic and natural. The tasks became lighter and more automatic. I even got a crisp P20 tip from a lady driver and it went straight into the tip box. Evenly distributed after a day's eight-hour shift, these tips provide the valet attendants a significant amount for being courteous and amiable.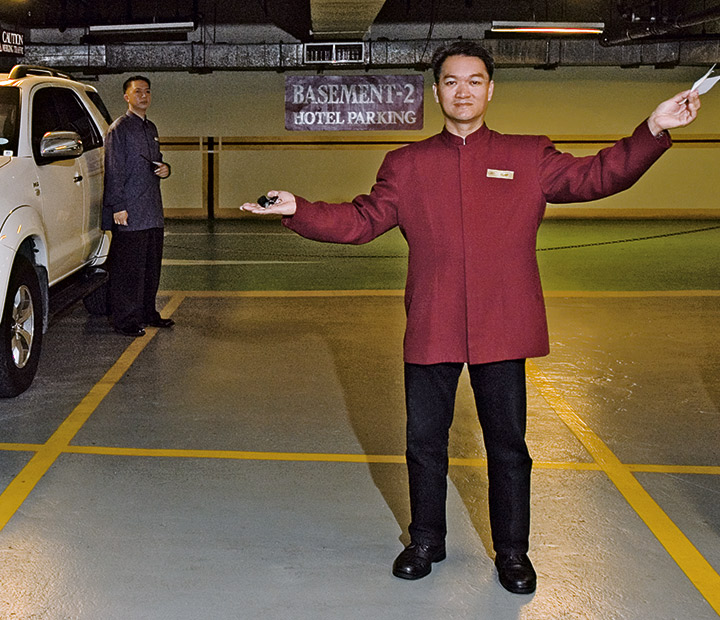 The valet parking attendants had this distinct, contagious smile. I wondered if some of them have been invited by female hotel guests on a friendly date, so I asked them. I'm not telling you what they told me. Let's just say I'm now thinking of asking my editor for a one-week valet-attendant gig.
NOTE: This article first appeared in Top Gear PH's December 2006 issue. Minor edits have been made.