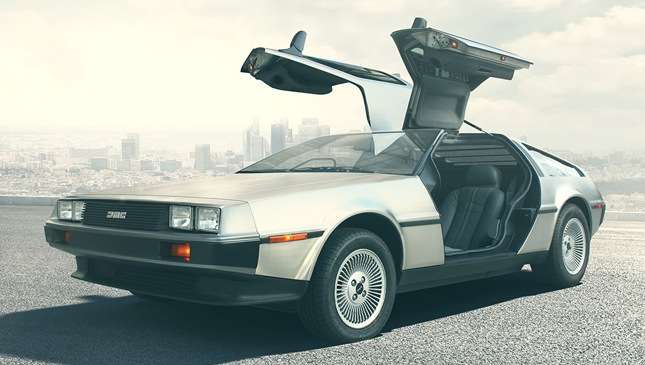 The DeLorean is as etched in the minds of gearheads and moviegoers as the films that made it famous. An entire generation probably still thinks of time travel as hopping into a gull-winged sports car and jetting off at 88mph. The final Back To The Future film may have come out some 27 years ago, but the car's legacy endures long after the "future" that it once traveled to.
The car is still so special, in fact, that social media exploded when it appeared onstage at the 2017 Oscars. It got us thinking: What was it like to actually handle a DeLorean? Since we couldn't actually get our hands on one (we're still hoping), we did the next best thing by digging around the Internet to find out.
Continue reading below ↓
Recommended Videos
A brief history
The man known as John DeLorean was a hotshot executive at General Motors throughout the '60s and early '70s. He resigned in 1973 and later founded the DeLorean Motor Company (DMC). The company's US and UK investors chipped in around $200m for the venture. To save costs, DeLorean set up shop at a factory in Northern Ireland. The company's first and eventually only car was the DMC-12, a two-door sports car with a stainless steel body.
Unfortunately, the fledging carmaker was hindered by poor management, low sales, manufacturing issues, and unfavorable exchange rates. DMC filed for bankruptcy in 1982. That same year, John DeLorean was charged with attempting to traffic cocaine into the US to raise money for his company, though he was later acquitted.
The reality of the DeLorean
So why was the car so poorly received by the buying public? For one, it was expensive. The DeLorean's introductory price was $25,000 ($25,650 for the automatic), which is roughly $66,787 (P3.361 million) today. For that money, you got a rear-engined 2.8-liter V6 that only produced 130hp and 220Nm. Reviews from the time noted the steering to be heavy and the car had a tendency to understeer. Its 0-97kph time was clocked at 10.5 seconds. Not exactly slow, but also not mind-blowing for a sports car that looked like a spaceship.
Due to poor management and delays in production, the car was rushed off the production line. Complaints of poor build quality came up soon after it was launched. There's a popular story of TV host Johnny Carson, a DMC investor, taking a DeLorean out for a test drive. He apparently didn't get very far; the car broke down soon after he left the lot.
Why does it endure?
When you read up on the DeLorean's history, it almost seems as if the car and the company that spawned it was doomed from the start. So why, then, are we still raving about a car that Time listed as one of the worst of all time?
Maybe it's because the car is something that simply dared to be. From its funky doors to its unpainted stainless-steel exterior, it eschewed convention and blazed its own trail in the automotive world. It was as bold its founder's rock 'n' roll ways. The fact that it crashed and burned in the process only adds to its mystique.
It's also a car that's gone beyond the realm of car nerds and into popular lexicon. The words time machine and DeLorean will forever be linked together in cinematic history. We can't think of any other car that would've fit that role quite so perfectly. Sometimes, a legend can grow to overshadow its less-than-stellar reality.