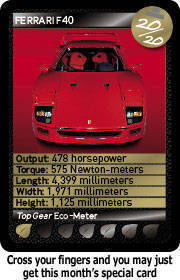 Oh, yes, we botched up the packaging job of the third series of Trump Cars that was supposed to come free with the August issue. Seriously wanting to make life tougher for petty thieves who nicked the cover-mounted freebie, we decided to just insert the pack in the magazine. Because of this sudden change in execution, some miscommunication cropped up between our departments. As a result, many copies of the August issue did not have the free Trump Cars. Our sincerest apologies for that.
As many of you already know, we've literally moved heaven and earth to make sure those who didn't get their Trump Cars would still be able to complete their cherished collection. Not only did we dispatch batches of the third series to our distributors around the country, we also bundled the missing series into the September issue for our valued subscribers.
Which brings us now to the fourth series of Trump Cars. We've done cool production cars and SUVs. Now it's time for some classic sports cars! Included in this series are the likes of the Alfa Romeo Sprint, BMW M1, Chevrolet Corvette C2, Ford GT40, Honda NSX, Jaguar E-Type, Lamborghini Diablo, Mazda RX-7, Porsche 968, and Toyota Supra. If you're lucky, you might even get this batch's special card: the Ferrari F40!
ADVERTISEMENT - CONTINUE READING BELOW ↓
Again, for instructions on how to play the game, here are the rules:
We recommend five players since the complete deck includes 50 cards. Deal the cards face down to all players. Every player can only look at the top card. The dealer starts by choosing one statistic from his top card (e.g. 'horsepower' or 'TG rating') and declaring it. The others do the same, citing the same statistic. The player with the best such statistic wins the cards and chooses the next statistic.
In case of a tie, the cards are placed in the middle and the same player picks another statistic. The winner of this round takes all cards, including the ones in the middle. The winner of each round chooses the next statistic.
The player who ends up with all the cards wins the game.
[gallery]562[gallery]