Let me make something clear. I'm not intentionally breaking traffic rules just to come up with stories for this website. That would be stupid. But seeing as I found myself in an unfortunate situation that had cost me P2,150, I might as well make the most out of it by sharing the experience with you all—in the hope that you don't make the same wallet-draining mistake that I did.
My wife had asked me to fetch her at Columbia Tower on Ortigas Avenue at 2pm last Friday. I arrived on the dot, but she was delayed. This left me with no choice but to circle the building through its parking driveway with its super-tight corners. I eventually got fed up with the maneuvering and decided to just flick my hazard lights on, park by the sidewalk in front of the building, and hope that my wife would emerge from her meeting soon. Big mistake.
Within moments, three MMDA officers surrounded my pickup and the SUV in front of me. Yikes. I didn't realize it at the time, but I was parked directly underneath a no-parking sign. Damn. Ortigas Avenue is also a Mabuhay Lane. Double damn. And the fines for illegal parking were only recently increased. Triple damn.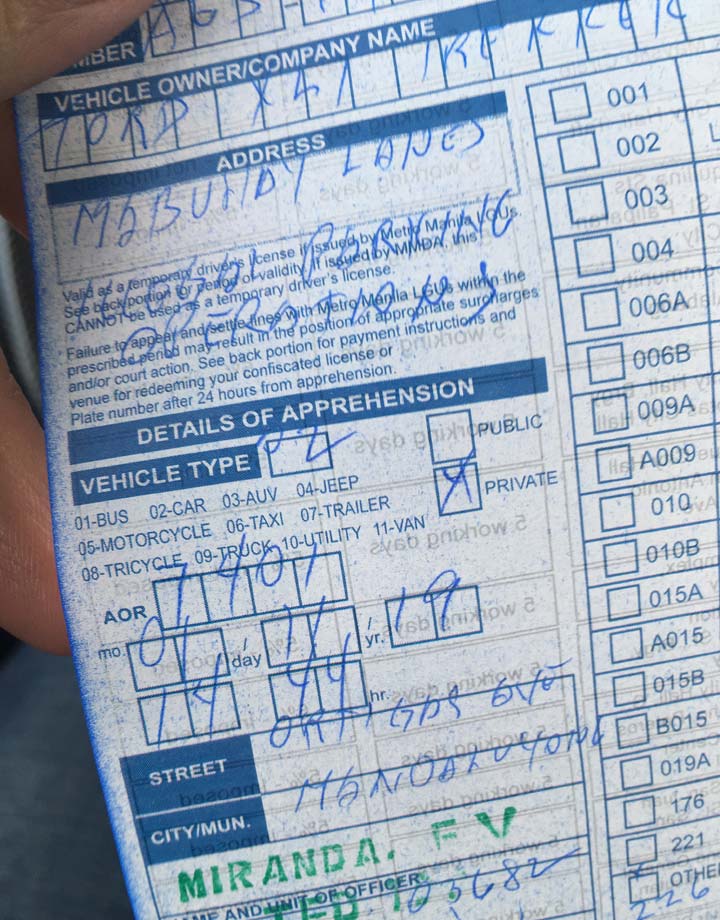 ADVERTISEMENT - CONTINUE READING BELOW ↓
I was very polite to the MMDA officers, but I did stall a bit because I wanted to clarify why I was still being issued a ticket even if I was inside the vehicle and ready to move on right away. Well, ignorance of the law isn't an excuse. Apparently, you can still be ticketed. This violation is called 'attended illegal parking' (P1,000). Shame on me for not remembering this. And because I was wasting the officer's time, I was also handed two more violations—obstruction (P1,000), and failure to surrender driver's license (P150). Quadruple damn. It was not a nice way to start the weekend.
Spare yourself from an ordeal like this. Here are some things to remember, guys.
1) Know where the Mabuhay Lanes are.
Road clearing operations are intensified along these routes. The MMDA officers have a take-no-prisoners approach when clearing these areas. Trying to talk your way out of a ticket by asking for a warning will be futile.
2) Give your driver's license right away.
Apparently, if you don't surrender your license quickly, you can still be given a ticket. As you can see in the photo, all the info required is your car's plate number. If you don't pay the fine within the prescribed period, expect a surprise when you renew your vehicle's registration.
3) Don't argue with the officers.
As I mentioned already, you can be hit with another costly violation. The officers are within their right to do so, too. Just do what is asked and move your car along.
ADVERTISEMENT - CONTINUE READING BELOW ↓
Recommended Videos
4) Circle around or find a place to park if you are left with no choice.
The gasoline you burn or the pay-parking fee will still be cheaper than paying for an illegal parking violation.
5) Stay calm.
We've seen people lose their sh*t one too many times for all to see and share on social media. Don't be that person. The MMDA officers are firm but polite. Remember that they are just doing their jobs. I do commend them for trying their best to keep the roads free from obstruction. Let's do our part as responsible motorists as well.
Postscript:
The Bayad Center in the department store of Robinsons Forum mall could not accept my payment because the system isn't updated with the revised penalties for illegal parking yet. So, I decided to go the crowded MMDA Orense Redemption Center (where the stench of communal human sweat will stick to your clothing and skin) to settle the fines right away. I did not want to risk having an LTO alarm put on my pickup truck.
Hassle? You bet. Is this inconvenience intentional on the MMDA's part? Unlikely. But if the fines aren't enough punishment, going through the crowded and smelly nightmare that is the MMDA Redemption Center to settle a parking ticket is the perfect deterrent to erring motorists. I mean no offense to the hardworking folks who deal with an unruly mob of traffic violators all day. In fact, I tip my hat off to the MMDA staff stationed there. It's a hell of a job.
ADVERTISEMENT - CONTINUE READING BELOW ↓
Let's just say I will be even more careful from now on, and I hope I never accidentally break another traffic rule, ever.