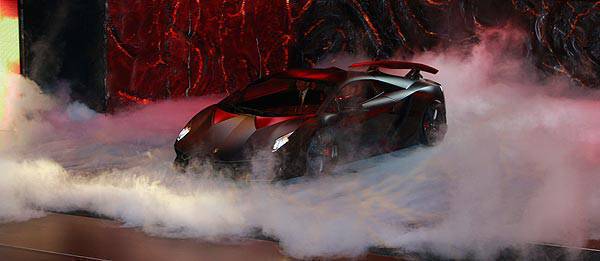 Days of cropped photos and guess-whats are over as Lamborghini has finally revealed the Sesto Elemento at the Paris Motor Show.
Lamborghini created the Sesto Elemento, or "sixth element" in English, as a tribute to carbon--the sixth element in the periodic table--as the car is almost made entirely out of carbon-fiber.
As our tribute to the car, we let you in on the six things you need to know about the Sesto Elemento.
1. Almost every component of the Sesto Elemento Concept is rendered in carbon fiber: the monocoque cell, the entire front frame, the exterior panels, the major suspension components, the rims and even the propeller shaft;
2. The tailpipes are made from Pyrosic, an advanced glass-ceramic matrix composite that can withstand very high temperatures of up to 900° Celsius;
3. With 570hp on tap for a car that weighs only 999 kilograms, its power-to-weight ratio is just 1.75 kilograms per horsepower;
ADVERTISEMENT - CONTINUE READING BELOW ↓
4. The Sesto Elemento Concept has no conventional seat frame. Instead, the forged composite tub serves as the base for the seats which are affixed directly to the carbon fiber monocoque. Optimal seating position for the driver is achieved through the height- and reach-adjustable steering wheel and the longitudinally adjustable electric pedals;
5. Remember the triangular cut-outs on the dashboard in the third teaser photo? They serve a purpose after all as Lamborghini removed unnecessary material in the interest of weight reduction; and
6. The Sesto Elemento is equipped with a six-speed e.gear transmission that's controlled via the steering wheel-mounted paddles.
"The Lamborghini Sesto Elemento shows how the future of the super sports car can look--extreme lightweight engineering, combined with extreme performance results in extreme driving fun. We put all of our technological competence into one stunning form to create the Sesto Elemento," said Automobili Lamborghini president and chief executive Stephan Winkelmann. "It is our abilities in carbon-fiber technology that have facilitated such a forward-thinking concept… We will apply this technological advantage right across our model range. Every future Lamborghini will be touched by the spirit of the Sesto Elemento."
[gallery]594[gallery]