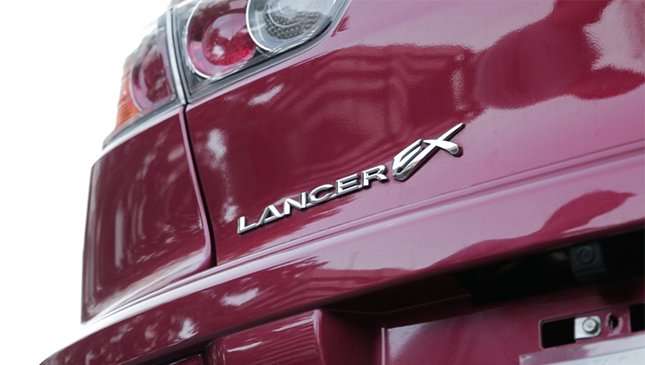 Remember the Mitsubishi Lancer EX? Yes, that sharply styled beauty born a decade ago. It's actually still around. Let's give this beloved compact sedan one last look.

Once upon a time, the Lancer used to enjoy sales success alongside its fellow peers, the Corolla, the Sentra and the Civic. By the early 21st century, the popular compact began to lose its luster, except maybe for the cool rally-bred Evo version. The regular Lancer went from being a sporty car to a generic and bland family sedan with controversial nose designs, first with the gaudy oversized Cedia grille, then the Pizza-nose split grille. This all changed with the introduction of its successor.

The current Lancer was introduced back in 2008. It was a big departure from its predecessor, with better styling, a new platform, and a range of new engines. Just to stress how new its reborn compact was, Mitsubishi even added the "EX" suffix to its name. But as the carmaker slowly shifted its focus toward more profitable SUVs, the Lancer remained nearly unchanged since its debut.
Continue reading below ↓
Recommended Videos
In 2015, Mitsubishi gave it its final--mostly cosmetic--refresh. This included a curvier front fascia, new wheels, and updated features like a new infotainment system with USB, Bluetooth, and GPS. Sadly, it was overshadowed by newer models from competing brands. With news about its discontinuation and no announcement of a direct successor, this could very well be the last true Lancer. A heavily modified version of the current model soldiers on in China and Taiwan, but that one won't likely reach our shores.

As a refresher, the EX can be had with either a 1.6-liter MIVEC making 115hp and 154Nm, or a 2.0-liter MIVEC producing 148hp and 197Nm of torque. The smaller motor is paired to a five-speed manual, while the bigger mill is mated to an INVECS-III CVT.

The Lancer EX's 2018 prices remain the same as last year's, P928,000 for the base 1.6 GLS and P1,238,000 for the sporty GT-A. So should you still get it? Perhaps if you want a fun roving time capsule with hydraulic power steering.