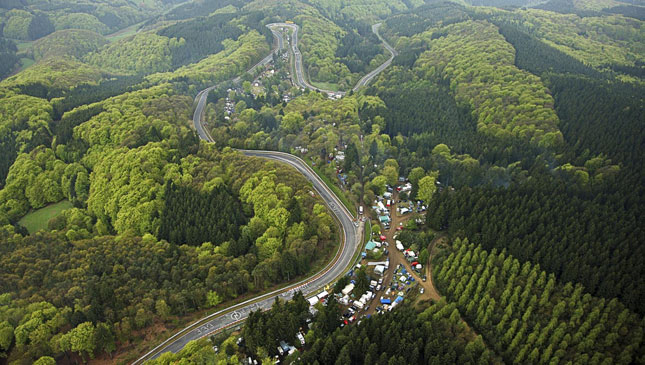 Six minutes and 48 seconds. A time possibly etched into your memory, because six minutes and 48 seconds is the time it took a Radical SR8 LM to scorch a path around a small racetrack in the Eifel mountains. Namely, the Nürburgring.
Who'd have thought a small car on a scary circuit could leave such a big impression. And yet, though the Radical's time is hugely impressive and the fastest for a 'production car,' it is of course, entirely unofficial.
ADVERTISEMENT - CONTINUE READING BELOW ↓
Yet manufacturers throw bucket loads of money developing and engineering their cars so they can perform well at the 'Ring, and go about setting their cars just right for an outright lap time. Bragging rights? An indication of the car's ability? None of the above?
Speaking to Tobias Moers, Mercedes-AMG's big boss, it's a largely pointless exercise. "I don't see value in doing lap records," he tells TopGear.com. "Yes, we did one with the SLS Electric Drive, but that was a standard car. I always have some doubts if a manufacturer announces a new record."
You know," he adds, "is it the same car you can buy? I don't see the sense. If somebody else does a nice lap time, then fine, I'm happy with that."
A point brought into sharper focus when you consider the range of machinery specifically calibrated and set up for 'Ring records, which might differ slightly from what you can actually purchase straight off the showroom floor. Honda lapping a Civic Type-R without back seats, for instance.
ADVERTISEMENT - CONTINUE READING BELOW ↓
Recommended Videos
However, Bob Laishley, Nismo's performance director, thinks of it in a different way. Talk naturally turns to the Nissan GT-R, that final, 4WD-shaped point in the holy trinity of 'Ring/GT-R/Internet. "The Nürburgring is synonymous with endurance and toughness, and the GT-R is all of those things," he tells TG.
But isn't it a bit pointless to set lap times around that circuit, considering your average consumer isn't going to get anywhere near those sorts of times? "Is the buyer of that kind of car an average buyer?" he asks. "No, they're not.
"That's the sort of thing they're interested in, so I think 'Ring times have got their place. And I think it's a useful benchmark to see some of the more modern small hatches and other products aspiring to numbers around the 'Ring that supercars were achieving not that long ago."
It's certainly food for thought. Benny Leuchter, for instance, strapped himself into a Volkswagen Golf GTI Clubsport S and recorded a whopping seven minutes and 49.21 seconds lap time in April this year. Which is—unofficially at least—faster than a Mercedes SL65 Black, a Lamborghini Gallardo, and an early-gen Nissan GT-R. Though not definitive, it's hard to accept such ferocious pace from a FWD hatch.
ADVERTISEMENT - CONTINUE READING BELOW ↓
And yet it's not definitive, because they each had different drivers and different conditions. And so on, and so on…
So before we get ourselves into a tailspin, tell us, as people who are most likely interested in lap times around the 'Ring: Are the lap times you read about utterly pointless, or is there merit to such achievements?
NOTE: This article first appeared on TopGear.com. Minor edits have been made.