Wini Camacho is no stranger to us. He is our kababayan who has made a name for himself as a designer at Mercedes-Benz. He also did something really cool for Top Gear PH when, in 2010, he sent us his sketches for his vision of the modern jeepney. The PUV modernization program is happening now, so it was very timely when Wini got in touch with us recently and asked if he could share more ideas and sketches with us. We couldn't refuse!  Below are Wini's words:
My latest design iteration of the jeepney pays homage to the simplicity and purity of form and function of the original Willys Jeep. I would tentatively call it (for lack of a better or more appropriate name) the 'Pinoy' as the jeepney has evolved into a unique local product that is globally known. Hence, it deserves to get a Filipino name.
It's a more mature, sophisticated, and timeless iteration of the jeepney compared to what I did eight years ago. It's also a less literal interpretation of the jeepney. Though its design is inspired by the Jeep and the jeepney, it has its own unique identity and character. I feel it's time to do an all-new, forward-thinking Filipino vehicle without any constraints from the past.
Continue reading below ↓
Recommended Videos


With the advent of the PUV Modernization Program, which requires bigger vehicles, the Pinoy will be more of a private vehicle, though it will be highly suited for commercial use as well. It will be future-proof. It will sit on a modular platform that can fit either an internal combustion engine (ICE), hybrid (ICE + electric), or electric powertrain. There will be provisions for digital connectivity as well. Though electric vehicles are still very expensive due to high costs of batteries, it's the future.
Advancement in battery technology and, hopefully, government incentives and subsidies will drive the price down. Like its predecessors, it will have a high ground clearance suited for floods and rough roads. Moreover, its tall vehicle architecture will be suited to accommodate floor-mounted batteries of the electric variant.
It will be available in two wheelbase configurations. The short wheelbase (SWB) will be available in two- and four-door variants, and the long wheelbase (LWB) will have four doors. The SWB will be a five-seater and the LWB will have seven or eight seats. Van configuration is also possible for both.

True to the Filipino spirit, it will be highly customizable: It's designed to be redesigned. The base trim will be a no-frills but highly attractive, unique design. It will be priced competitively at the lower end of the market. The more premium variants will be designed and produced by third-party manufacturers using the base trim as a starting point.
Engineering blueprints will be made available for free download to encourage the proliferation of third-party designers and manufacturers. Of course, they will have to adhere to strict quality and safety standards. Guidelines for these will be provided as well. Engineering an entire vehicle from scratch is very costly and time-consuming. The most cost-effective (and fastest) way to build a new vehicle is to use an existing platform from an established auto manufacturer and modify it to suit local conditions and requirements. This would include the basic chassis, engine, powertrain and drivetrain. Bear in mind, it should have world-class engineering and design as it will be competing against foreign brands. It has to be exported as well to achieve economies of scale.
Base-trim powertrain variants (5-seater)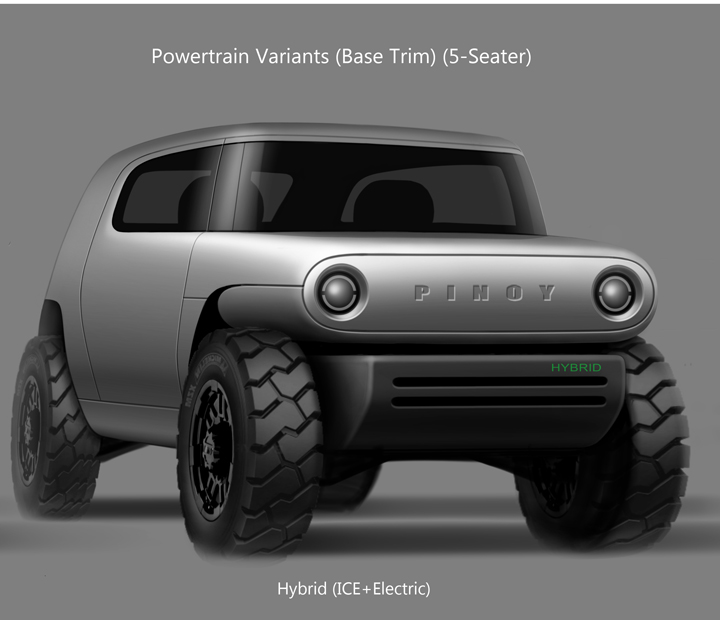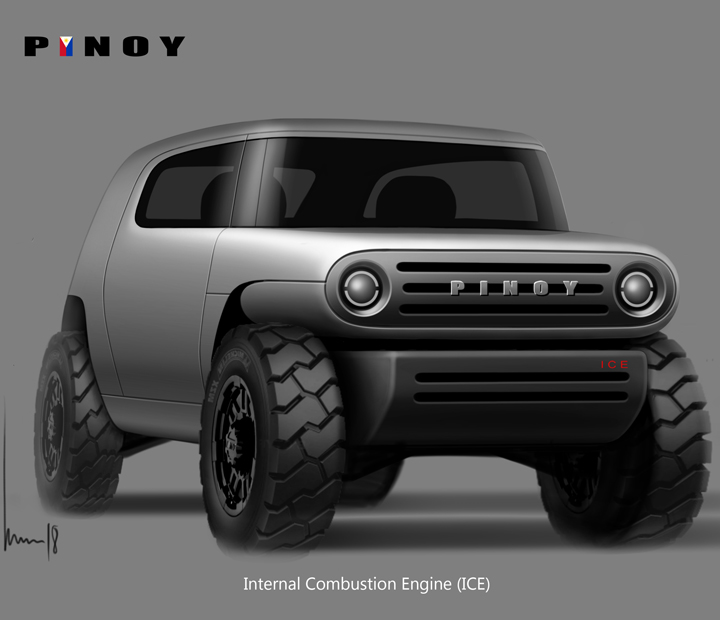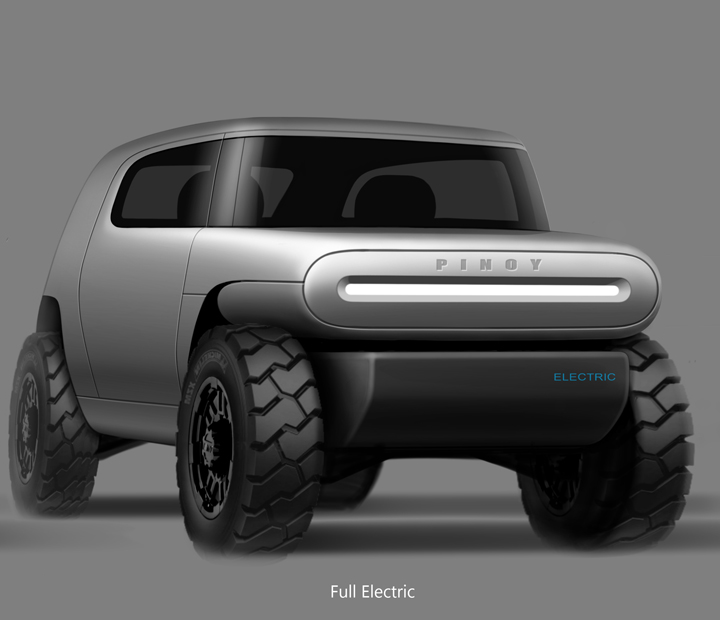 This is the base trim of the three variants of the Pinoy: internal combustion engine (ICE), hybrid (ICE + Electric), and full electric. The challenge was to reduce cost to the minimum while retaining high functionality. Though the Pinoy is 'designed to be redesigned' (to be customized), it has to be as appealing and attractive as possible in its base form. After all, a big chunk of the sales will probably come from the base trims. Cost-reducing measures include use of flat side and rear glass, which are easier and cheaper to manufacture than curved ones. The rocker panels are part of the chassis, thus reducing parts and assembly costs. Overall styling is very pure and reduced to the essentials. The front-fascia designs of the vehicles are as pure and absolute as they can be. My objective is to make a series of lovable, timeless, and iconic vehicles.
Internal combustion engine (ICE) trim comparison

This image compares the ICE base trim to a sample premium trim. It shows how the base trim can be modified into a more premium configuration. Basically, the two trims share the same main body panels (doors, hood, rear hatch, side wall, and so on) and glass parts to reduce costs. Head- and rear lights can also be shared to further reduce costs. If needed, the premium trims will have the option to have the more expensive LED lights. Moreover, it can be configured to have add-on fenders and rocker panels as well as more premium-looking bumpers with integrated LED fog lights. It will be up to the third-party manufacturer and customer to decide the extent of upgrades to be configured on the vehicle.
ICE premium trims (7-seater)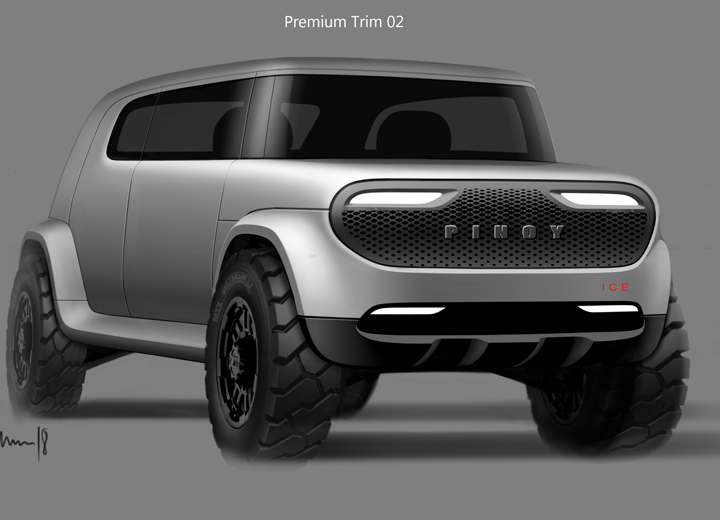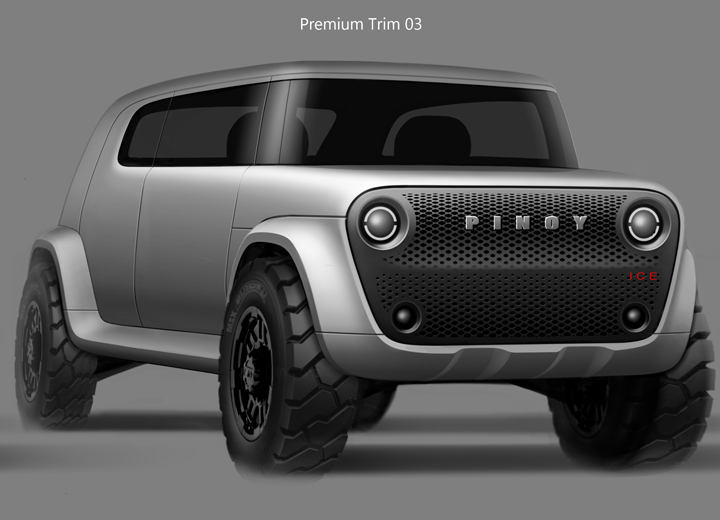 These images shows two further examples of how ICE premium trims can be designed and configured. The Premium Trim 02 utilizes slim LED headlights, while Premium Trim 03 is using carry-over round headlights from the base trim. Both have redesigned radiator grills and bumpers.
Hybrid premium trims (5-seater)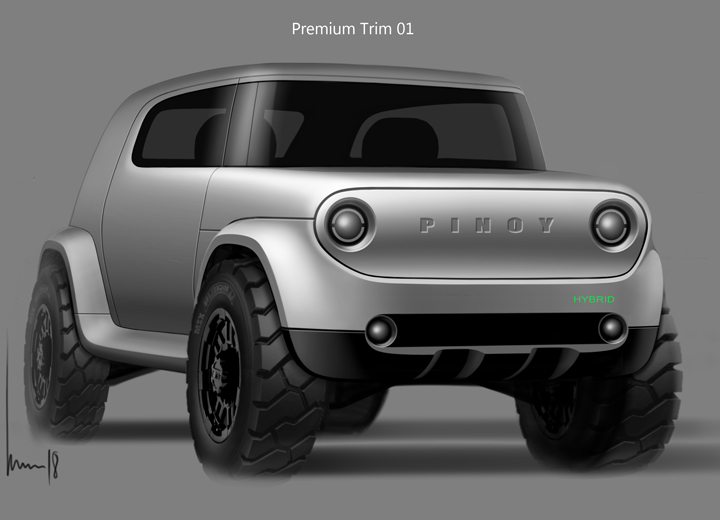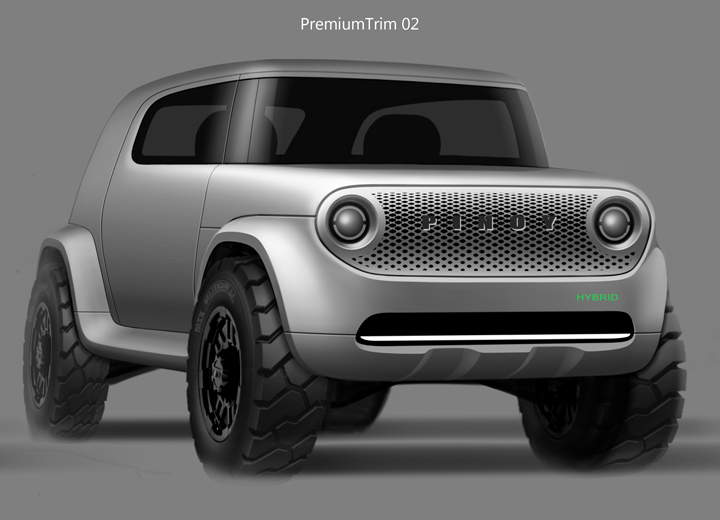 These images show two examples of how hybrid premium trims can be configured. Here, I chose to use the base trim's round headlights combined with new bumpers.
Electric premium trims (5-seater)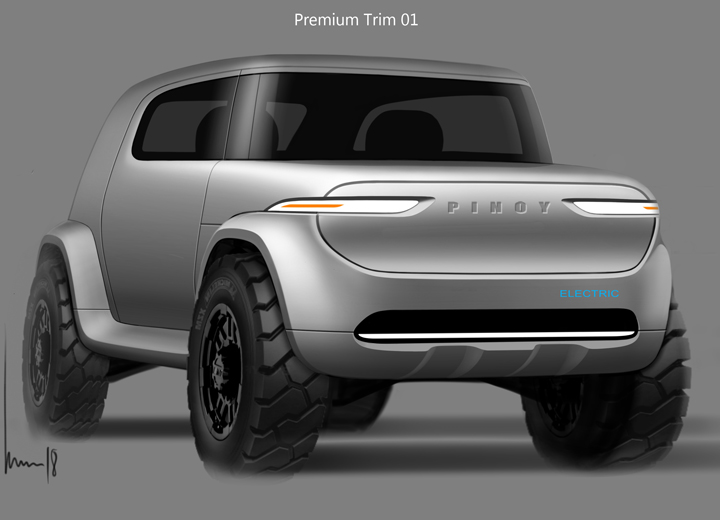 These images show two examples of how electric premium trims can be configured. Here, the styling is decisively more futuristic befitting the advanced electric technology.
ICE PUV (10-seater)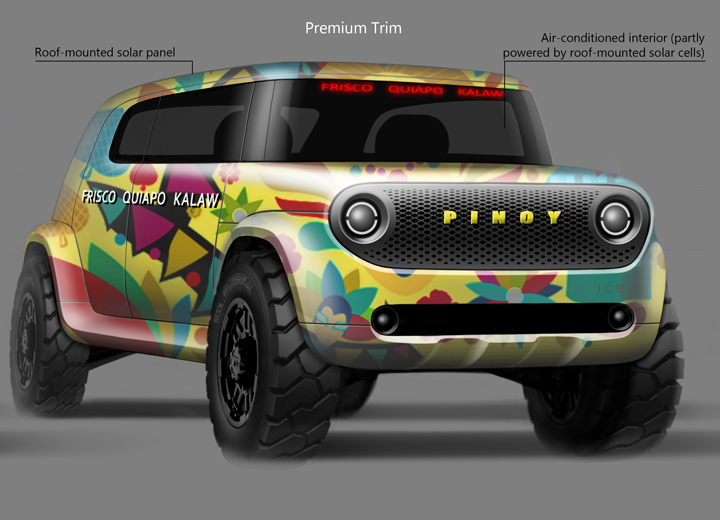 Please note that all of these are just examples of quick design studies I made. This is just the starting point. At the end of the day, the possibilities are endless...
Thank you for sharing these with Top Gear PH, Wini. We are looking forward to a future with clean and environment-friendly public transportation. We will be sure to share this story with our friends in the industry who have a hand in the PUV modernization program.