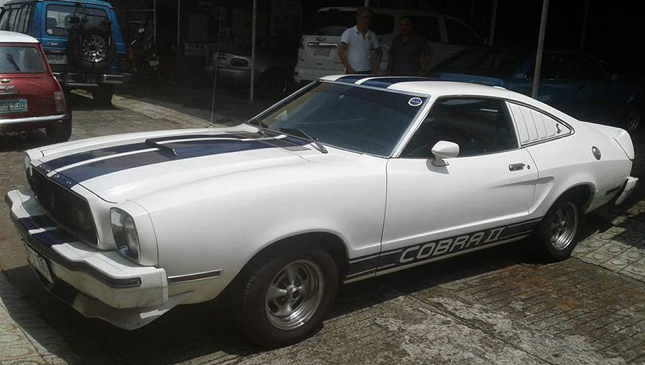 It's really cool what we come across on the buy-and-sell groups we are part of on Facebook. We got permission from our friend Manny to share one of his cars here, and it is something that hardcore Ford Mustang fans shouldn't ignore. And by hardcore, we mean hardcore. To appreciate the Mustang II, you really really have to be a fan of it. Why? Because the second-generation Mustang is acknowledged as the least desirable among all of them.
Here's what our friends over at Top Gear UK have to say about the Mustang that was available from 1974 to 1978:
Continue reading below ↓
Recommended Videos
"Switching to the smaller Pinto chassis, this was known as the Mustang II. You remember the Pinto, right? It remains pretty much the punchline to every car joke that doesn't involve a Lada. It was also the car owned by one Stephen King, and was such an unremitting pile of useless bolts that it earned itself a starring role as the broken-down POS in Cujo that leaves a young woman and her small child at the mercy of a rabid Saint Bernard. Basically, everything that was bad about the Seventies in one car. And the Mustang II was no better."
Still, this car has some historical significance, and you never know. Sometimes tastes will change, and some ignored models become collectible—just like that. But that's just wishful thinking on our part. Here's the post from Manny: "1976 Ford Mustang Cobra; P650,000, manual transmission; power steering; six-cylinder; all-original; Quezon City."
This car looks to be in original, unrestored condition. For some collectors that jacks up the price even more. The panels seem straight, and maganda ang tayo. The interior looks complete and unmolested, too. The best part is that it sports a manual transmission. Sure, so-called experts will bash this car, but it must have some redeeming qualities.
Do you want to finally own a genuine Mustang Cobra--albeit an often-ignored one? This might just be your chance.