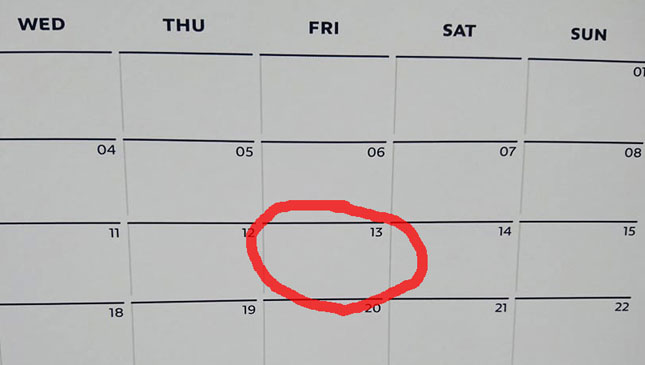 In case you haven't checked your calendar, today is Friday the 13th. Spooky, right? In honor of all things superstitious, we asked you guys to share some of your motoring-related horror stories that have fallen on this date. Is the date cursed, or do some of just have bad luck? You decide.
1) This guy. He gets it.
Mikhail T. Omada: Every day is Friday the 13th in EDSA.
2) Few things are scarier for parents than a very late bus after a field trip.
Alex Romualdez: It was the Friday of October 13, 2006. I was in Grade 7 then and we were on our way home from our field trip in Tagaytay Highlands. We got stuck in heavy traffic on our way back to school. Took us more than an hour to get to McKinley Road from the Magallanes Interchange (which was pretty unusual then). Our parents/sundo waited for a very long time in school.
Continue reading below ↓
Recommended Videos
3) From a mirror universe?
Voltaire Fider: Hinintuan si ate ko ng isang 'LTO officer' na baligtad ung nakatahing name sa may damit.
4) Riders. Enough said.
Jot Catapang: Just an hour ago [we got] hit and run by a motorcycle. Habang nasa Barangka - Katipunan ako and traffic. Bigla nalang ako binangga ng motor. My bumper was detached, nabasag yung mga kabitan, and gasgas.
5) Please build that subway soon.
Raymil Arao: Around 7:40am while on a bus bound for LRT Buendia/Baclaran, our bus got hit and the left side mirror was destroyed by another bus along EDSA-Estrella. May mga naka motor talagang walang disiplina maka singit lang. Walang pakialam sa pwedeng mangyare. Bahala na ang karma sa inyo na nag mamadali pang umalis at hindi man lang nilingon yung tinamaan mo.
6) While we don't endorse this netizen's dating habits, perhaps his Friday the 13th story can make a compelling argument against heavy tint regulation.
Jeffjess Mary: Ako sinugud ako ng girlfriend kong isa kasi nakita nya kami ng isa kong girlfriend sa kotse. Hindi heavily tinted ang auto ko dati. Kaya ngayon pina-heavy tint ko na.