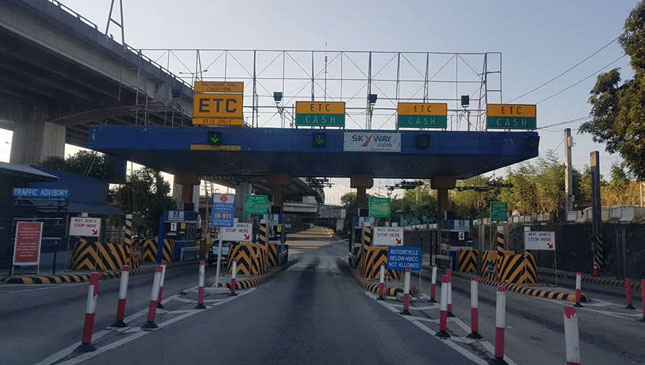 I live in Santa Rosa, Laguna, and a one-way toll fee from here to the Skyway costs P221. So it's safe to say that if I need to go to Manila, I would have to shell out close to P500 for toll fees alone. Factor in the cost of gas and parking and a trip to the metro would mean that I'd be around P1,000 to P1,500 poorer by the end of the day.
ADVERTISEMENT - CONTINUE READING BELOW ↓
But those of us from the south have learned to live with the fact that toll fees are part of a motorist's life. I'm talking about us living south of Metro Manila—from Parañaque, Alabang, Laguna, and Cavite all the way to the nearby Batangas towns. We've all just come to terms that toll fees are inevitable. And these are not just the things that we have to live with.
Here are other things we have to contend with regularly:
1) The Skyway doesn't always promise a smooth and fast drive.
Yes, you have pay extra to drive here because it supposedly frees up the congestion from the usual SLEX route to Magallanes. But of late, we've realized that it's a hit or miss to take the Skyway. On good days, it is a welcome respite—a more scenic route, if you will—to get to the metro. But on bad days, it's also like crawling on EDSA during rush hour.
ADVERTISEMENT - CONTINUE READING BELOW ↓
Recommended Videos
2) Service roads are our mini version of C5 on rush hour.
These two-way roads on both sides of SLEX are used by jeepneys, light trucks, tricycles, and private cars. So if one car breaks down while traversing the service road on rush hour, the usual 30-minute trip from the office to the house can turn into hours until that vehicle is cleared from the path. Think C5 on a payday.
3) We're used to cheap parking fees.
Until recently, we were used to cheap parking rates. Heck, in one mall in Alabang, parking used to cost only P20 for a whole day! For the price of one Cornetto ice cream, you can leave your car in a covered parking lot for the entire day. Sucks to have to pay close to P200 for eight-hour parking in Makati, right? But I think they caught on because just last year, they raised their parking fees. Maybe they were fed up with those of us who leave their cars to take the P2P to Makati which brings me to my next point.
ADVERTISEMENT - CONTINUE READING BELOW ↓
4) Public transport is our friend—most of the time.
This is the answer to my earlier lament on how much getting to the metro costs. More and more of us now find it more convenient to commute than to drive to the city. There are now very nice and clean P2P buses that ferry commuters straight to Makati and Ortigas. You save money and you also get to sleep while the bus driver deals with the traffic. Win-win!
5) Village friendship stickers can get us to our destination faster.
Before Waze, southern motorists already knew how to use inner roads to avoid traffic on major thoroughfares. We made our way through connected villages to bypass the queue of cars on main roads. We are allowed access inside villages if our car bears the right sticker. These things can cut our travel time in half!
6) You think anywhere past Makati is far.
ADVERTISEMENT - CONTINUE READING BELOW ↓
Taking a trip to Quezon City can feel like it's an expedition to another time zone. It's just like how guys who live in the north feel like they need to get a visa to get to Alabang. It's not only the distance. It's also the hours of traffic we have to endure to get to the north.
7) Our car's odometer have higher numbers.
We travel far. Our vehicles run longer distances to get to the city. Alabang to Mandaluyong is around 20km, Laguna to Makati is almost 50km—you get the picture. Our trusty steeds rack up some serious kilometers especially if we frequent Manila. Change oils are faster to come by as well as wear and tear, so we give our cars some extra TLC.